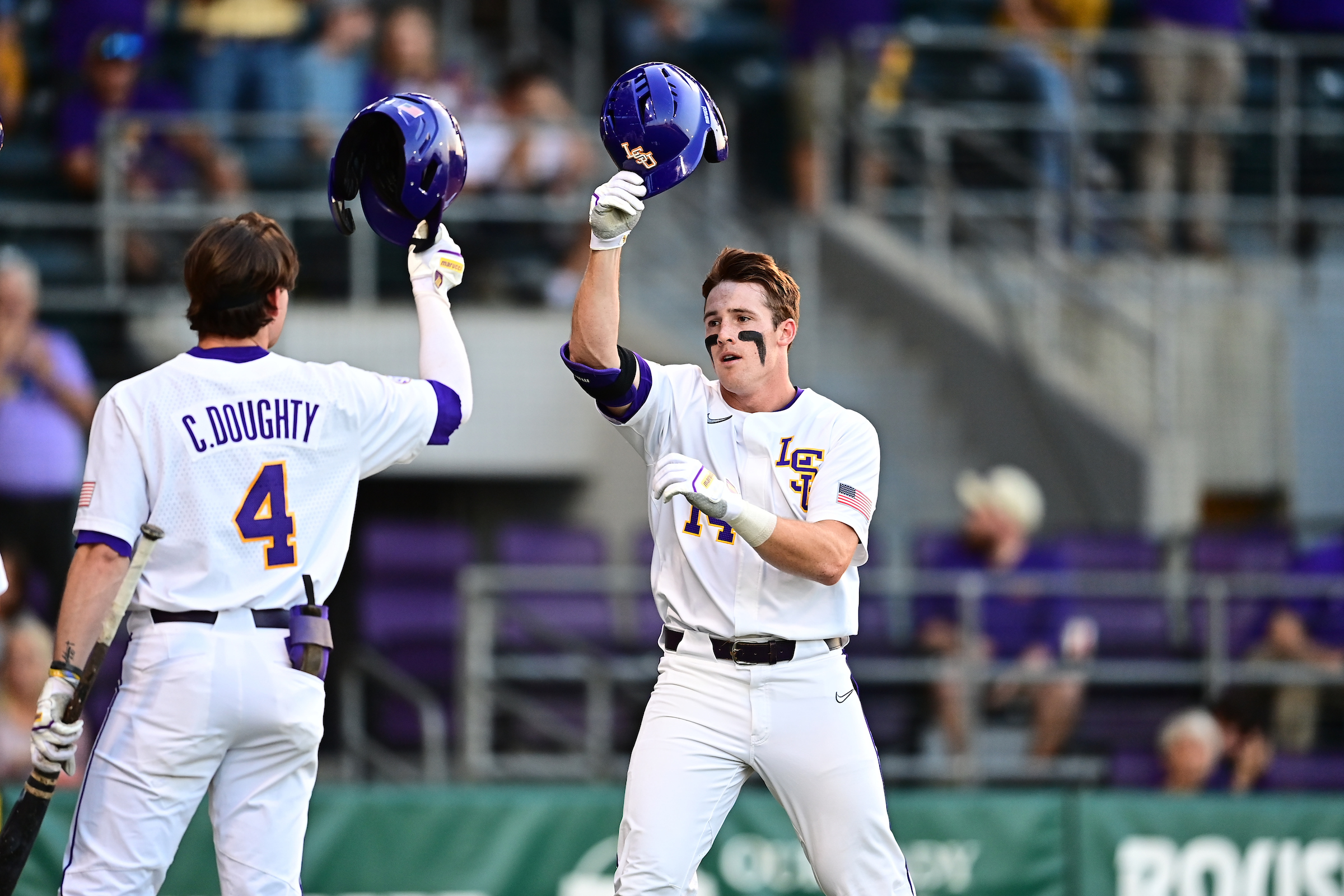 LSU's Jacob Berry went early, as expected, in Sunday night's first round of the 2022 Major League Draft.
The switch-hitting third baseman/outfielder was selected No. 6 overall by the Miami Marlins.
A second team All-SEC pick from Queen Creek High in Queen Creek, Arizona, Berry hit a team-high .370 with a .630 slugging percentage in his lone season at LSU. He had nine doubles, 15 home runs and 48 RBI despite missing six games in early-to-mid May due to a finger injury.
Miami general manager Kim Ng said the Marlins were excited because Berry showed "everything from just being a pure hitter to his knowledge of the strike zone, his plate discipline."
LSU fully expected to lose Berry, who was ranked No. 7 on mlb.com's list of draft prospects.
But the hits kept on coming for the Tigers on Sunday when the Philadelphia Phillies took LSU signee Justin Crawford, a centerfielder from Bishop Gorman High in Las Vegas, Nevada, at No. 17 in the first round; the Boston Red Sox selected signee Mikey Romero, a shortstop from Orange Lutheran High in Orange, California, at No. 24 in the opening round; the San Diego Padres took signee Robby Snelling, a left-handed pitcher from McQueen High in Reno, Nevada, with a competitive balance pick at No. 39 between the first and second rounds; the Milwaukee Brewers picked 6-7 Crowder (Missouri) College juco-transfer pitcher Jacob Misiorowski in the second round, No. 63 overall; and the Toronto Blue Jays took both Tucker Toman, a shortstop from Hammond School in Columbia, South Carolina, at No. 77 and Tigers second baseman Cade Doughty at No. 78, both second-round compensatory picks.
All will now negotiate deals.
Doughty is a Denham Springs High product who spent three seasons at LSU, hitting .308 while starting all 58 games he played in 2021 and .298 with 19 doubles and 15 homers while starting all 59 games in which he appeared this past season.
Crawford was the No. 13 prospect on mlb.com's list. Romero, who went much higher than expected, was No. 65 and Snelling, who went later than expected, was No. 19. Misiorowski was No. 73, Toman was No. 35 and Doughty was No. 55.
The 6-foot, 212-pound Berry began his college career at Arizona, where he was named Collegiate Baseball's 2021 national co-Freshman of the Year and a first team All-American by College Baseball as well.
"I would say it was more about the body of work that he put together in the summer and the progression of work that we've seen over the last three years dating back to high school with Jacob," Marlins senior director of amateur scouting DJ Svihlik said of why Miami made the pick. "He's a very determined young man. He's a very focused young man. Everything that he does is professional. It makes you believe in a player, especially when he goes out and does what he does at those two major universities."
An All-Pac 12 pick, Berry played in all 63 games, and started 62, while hitting .352 with a .676 slugging percentage and 54 runs scored, 19 doubles, five triples, 17 homers and 70 RBI at Arizona.
"The Marlins got the best combination of hitting ability, power and plate discipline in college baseball with Berry," MLB Pipeline's Jim Callis wrote in reaction to the selection.
"There are some questions about his defensive home, but to his credit, he wants to work to stay at third base. Even if he winds up in the outfield or first base or even as a designated hitter, that bat will play."
Berry, whose No. 6 pick is slotted at approximately $6.03 million according to mlb.com, followed Jay Johnson from Arizona to LSU for Johnson's first season as coach of the Tigers in 2022.
"Obviously with Jacob, a long-standing relationship," Johnson told Tiger Rag Radio prior to the draft. "Three or four years of recruiting, playing for me for two years and (he) has really made himself, in my opinion … the best college hitter in this draft.
"He's a great hitter, great player. He's an even better person. and an organization is going to get a great player with Jacob."
That organization turned out to be the Marlins, who made Berry the first 2022 season college player picked in the draft after the Baltimore Orioles took Oklahoma high school shortstop Jackson Holliday No. 1 overall, Georgia high school centerfielder Druw Holliday went second to the Arizona Diamondbacks, the Texas Rangers selected former Vanderbilt/current independent league right-handed pitcher Kumar Rocker at No. 3, Georgia high school shortstop Termarr Johnson went fourth to Pittsburgh Pirates and the Washington Nationals took centerfielder Elijah Green of IMG Academy in Florida at No. 5.
After getting taken at No. 10 by the New York Mets last year but failing to reach contract terms, Rocker underwent reported shoulder surgery and has been pitching recently in the Frontier League.
Holliday is the son of retired seven-time MLB All-Star Matt Holiday and Jones is the son of retired five-time All-Star Andruw Jones.
Berry's father is Perry Berry, a Louisiana Ragin' Cajuns product who spent four seasons in the Astros minor-league organization after Houston took the infielder in the fourth round of the 1990 MLB Draft, and Crawford's father is four-time All-Star left fielder Carl Crawford.
Doughty, the 2019 Louisiana Gatorade Player of the Year out of Denham Springs, is the son of Richard Doughty, a catcher on LSU's 1989 College World Series team, and the younger brother of Braden Doughty, a Tigers catcher from 2018-21.
"(I) kind of feel cheated almost. He (Cade Doughty) is a guy I would have liked to have coached for more than one year," Johnson told Tiger Rag Radio. "He's a major-leaguer very soon. He has great versatility in his game and can do a lot of different things and can play a lot of spots. Clutch hitter, and he has great toughness."