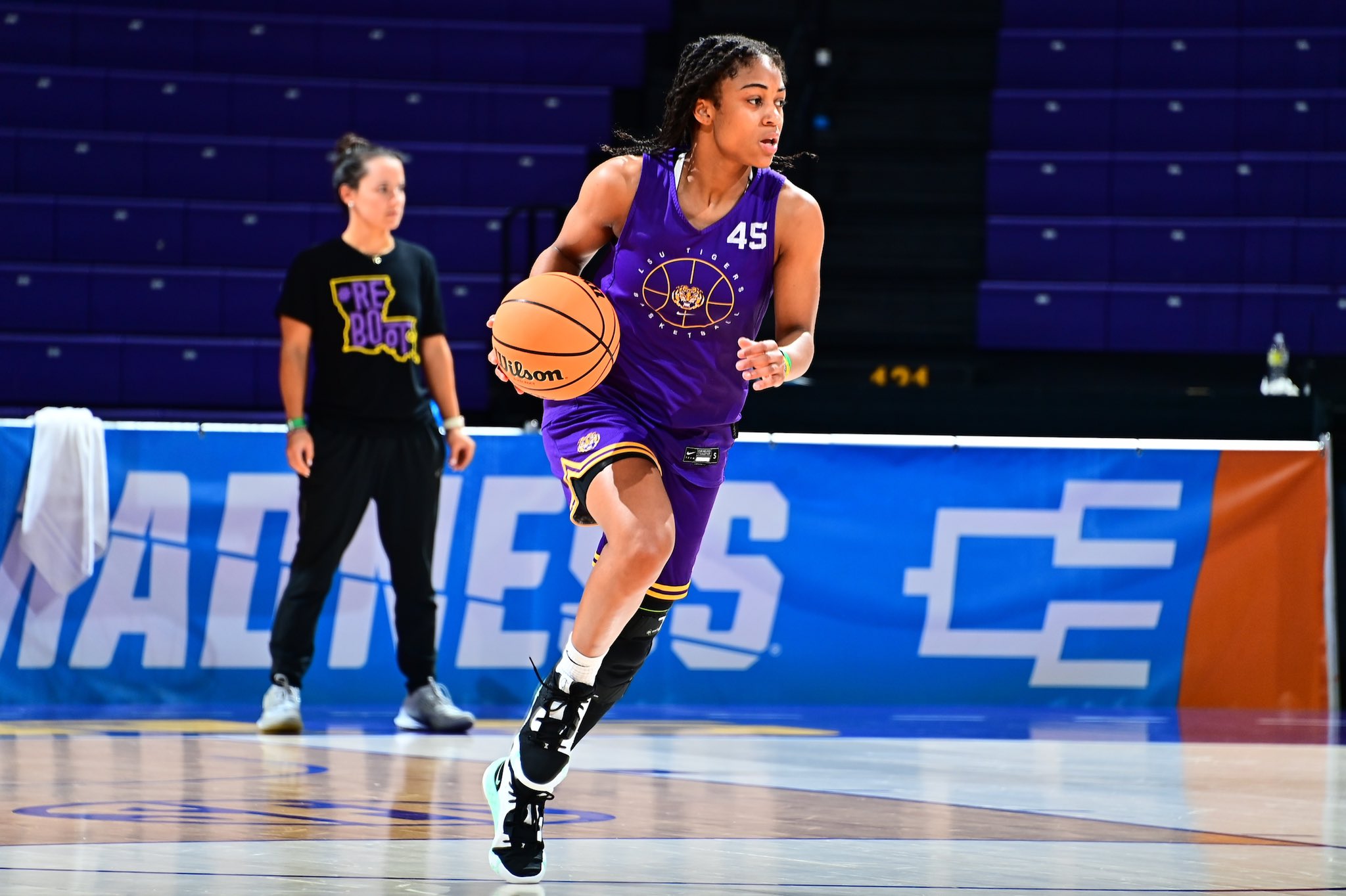 Before the basketball's tipped up at 4 p.m. Saturday afternoon on the floor of the Pete Maravich Assembly Center, you'll have to excuse LSU's Khayla Pointer for wanting to take it all in.
"Like I said before, we've never really been here before in these shoes," Pointer said, one of three graduate students along with Jailin Cherry and Faustine Aifuwa, who decided to return and play this season. "So, you kind of don't really get to have a big head or be cocky in that aspect. But that also goes to our character and who we are as people. We're not those type of people. We don't carry ourselves that way anyways."
It's been four years since LSU was last in the NCAA Tournament, it's been eight years since the Tigers last tasted victory in the NCAA Tournament and it's been 10 years since they were good enough to host the first-and-second round of the NCAA Tournament.
Pointer, who played 18 minutes and scored eight points, and Cherry, who scored two points in eight minutes, are the lone players standing from LSU's last tournament appearance. But as the remaining pieces from the program's last tournament team, they remain humbled by what this year's No. 3 seed and 25-5 team has accomplished going into Saturday's first-round game against No. 14 Jackson State (23-6) at 4 p.m. in the PMAC as part of the Spokane Regional.
The game will be televised by ESPNU and can be heard locally over 107.3-FM.
"It's very different, actually," Cherry said. "We're so used to being the underdogs, and now we have a target on our back, and we're really going to get everybody's best game. So, it's a difference. I'm not going to say it's hard, but we got to come to play every game. We can't slap around or just play around each and every game. So that's the main difference."
LSU hosts Jackson State, the champions of the Southwestern Athletic Conference and owners of the nation's longest win streak at 21 games, follow Saturday's opener at 1:30 p.m. between No. 6 Ohio State and No. 11 Missouri State.
The two winners meet Monday at a time to be determined.
"Well, it was unexpected," LSU first-year coach Kim Mulkey said. "I don't think any of us sitting in this room ever saw this day coming. I can tell you that my (21-year) tenure at Baylor was unbelievable. I can tell you I never saw myself leaving Baylor. But as we all learn in life, you've got to expect the unexpected sometimes, and to sit here in my home state, in the very first year with a team that won nine basketball games (9-13) last year as a three-seed this year, a sell-out crowd in our first year, hosting in our first year, what is there not to like about it?"
Nearly a year ago LSU sent shockwaves through the women's college basketball world with the hire of Mulkey, who molded Baylor into one of the nation's top programs. The Tickfaw native and former Louisiana Tech standout guided the Lady Bears to three national championships when she heeded the call of LSU athletic director Scott Woodward and returned home.
The results, she's said, have exceeded her own expectations but Mulkey molded another winner that's not deep on talent but with the return of the graduate transfers, provided LSU with immediate foundation. She landed transfers Alexis Morris of Texas A&M and Hannah Gusters of Baylor and held onto graduate transfer Autumn Newby of Vanderbilt to put together a team that's been built on rebounding and defense.
"It's been an unbelievable – it's almost a storybook year," Mulkey said. "And you know I've been involved in 40-0 seasons and expectations and building a program. This is going to rank in there as a season for the record books, in a lot of ways."
LSU's reeled off winning streaks of 13 and 7 games and finished only behind the overall No. 1 team, South Carolina, during the SEC's regular season.
Pointer duplicated her first-team status on the All-SEC first team but the Marietta, Ga. has proven to be even better this season with appearances on second and third-team All-American teams. She leads LSU in scoring (19), assists (156) and steals (52) and is third in rebounding (6.5).
There's no question the toll LSU's offense has felt without Morris and her 15.7 points the past three games she's missed with a strained MCL sprain. Although the Tigers were able to defeat Alabama and Tennessee in her absence, they had three of their lowest offensive outputs during that span which included a 78-63 loss to Kentucky in the SEC championship game.
Aifuwa, a 6-5 center, follows at 9.73 points and 6.6 rebounds with Cherry averaging at 9.07 points and Newby 6.4 points and a team-best 8.1 rebounds.
Jackson State counters with a team making its second straight NCAA Tournament appearance and cruised through SWAC play with a 18-0 record. The Lady Tigers are led by the league's Player of Year in 6-4 senior center Ameshya Williams-Holliday at 19.6 points and 11.4 rebounds.
"Obviously, we see the season that we're having, and we're very, very excited, and happy all of the stuff that we've been able to accomplish and the goals that we've been able to accomplish this year," Pointer said. "But there's always more basketball to play, and obviously everybody has that one ultimate goal, and that's to be cutting down nets and win the national championship. So, when you always keep your eye on that last goal, it's kind of easy to stay focused and stay locked in."