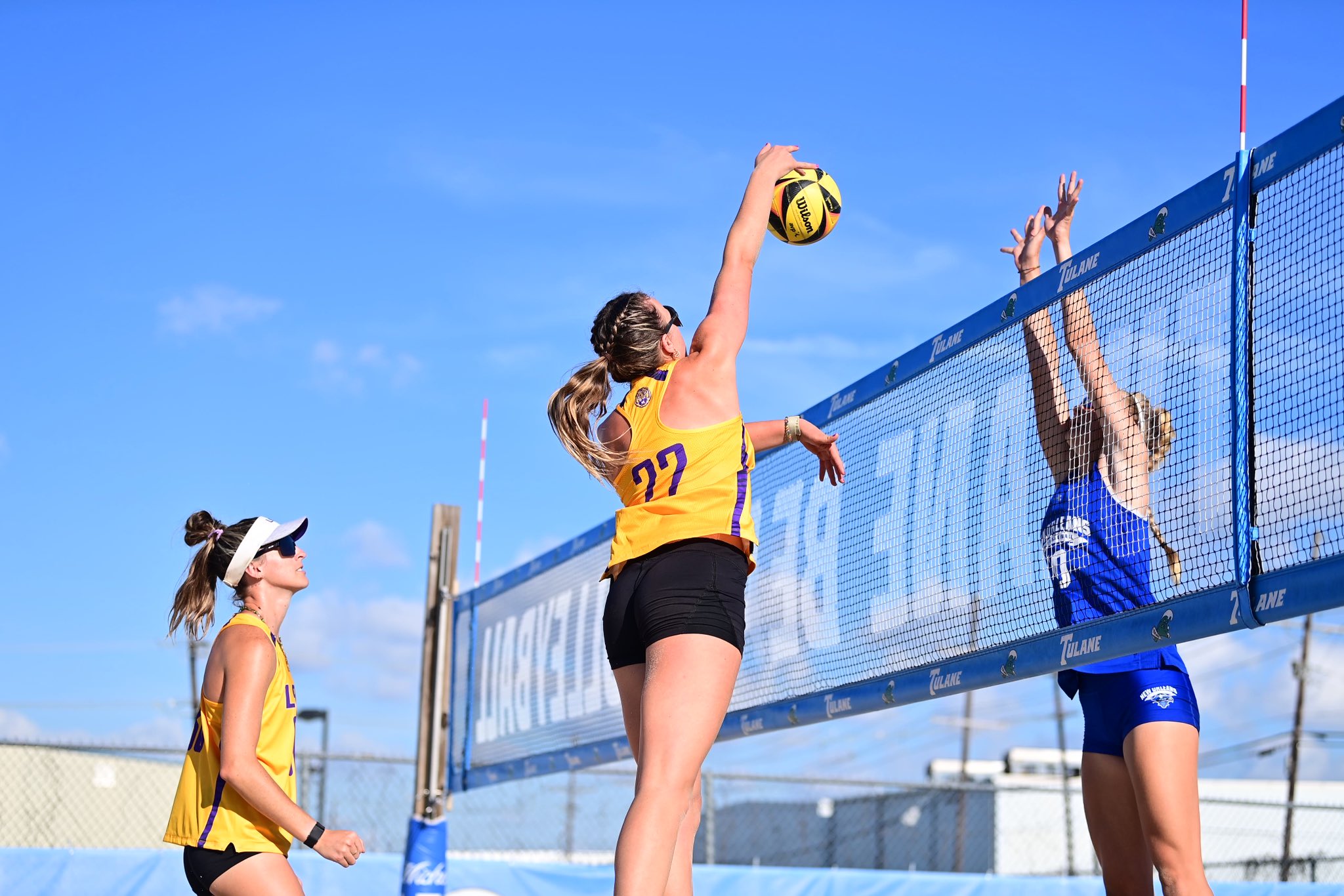 LSU's fifth-ranked beach volleyball team made it a clean sweep with victories that included a sweep Sunday over Nicholls and the University of New Orleans at the Green Wave Invitational.
"Another great day for the Tigers," LSU beach volleyball coach Russell Brock said. "Second day always brings new challenges physically and mentally and this is the first weekend to step into that space. Loved our response. Had three great wins in the morning matches and then two fantastic team dual wins. Would have really been east to slip up and coast, but the effort and intensity was at least as impressive as the match results."
LSU (4-0) return to action at home in the Tiger Beach Challenge on Saturday and Sunday with UAB, Tusculum, North Alabama, Southeastern and No. 19 South Carolina providing the opposition.
"Looking forward to getting some work in this week before we face some great tests at home next weekend," said Brock. "It's always fun to compete in the beach stadium in front of our fans. There's just no place like it. Can't wait to represent our school and our program as we take the next step this season.  Hopefully we can pack it out"
LSU opened play with a 5-0 win over Nicholls with straight-sets victories on all five courts.
Melia Lindner and Amber Haynes had a 21-8, 21-12 win over Court 4 and Brooke Blutreich and Cassidy Chambers taking a 21-10, 21-15 win on Court 5.
Court 1 had Kylie DeBerg and Ellie Shank taking a 21-9, 21-6 win followed on Court 2 with Parker Bracket and Reilly Allred taking a 21-15, 21-7 triumph and Lara Boos and Ella Larkin winning 21-4, 21-6 on Court 3.
The Tigers experienced the same level of domination in a 5-0 win over UNO with five straight-sets victories.
DeBerg and Shank won 21-15, 21-14 on Ct. 1, Grace Seits and Bracken 21-18, 21-12 on Ct. 2 and Hannah Brister and Allred winning 21-15, 21-19 on Ct. 3. Boos and Larkin were 21-12, 21-13 winners on Ct. 4 and Chambers and Haynes 21-12, 21-13 winners on Ct. 5.
No. 5 LSU def. Nicholls 5-0
LSU Kylie Deberg and Ellie Shank def. Nicholls Kennedi Steele and Aspen Steele; 21-9, 21-6
LSU Parker Bracken and Reilly Allred def. Nicholls Katie Jones and Luciana Chuong; 21-15, 21-7
LSU Laura Boos and Ella Larkin def. Nicholls Bethanie Durant and Alisha Wischkaemper; 21-14, 21-6
LSU Melia Lindner and Amber Haynes def. Nicholls McKay Wilson and McKenna Malone; 21-8, 21-12
LSU Brooke Blutreich and Cassidy Chambers def. Nicholls Hailey Mason and Ja'Mya Holmes; 21-10, 21-15
No. 5 LSU def. UNO 5-0
LSU Ellie Shank and Kylie Deberg def. UNO Ania Esarte and Maria Ozaeta; 21-15, 21-14
LSU Parker Bracken and Grace Seits def. UNO Alexa Spartz/Trinity Jackson; 21-18, 21-12
LSU Rielly Allred and Hannah Brister def. UNO Ashley Salazar and Ivana de Carvalho Peixe; 21-15, 21-19
LSU Lara Boos and Ella Larkin def. UNO Serena Baumgart and Valerie Vujnovich; 21-12, 21-16
LSU Cassidy Chambers and Amber Haynes def. UNO Sydney Gott and Valentina Echeverri; 21-12, 21-13