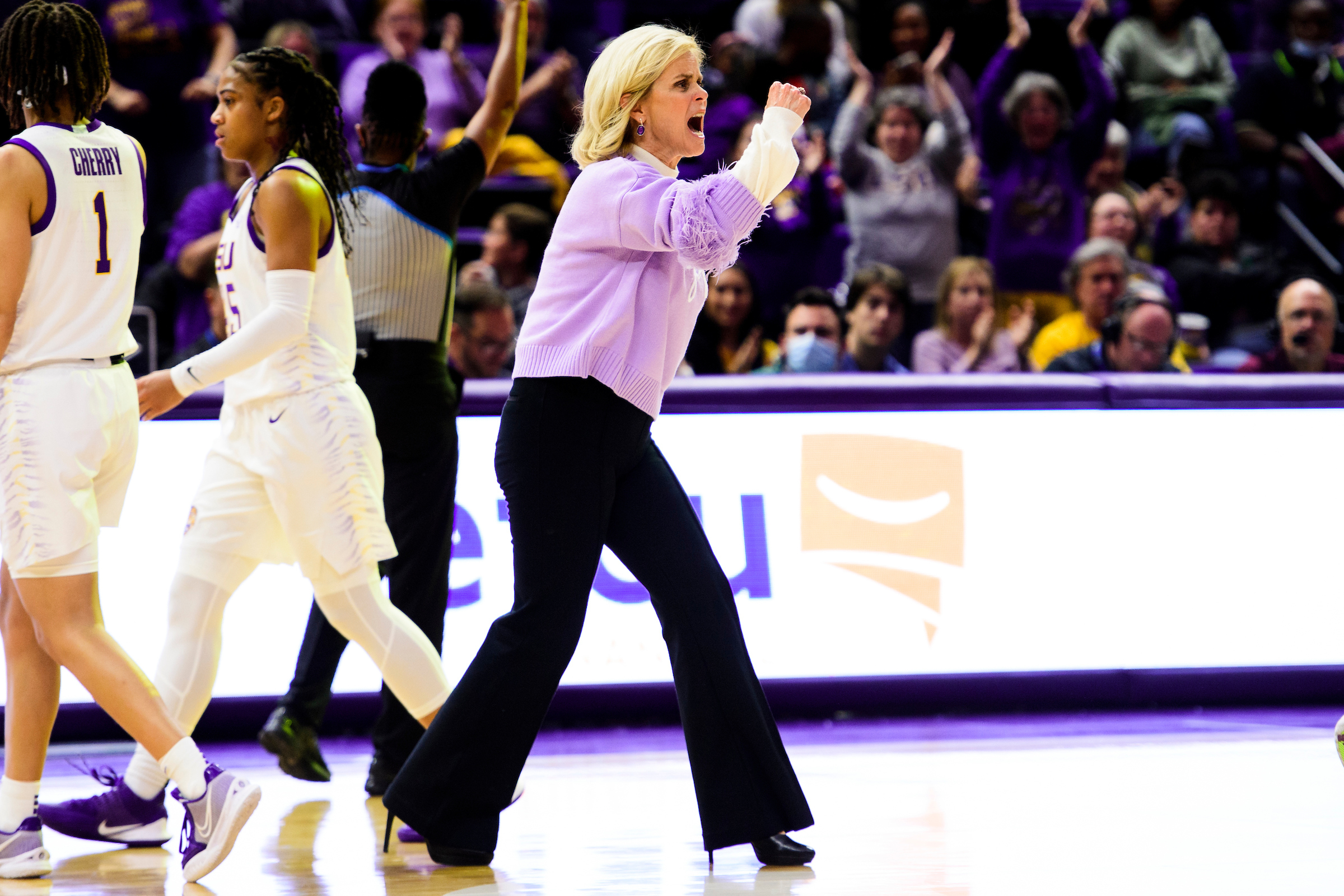 Given her proven track record as a winner, highlighted by three NCAA championships while at Baylor, Kim Mulkey has managed to do what some believe was the impossible in her first season at LSU.
Mulkey, who agreed to return to her native roots in Tickfaw, has guided LSU from a team that was 9-13 to 25-4 this season, finishing second to only top-ranked South Carolina in the Southeastern Conference standings.
The Tigers, who don't play in the SEC Tournament until Friday at 6 p.m. in Nashville against either Kentucky or Mississippi State, enjoyed the greatest turnaround by a coach in her first season in league history with the caveat that the number could improve based on the team's play in the postseason.
The 12.5 game improvement is based on the NCAA formula which takes wins differential and losses differential from one year to the next into account. Depending on how LSU fares in the postseason, the official improvement number will change.
Mulkey has led two of the greatest single season turnarounds by a first-year head coach at a school; first at Baylor and now at LSU.
NCAA DI First Year Head Coach Improvements [(Wins Diff. + Losses Diff.) / 2]
Coach School Improvement
Cynthia Cooper-Dykes Texas Southern 14.5
Brenda Oldfield Minnesota 13
Kim Mulkey                                         Baylor                          12.5
Katie Abrahamson-Henderson UCF 12.5
Kim Mulkey                                         LSU                              12.5*
Nate Kilbert Ark.-Pine Bluff 11.5
Michelle Clark-Heard Western Kentucky 11.5
Todd Starkey Kent St. 11.5
*Is active and will change depending on postseason outcomes
LSU was to finish eighth in the SEC during a preseason prediction from the league's coaches.
The Tigers, no matters what transpires at the SEC Tournament this week, are also expected to host first-and second round games in the NCAA Tournament of the top 16 seeds in the field, marking the first time since 2014.
LSU's 25-win total, which includes six over ranked teams, is the most since the 2007-08 season.