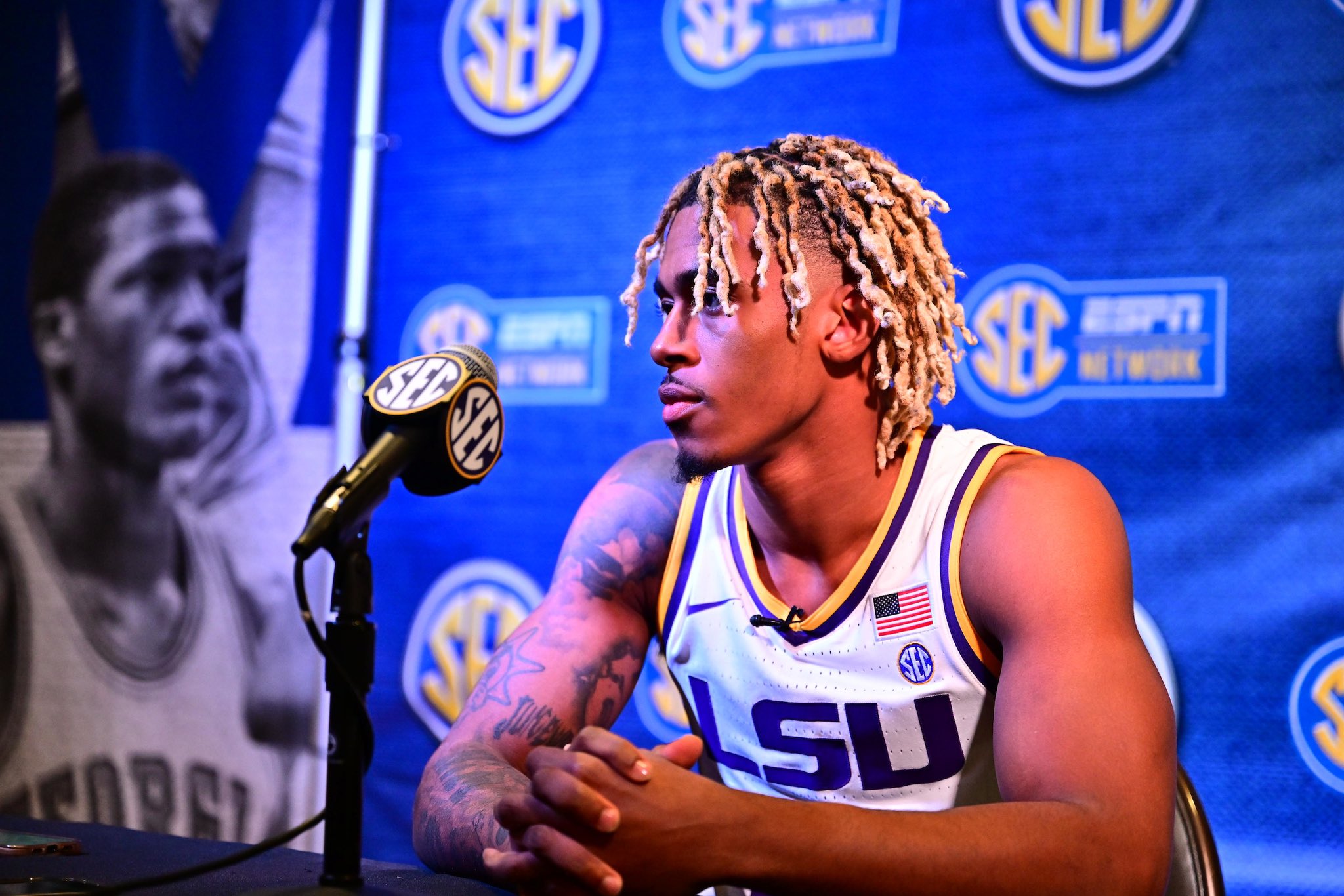 LSU first-year coach Matt McMahon took a break Tuesday from the reclamation or reconstruction project he is overseeing – otherwise known as the LSU basketball program – to speak at the Southeastern Conference Basketball Media Day in Birmingham, Alabama.
Currently at the midway point of preseason practice, LSU is a little more than three weeks into a six-week ramp up to its season-opener against Kansas City on November 9 in the Pete Maravich Assembly Center.
Unlike any of the other 13 SEC coaches in attendance, McMahon is the only one attempting to rebuild a roster from scratch, and to develop not just a team for the present, but an entire program, one that was literally decimated when former coach Will Wade was fired last March on the eve of the NCAA Tournament for violating NCAA rules and flaunting it.
Reading between the lines, a typical humdrum preseason event proved to be revealing despite appearances to the contrary, specifically where LSU basketball is concerned.
As these types of media conferences go, neither McMahon nor the two LSU players that accompanied him, redshirt sophomore Adam Miller and fifth-year senior KJ Williams, said anything particularly revealing outside of the typical coach-speak and preseason player bravado you usually hear at events such as these.
Unless, of course, you were reading between the lines.
Take a few nuggets gleaned from McMahon's 20-minute presser, place them in context with a comment from Miller an hour or so later in the television studio of SEC Now, mix those two ingredients in with a piece of "top secret" insight, then stir all of that together with the SEC media preseason poll prognostication for LSU, and you end up some spicy tasting hot sauce.
"We'll be a work in progress, that's for sure," McMahon said. "But I like the steps our team is taking. Ultimately, we want to put a product on the floor that the LSU fans and students and alumni will be proud of and want to support because of how hard we play, how tough we are, how together we are, and ultimately hopefully lead to winning."
However, here's the hot stuff, first.
A reporter then asked about Miller, who signed with Wade after transferring from Illinois following his freshman season. He was expected to be a starter for the 2021-22 season, but tore his ACL during preseason practice, missed the season, and entered the NCAA transfer portal after the season when Wade was fired as did most of the 2021 roster.
Miller, however, continued his rehabilitation process at LSU while still in the transfer portal. During that time, McMahon said earlier this month, Miller gave the new staff an opportunity to develop a relationship with him.
McMahon is perceived to have pulled off a major coup when Miller opted to return to LSU instead of going to TCU, which was Miller's other portal finalist.
A highly-touted scoring guard with what McMahon calls an "extremely high basketball IQ," Miller has only been cleared to play from his injury the past nine weeks, but McMahon pointed to the first intersquad scrimmage LSU had last weekend as evidence of how quickly Miller is returning to form.
LSU was scheduled to have two intersquad scrimmages before the season-opener because McMahon chose quality opponents, both with officials, over playing open exhibitions.
Both of last weekend's scrimmage, and the upcoming event, are closed to the public and McMahon said he cannot comment on which teams LSU played or will play. However, an anonymous source close to the LSU athletic department said Baylor and the University of Louisiana-Lafayette are the two opponents.
Although McMahon didn't confirm the report, he did say today that Miller demonstrated so much progress during the team's first scrimmage, presumably against Baylor, "that was off the charts."
About an hour later, during an in-studio interview on SEC Now, Miller told a network interviewer that "we may be the eighth-best team in the SEC, we may not be. We may lower, we probably may be higher."
The reporter pointed out to Miller it sounded like he had a small chip on his shoulder.
"A chip, yeah," Miller said. "But it is a big chip."
McMahon also talked about Justice "Juice" Hill, a senior point guard, who was on one of three players who transferred from Murray State.
Hill played for McMahon the past three seasons and is another in a long line of solid point guards he's coached. Murray State won the Ohio Valley Conference last season, finished 31-3, and missed the Sweet 16 by four points.
"(Juice) has really grown and developed as a leader, which I think is important at the point guard position. Elite athlete, great speed. And you combine that with his work ethic, I think he's much improved from where was a year ago with us at Murray State. Obviously for me, I'm hoping he'll transition very well to LSU because we're counting on him to do so."
For his part, KJ Williams, who also transferred from Murray State where he played for four seasons McMahon, was named a second-team All-SEC preseason low-post player. He averaged almost 18 points per game last season, along with 10 rebounds.