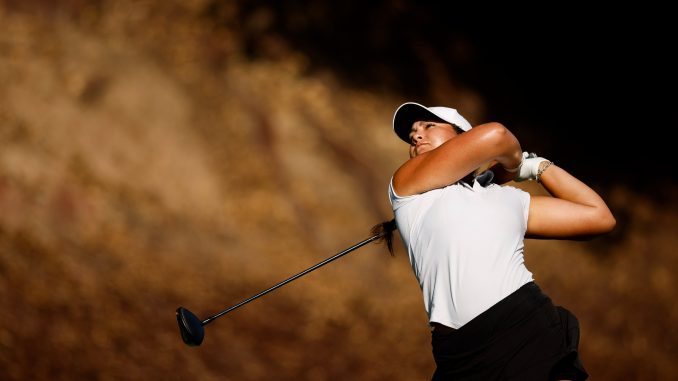 LSU's Latanna Stone finished as the runner-up in the United States Golf Association Women's Amateur at the famed Bel-Air Country Club in Los Angeles, California.
Stone dropped the 36-hole final to Auburn grad student Megan Schofill, 4&3. The pair both grew up in Florida and have known each other since the eighth grade.
"I think that I know that I can do this and hang out with the 'big guys'," Stone said on The Golf Channel. "It's just so special. I have my parents and my coaches here and I'm going to cherish this moment forever."
Stone beat the Nos. 7, 10 and 25 players in the Women's World Amateur Golf Ranking on her run and Stone's five wins came against three of her 2022 USA Curtis Cup teammates (Amari Avery, Rachel Kuehn and Rachel Heck), the 2022 U.S. Girls' Junior champion (Yana Wilson) and the 2022 U.S. Amateur Four-Ball champion Thienna Huynh.
The championship match swung on the second nine of the opening 18 holes after the two players were even through 14 holes with no player having more than a 1Up lead to that point in the match. But Schofill went par-birdie-birdie on 15, 16 and 17 to suddenly break out to a 3Up advantage. That's how that 18 ended.
In the second 18 holes, Stone, who was bothered by a right leg injury suffered late in the week, was able to win the 19th hole, the par 5 first with a birdie four, but Schofill was almost unstoppable playing under par golf and pushing the margin to 4UP on the 26th hole. Stone was unable to convert some putts in the afternoon half of the round and never able to get back in the final holes as the match ended on the 33rd hole.
Stone, a native of Riverview, Florida, was trying to become the first LSU player to win the Women's Amateur since Shreveport's Meredith Duncan, who captured the event in 2001 on the first hole of sudden death, the 37th hole, with a kick-in birdie on the par 3 hole.
LSU sophomore Taylor Riley also had a successful Amateur, advancing through qualifying to the round of 16 earlier in the week.
Now LSU players will begin to return to Baton Rouge for the start of the 2023 fall semester and the start of the fall golf season in early September.
"It gives me a lot of confidence," Stone said. "I'm so excited to go back and spend time with my teammates and coaches. I think we're going to have a great year this year."