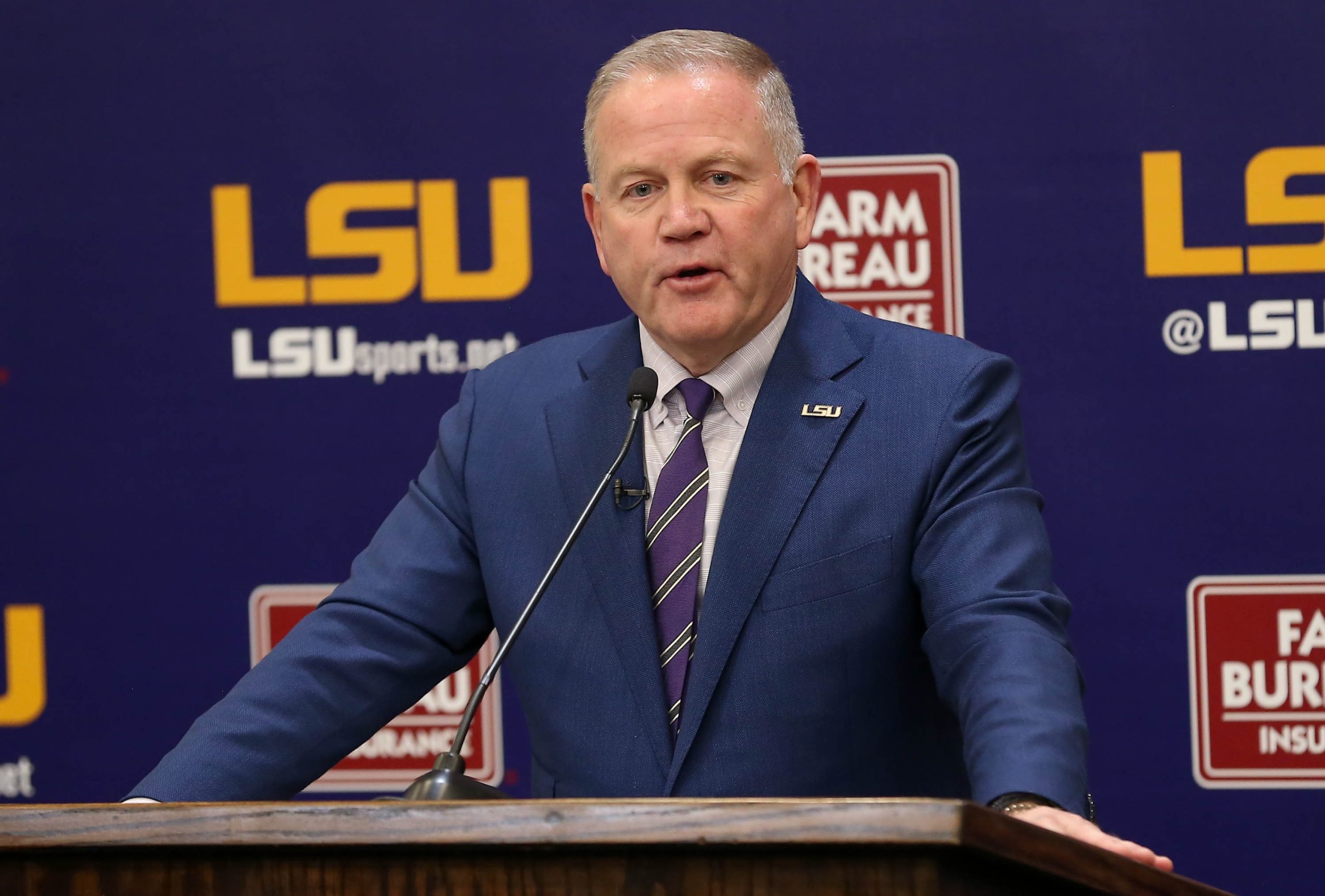 What was once a bleak position group in terms of numbers grew significantly once new LSU football coach Brian Kelly and his coaching staff went to work.
After being greeted with the news earlier in December that starting quarterback Max Johnson was leaving LSU to transfer to SEC West Division rival Texas A&M, Kelly was able to secure the signature of long-time commitment Walker Howard of Lafayette's St. Thomas More. A day later, he was able to convince former LSU quarterback Myles Brennan to remove his name from the NCAA transfer portal and rejoin the program.
Two months later Kelly said that quarterback Jayden Daniels of Arizona State, who had entered his name in the NCAA transfer portal, reached out and expressed interest in LSU. He was extended an official visit and committed to the Tigers, giving them four scholarship quarterbacks for spring training which begins Thursday.
"Wanted to add more competition," Kelly said of a conversation with Brennan. "Nobody has the starting position. Go earn it. You've worked hard. He's changed his body. He's healthy. You're an outstanding quarterback. Why can it be you? Same thing for Nuss (Garrett Nussmeier) and Jayden. It's the inner confidence they all have in themselves that they can be the starter."
Kelly met with the media Wednesday to preview his first spring practice at LSU with the quarterback position carrying plenty of interest.
Brennan set a school record with 11 touchdown passes in his first three games in 2020 but after throwing for a career-best four touchdowns in a 45-41 loss at Missouri, he didn't play again after suffering a season-ending injury. He was projected to be the team's starter last season but sustained another season-ending broken arm in a freak incident the day before he was set to return to campus for fall practice.
Daniels played in a total of 29 games at Arizona State, including all 13 of his team's games in 2021. He accounted for 7,313 career yards with the Sun Devils, completing 62.3 percent (451 of 723) of his passes for 6,025 yards with 32 touchdowns and 13 interceptions and appeared in two bowl games during his three seasons.
"I think he brings more than extending plays," Kelly said. "He was in an offensive system which was really built towards more ball control this past year playing to a very good defense. We think there's a lot that has not been tapped into his ability to be a dual threat quarterback. He's got arm talent. He's got IQ and he can run the football. He's a talented runner with the football. He was more an extender or plays. We think there's much more to it than what he's brought over the last couple of years."
Nussmeier, an early enrollee in 2021, played in four games – including a start against Arkansas – but was redshirted. He completed 29 of 57 passes for 329 yards with two interceptions and a touchdown.
"We're going to go with seniority to start, one through four," Kelly said of his rotation. "The next time it may be last end to first end. Until we get into a rhythm that allows everybody to get enough reps."
Here's everything else Kelly said:
Replenishing depth on offensive line
"We brought in two transfers (Miles Frazier, Tre'Mond Shorts) and recruiting another (Tyler Steen). There are players on this roster that will develop in time before we play our first game against Florida State. I think we've made the progress in bringing in some transfers. I also think the players that we have physically developed since January and changed their bodies. That's the next stage of that development."
On the reshaping of his roster after inheriting 39 scholarship players with the expectation of having 84 when players report Aug. 4 for fall camp
"We took 17 mid-years (12 from transfer portal, 5 high school enrollees). That's not how I will build a program here at LSU year in and year out. We needed to address that gap. This isn't triple-A, this is the SEC. You better have a full roster of really good football players when you show up. You can't have 72 scholarship players or the guys running down the field, they're not going to be SEC players."
Main ingredients in attracting players from NCAA transfer portal?
"We got 10 guys from Louisiana that love the state, that wanted to play here and are coming back to play here. Here's what we told our group. My job is to build competition at every position. If you don't like competition this isn't the place for you. I came down here because I love competition. It starts it with me and it's going to run through every position. If competition isn't something, you like then there's another school for you. If you want to compete, then LSU's the place for you. It was positional needs. We wanted guys that wanted to be at LSU and play a part in bringing LSU back to a championship level."
Definition of a successful spring
"Any coach wants to make sure you're healthy. You don't any type of injuries that impact your roster. You can't go into spring afraid to compete. We're going to compete; we're going to tackle. Do the things you need to develop. We want to be able to evaluate our football team in a manner that allows us to say here's who we are going into the summer. I want to expose (weaknesses) in the summer, I don't want to cover them up. I want to know who we are so we can go to work on those going into camp and start addressing those things."
Injuries that may spring participation
Armoni Goodwin is healthy and back. Major Burns (foot) will probably not be available for most of the spring. Garrett Dellinger is coming back from shoulder surgery. He won't be available. "
Positions to still address
"Tight end depth is a concern. Maybe some people on our roster that have to change positions and play. We're going to have to address it one way or another. Maybe some movement in the transfer portal after spring ball. We're not done on the offensive line."
Rebuilding of secondary
(Oklahoma State transfer Jarrick) Converse. He's first team All-Big 12 and he'd a leader. (UL-Lafayette transfer Mehki) Garner, he's an NFL player. Long, athletic. He's been impressive and his film backs it up."