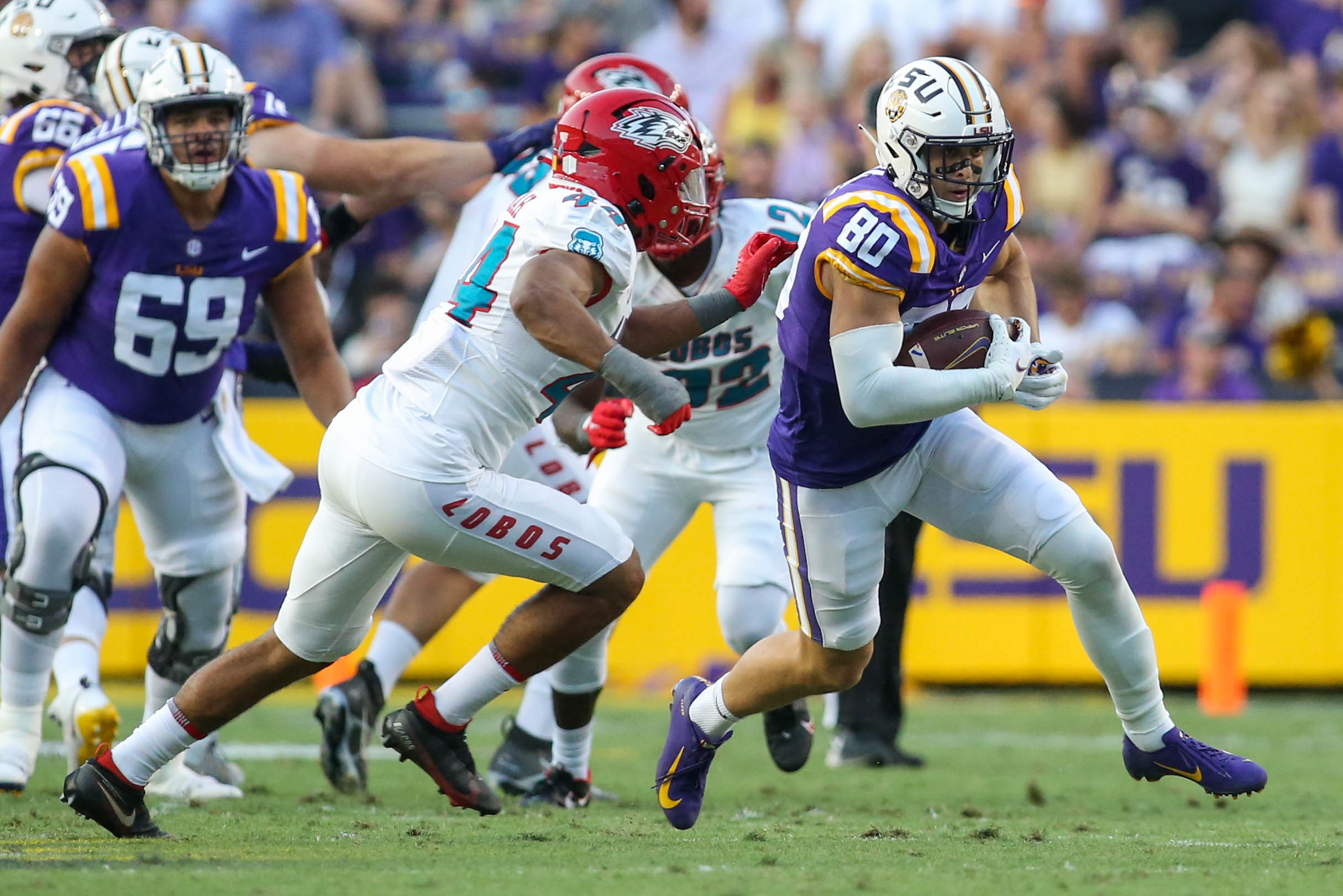 With an open date a week ago No. 15 LSU is moving closer to being at full strength when the Tigers entertain No. 6 Alabama at 6 p.m. in Tiger Stadium.
The Southeastern Conference Western Division showdown on ESPN will show the Tigers gaining back two players who practiced this week, and another could provide a spark in a limited capacity.
LSU football coach Brian Kelly said Wednesday during the SEC Coaches' Teleconference senior running back John Emery Jr. and sophomore wide receiver Jack Bech have both practiced this week and would play in Saturday's game.
Kelly previously said that safety Major Burns has worked himself back from an upper neck injury and is expected to play after missing the last five games.
Emery missed LSU's 45-20 victory over Ole Miss on Oct. 22 with an undisclosed injury. He has appeared in five games and rushed 40 times for 154 yards and a touchdown and caught six passes for 78 yards and another score.
Bech was limited by a lower back ailment against Florida and didn't play following a muffed punt. The injury sidelined him against Ole Miss and the former St. Thomas More standout, has 10 catches for 81 yards and a touchdown in seven games.
The return of sophomore left guard Garrett Dellinger to the starting offensive line remains uncertain after straining his ACL in the team's loss to Tennessee. He's also nursing a broken hand suffered Sept. 24 against New Mexico.
"I'm gonna still reserve judgment on him until we get to game day," Kelly said of Dellinger. "He would be probably a day-to-day situation. I don't think we would put him back into the starting rotation, but he would be somebody that would be able to be in a rotation for us which would be very beneficial and being able to take some of the snaps in the rotation at the guard position.
"And if it can give us that kind of depth of the guard position that helps us out in the long run," Kelly added. "It'd be great to get him back. We don't need him back for 60 snaps but if we can get, you know 20 to 25 really good quality snaps, it just makes us more effective throughout the game and the guard position."

Here's what else Kelly had to say:
Opening statement:
"While we were off last week, we were certainly preparing for an outstanding football team in Alabama. Our guys are certainly prepared for the very best. We're going against the Heisman Trophy winner (Bryce Young), and a consistent, elite football team that Coach (Nick) Saban puts out there each and every week. We know the challenge in front of us. But it's an exciting opportunity for our football team to play in Tiger Stadium on national TV. And we welcome the challenge, and we know it's going to be a great one, but these are the games that you look forward to playing when you're at LSU. And that's why these kids come here and so again. Preparation will be the key here as we continue to go through the week and again, we'll have to play our very best and our players will have to be at their very best against a great opponent."
On trying to have BJ Ojulari and Harold Perkins Jr. more on field together this week?
"We have the ability to make defensive calls to have them on the field the whole time. We just wanted to add that into our defensive call structure, to make sure if that's what we felt was best for our team, they could be on the field at the same time. We had to do that in certain situational calls meaning third down on some nickel or dime situations. Now we can play base defense with both of them on the field. We have the ability to do that at any time, and that's really the biggest difference."

On your team's biggest growth since Florida State game?
"There's so many areas. I just think understanding this, this was a big change for them and adapting to the new standards on a day-to-day basis. Building different habits and just thinking right about everything they do relative to their preparation. I think that's probably the two biggest things and has allowed them to take their preparation to a new level which has allowed them to perform better."

On challenges of facing Alabama QB Bryce Young?
"There's no real good answer. In many instances you can't defend him because he's so elusive and he wants to throw the football. He could take off so many times when he's trying to find receivers down the field and just has a great awareness. In a sense he's a true quarterback. He's not a scramble around guy that's just throwing it up there. He's very intentional about everything that he does. He's not taking sacks. He's the Heisman Trophy winner, and he should be. He's the best player in college football."
On the ability to turn around programs quickly?
"Everywhere there is this a need to want to see results. Our society is about that. There's no patience for long-term plans anymore. I think everybody goes in with their eyes wide open that you know you're looking to find immediate results now. Things that have happened that allow that to come together quicker, are seen with transferring. The transfer portal in particular allows you to restock, if you will, in terms of bringing in more mature players. If this was just building with freshmen, the process could in fact take longer. But there are some accelerants in that sense because of the ability to transfer in the transfer portal. Having said that you still have to be able to create your program from within. You still have to get buy in, you still have to be able to create the right standards and the right relationships and the right coaching staff and the right support staff. There are a lot of moving pieces other than just saying, 'hey just rely on the transfer portal and all things will be great'. But that's kind of my take on how the move towards accelerating and turning it around quicker."
On current window for transfer portal?
"We had some deep discussions at the SEC meetings. Some very frank, open discussions and there's never going to be 100% unanimous agreement on it because there are pieces there that you know influence (things). You know how things affect the student-athlete and how they affect ultimately setting up your roster. I think this is the best solution that gives the student-athlete the opportunity to get into a transfer situation that they deem. And it allows you both of them, to take place and in a manner that doesn't bring in a lot of other things that could create anxiety, such as tampering or giving up on a season. Doing things that just create distractions. I think when all parties got together and including, including student-athletes that weighed in on this, I think everybody felt like this was the best decision."

On your scouting department having to be abreast of more players?
"I think you have to do your due diligence, similar to what an NFL board would do relative to people that are put on the waiver wire or people that are free agents or anything like that. You better know the guys from the areas that you're interested in looking at. I think it expands your personnel department and puts more of an emphasis on understanding players that are in other programs. Absolutely."