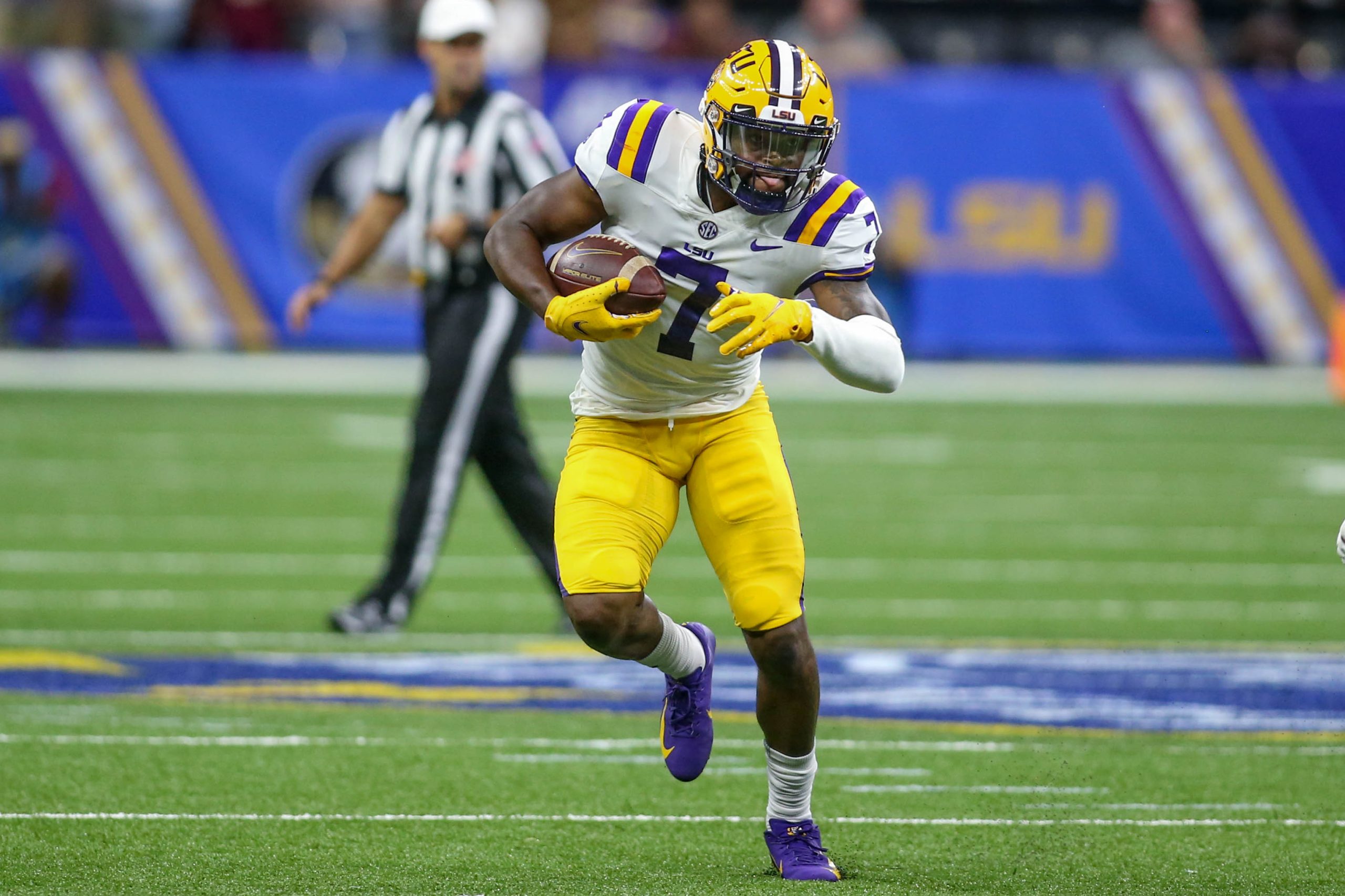 The prospect of fatherhood is the reason LSU junior wide receiver Kayshon Boutte will not be with the Tigers for Saturday's game against New Mexico.
First-year coach Brian Kelly said Thursday that Boutte has been excused from the team to be with his girlfriend as they awaited the arrival of their son.
LSU (2-1) hosts New Mexico (2-1) at 6:30 p.m. in Tiger Stadium. The game will be carried locally by 98.1-FM and broadcast by ESPN+.
"He's not going to be playing this weekend," Kelly said after Thursday's practice. "They have a baby boy on the way and probably may have already had the baby boy. But he is with her, and we expect some great news here hopefully in the next few hours. I've excused him from playing this weekend and we wish him and his new mom all the best."
Boutte, a preseason All-SEC first team and All-America selection, has made 10 catches for 93 yards with no touchdowns through LSU's first three games.
Kelly believes his team is deep enough to overcome loss of Boutte for one game.
"Jack Bech will play the slot receiver position," Kelly said. "I think Malik (Nabers) can bounce in there as well. You'll see Kyren Lacey at the 'W' or in the boundary quite a bit. And Brian Thomas can float into that position as well. Chris Hilton played quite a bit out of the X' as well. We think we'll have a nice rotation that will keep us in a really good situation as well."

Here's what else Kelly had to say:
On NCAA's ruling on LSU being placed on probation?
"I was not here as you know. I'm going to defer to the statement that the university released, and we'll stand by that statement. In terms of asking questions and getting into the specifics, I really just don't have much to offer other than what we released today relative to the Committee on NCAA Infractions."
On preparation for New Mexico?
"The guys had a good week of practice. I was pleased with their focus. You're playing an option team. I know I used that analogy last week and then a very similar defense in a lot of regards to what we saw last week. It required our attention to detail, and I think our guys did a pretty good job."

On playing more '11' personnel against Mississippi State? Did the unit improve?
"We've been primarily in '11' team and '10' in two minutes. It's been situational, third and long. But our standard formation has been '11' and will continue to be so. I think I've made this pretty clear, you've got to run the ball effectively. I believe the best way to do it is with a tight end on the field."
On taking care of ball against New Mexico's defense?
"Just the structure itself and they play really hard. (Defensive coordinator) Rocky long is one of the best, if not as good as any anyone I've seen in the business in terms of over the years of putting together great defenses year in and year out. If you look at their scores over the last couple of years, no one scored over 35 points. I mean, maybe somebody scored 37 or 38, but nobody's in the 40s. So even when they've gone up against teams that have better talent, they're difficult to move because their structure is sound. It's fundamental, they're aggressive when they need to be. It's just a really good scheme. And it's well orchestrated, and Danny (Gonzales) was a part of that. You've got really two defensive coordinators, and he's a really good play-caller as well. They just have a really good system set up."

On play of wide receiver Brian Thomas and his development this year?
"Well, he's physically very strong. He's got length. I think the thing that's stood out is his yards after the catch. He's hard to bring down. And I just think he's another guy that understands what it takes to get on the field. It is so competitive during the week. You have to practice well. And if you practice well, you have a chance to cash that in with reps and I think that's the situation that he finds himself in. That he has to compete for playing time during the week. And as he as he continues to grow and mature. I think he's figuring that out. I think we're at a point now where he clearly understands how to get how to get on the field and get more reps."
Any differences between the 3-3-5 defenses New Mexico and Mississippi State use?
"They're more over the 3-3 stack. There are 3-3 stack more so with a robber. (Mississippi State defensive coordinator) Zach (Arnett) definitely has his flavor. They're a little bit more man coverage as well. There are varieties that are different there's no doubt. I guess where they become similar is the three-down versions and how those protections need to be implemented from week to week."

On Garrett Nussmeier seeing action Saturday?
"Decision making. I think we know that he's talented. I think I talked about it after the (Southern) game is that he can't press. He just needs to let the game come to him. I'd be happy that if he's in the game. That's a good sign, but it's really about really making good decisions. Take what they give you and let's move on to the next play. Let's call another play without it being a moment of 'wow'. Stay away from those moments and he can have great success."

Any change on Joe Foucha's status?
"We expect him back for the Auburn game."
On offensive line rotation this week?
"Anthony Bradford is active. He'll be involved. Cam Wire will dress as well. So will Tre'Mond Shorts. I think it'll be probably those eight guys that are in our rotation."

On Emery Jones' ability to crack starting lineup along with Will Campbell?
"Just their play. Everybody's got to earn their opportunity. We had Will here in the spring, so we got an opportunity to see him, and he earned that opportunity through evaluation and through live reps. Emery took a little bit longer because he wasn't here. He came in in a normal matriculation. We had to go through camp and actually a game or so before he or that opportunity. These two are the best players at their positions and clearly earned their right to start at the positions in which they're at right now."

On your pass run of success against Group of 5 opponents?
"I think it's focusing on process over outcome. You're not thinking about outcomes as much sticking to a consistent approach to preparation, how you practice."