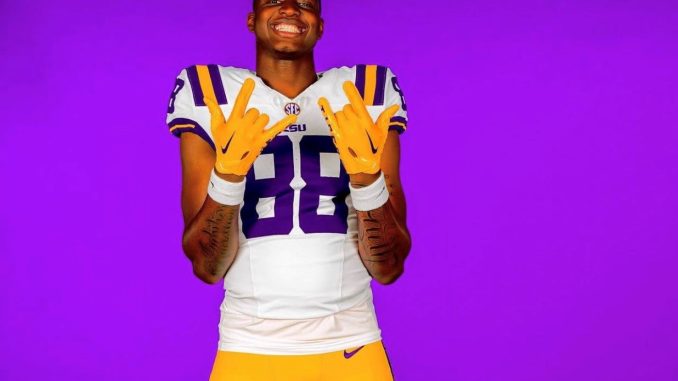 LSU tight end Ka'Morreun Pimpton and offensive tackle Zalance Heard were both selected Tuesday to the On3 Sports.com's Preseason True Freshman All-America team.
The 6-foot-6, 242-pound Pimpton has drawn solid reviews during the team's fall camp, looking to build a case for playing time behind starter Mason Taylor. Pimpton was injured and not involved in the team's first major scrimmage on Saturday.
Pimpton's involved in a battle with fellow true freshmen Jackson McGohan and Mac Markway for playing time at a position where Taylor is the incumbent and clear starter when the No. 5 Tigers open the 2023 season on Sept. 3 against No. 8 Florida State.
The four-star recruit, rated On3's No. 5 overall tight end, finished his career at North Crowley High in Ft. Worth, Texas with 85 catches for 1,326 yards and 21 touchdowns. He led his team in 2022 with 49 receptions for 951 yards and 7 TDs.
Heard, a former teammate of Will Campbell at Neville in Monroe, has consistently been among LSU's two deep at right tackle behind returning starter Emery Jones Jr. The 6-6, 340-pound Heard got part of a series in last week's scrimmage with the right time offensive line at right tackle.
Heard was one of two five-star recruits – the other behind edge rusher Da'Shawn Womack of Baltimore, Maryland – to sign with LSU. He was the state's No. 2 prospect and nation's No. 4 overall tackle.
LSU was one of three schools to have two players selected to the team with the others being Georgia and Alabama.