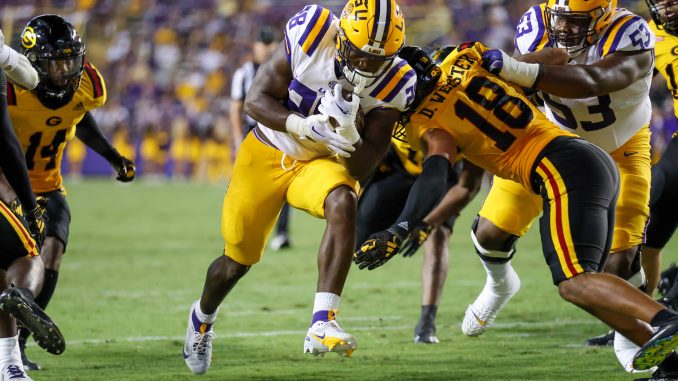 During his December press conference to discuss his newest signing class LSU coach Brian Kelly shared some insight into the mindset of offensive tackle Zalance Heard of Neville High.
It proved to be quite telling.
Heard, a five-star prospect, was Kelly's highest-rated high school signee and was the nation's No. 4 offensive tackle in the country according to On3 Sports.
During his in-home visit with Kelly, Heard informed his future head coach of his intentions to start this season at left tackle.
"We've got a freshman named Will Campbell playing left tackle right now. He's pretty good," Kelly responded of the All-SEC second team selection Freshman All-American.
Heard countered.
"Oh, I've seen Will Campbell play," Heard said. "I played with Will Campbell. I'm playing left tackle."
Kelly learned early of Heard's self-confidence and candor, a pair of traits that have served him well.
"Ever since then, I'm like, 'I like this kid'," Kelly said. "Just his confidence. It wasn't cocky. He's been that way in the recruiting process. Has a great confidence level, believes in what he's doing and what he can do for this program.
The 6-foot-6, 340-pound Heard made quite a splash during fall practice, earning playing time with the first team offense at right tackle in the team's first major scrimmage. He played sparingly in the team's opening game against Florida State and was part of a rotation in last week's home opener with Grambling on every other series at right tackle, lining up to sophomore Emery Jones Jr.
LSU scored on 10 consecutive possessions and rushed 48 times for 302 yards and five touchdowns, a sign that the move of Heard with the first team offensive line was a success and will continue with this week's SEC opener at Mississippi State.
The game will kickoff at 11:00 a.m. on ESPN and will be broadcasted locally over 98.1-FM.
"We liked his presence in the lineup," Kelly said during his Monday press conference. "He was assignment correct. He was physical at the point of contact. We felt like by and large for the first time in a collegiate football game, he handled the emotions of the game very well. We're kind of on track to do similarly do what we did in the last game with him and the next game as well."
Kelly said LSU's starting rotation wouldn't be affected with center Charles Turner III, Garrett Dellinger and Miles Frazier at left and right guards and Campbell at left tackle.
Heard's role will continue on a rotational basis with the first team offense ever other series at right tackle with Jones moving to guard where he was a four-star recruit at Catholic High.
"I've seen a lot of me in him (Heard) when it comes to understanding the game," Jones told reporters after Tuesday's practice. "I feel like Lance has a great knowledge of the game and he wants to get better. He brings effort, nastiness. Everything we want on the o-line. It's going to be fun playing with him all year."
Jones said that while the two positions are totally different, he enjoys playing both tackle and guard during the course of a game.
"It's fun," he said. "It's two totally different games. Playing tackle, you're on an island and at guard, you've got a little more help. You're playing against bigger guys. It's kind of flipping the switch in your mind and I feel like that's going well."
Jones finds this week's game with Mississippi State a bit sentimental. After playing in a reserve role in both of LSU's games against Florida State and Southern in 2022, it was last year's game with State that marked Jones' first start – a streak that will reach 14 straight on Saturday.
"It brings back a lot of memories," Jones said. "It makes me feel proud because I know where I was last year, and I know where I'm at now. It makes me feel proud at how much I'm improving. I've got to keep my head down and keep improving and go out there Saturday and have a good game."
With Campbell and Jones providing a measure of stability for LSU's offensive line a year ago, Jones embraces the presence of another in-state player such as Heard advancing up the depth chart so quickly. Redshirt freshman Bo Bordelon of Newman is the back up to Campbell at left tackle and freshman Tyree Adams of St. Augustine a reserve tackle, giving the Tigers a nucleus of players from their home state to impact the offensive line for the foreseeable future.
"It's honestly a great feeling," Jones said. "It's great to know we have o-lineman in Louisiana that have that same mindset who want to be dominating, want to come in and change the narrative of the LSU o-line. It's a great thing to have and as we're leading the o-line, we're going to try keep getting guys like that. We're going to keep performing at our best so we can get other great guys to come in and help us out."