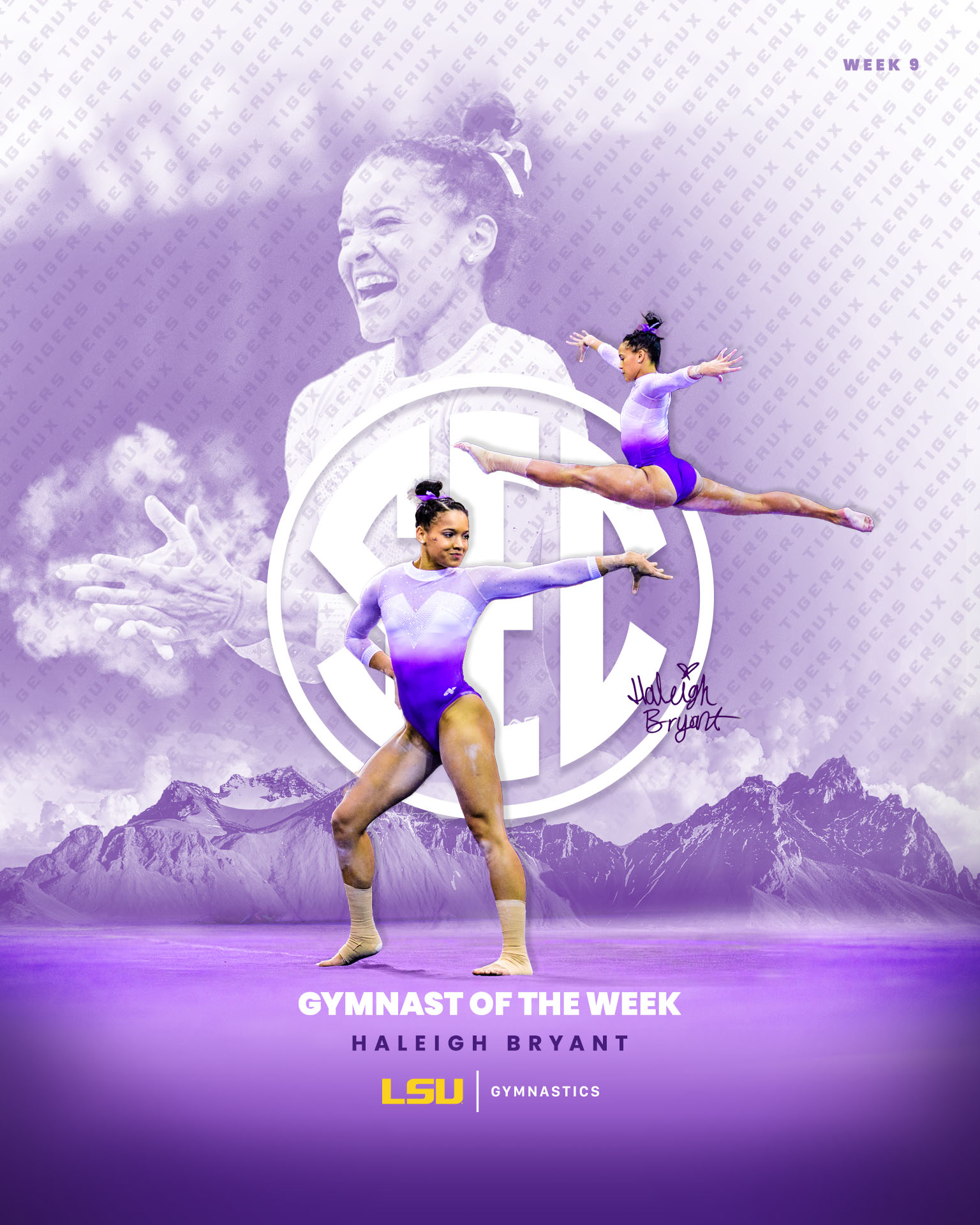 LSU's Haleigh Bryant was named the SEC Gymnast of the Week for the second consecutive week after winning the all-around at the Podium Challenge with her score of 39.700, announced by the conference on Tuesday afternoon.
The award marks the junior's third weekly conference honor in 2023 and fourth in her career.
LSU competed at the Podium Challenge last Friday with No. 7 California, No. 23 Washington and George Washington. She recorded scores of 9.900-plus on three events in the quad meet and helped lead LSU to victory with their team score of 197.700.
Bryant's front handspring-front pike half is considered to be one of the best vaults in collegiate gymnastics. The Cornelius, N.C., native is ranked the No. 1 vaulter in the country and is the owner of seven career perfect scores and 22 titles on the event in her career.
The Tigers began the quad meet on vault, where Bryant anchored with a team-high 9.975 routine to take the win.
LSU was all-even with California after two rotations with scores of 98.900, while Washington followed with a 98.625 and George Washington with a 98.300.
Bryant earned a 9.850 on beam and closed out the night with a 9.975 on floor to match her career high and secure the win for the Tigers.
LSU finished on top No. 7 California with their score of 197.700, also defeating Washington and George Washington.
Bryant earned her eighth all-around and vault titles with her scores of 9.975 on vault and 39.700 in the all-around. She now owns 16 all-around titles in her career to tie for sixth best in LSU history and her 52 career titles tie her at 10th in program history for most individual titles.
One of the top all-around gymnasts in the nation, Bryant ranks as the No. 4 gymnast in the country with her individual NQS score of 39.705. She also ranks in the top-20 on bars, beam and floor.