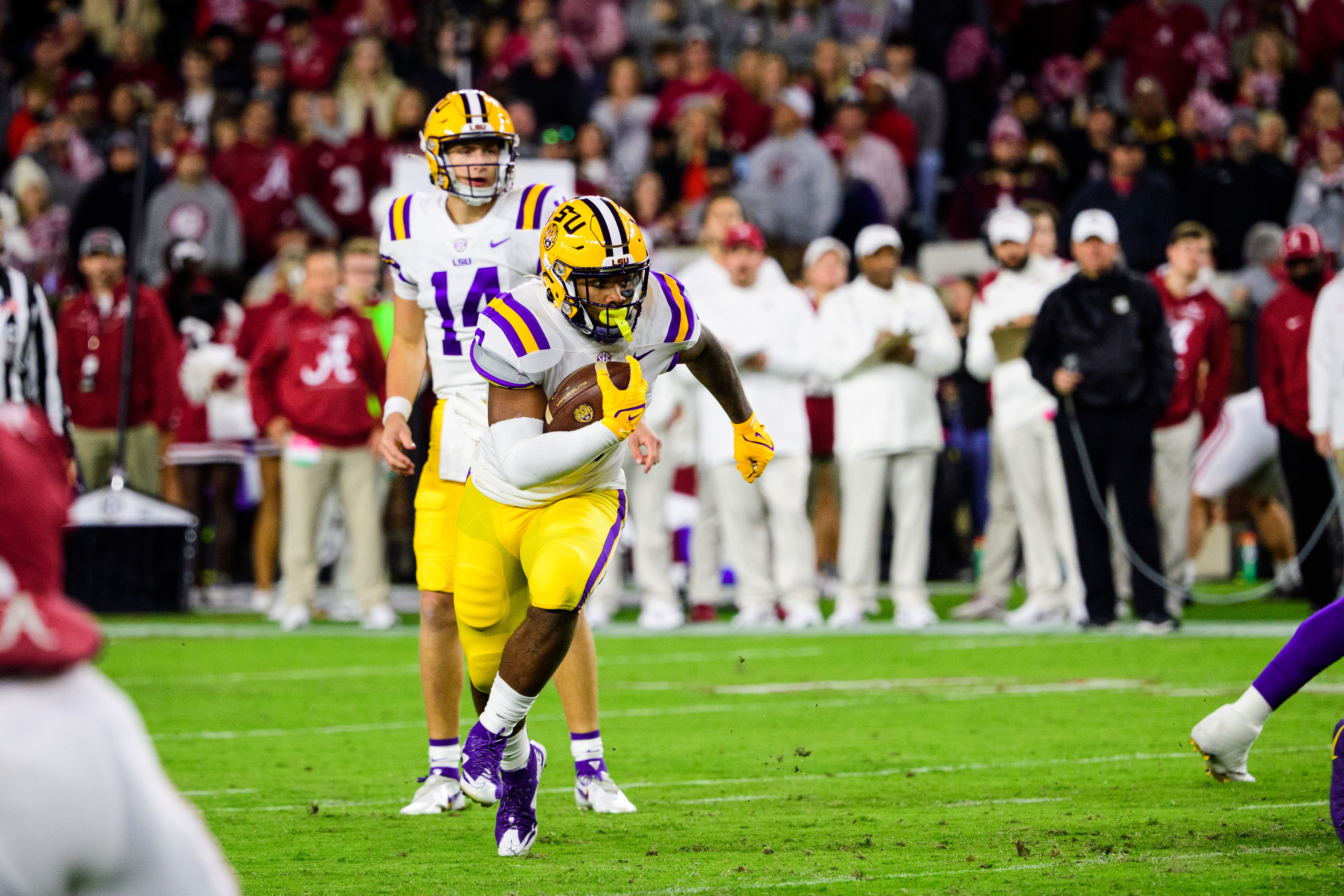 TUSCALOOSA, Ala. – Who knew LSU's proudest moment of a forgettable football season of struggle would be a six-point loss?
Despite a lame-duck head coach and a rosterful of injuries, LSU lost to No. 2 Alabama 20-14 here Saturday night with two of three final Tigers' possessions ending with quarterback Max Johnson throwing incompletions into the Crimson Tide end zone.
LSU's defense, installing some new alignments and blitzes, held Alabama to 308 yards total offense including just 6 yards rushing on 26 carries.
In the second half, the Tigers outgained the Crimson Tide 218 to 92 yards in total offense yet couldn't score again after Johnson threw an 8-yard TD pass to Jack Bech with 2:27 left in the third quarter.
Trailing by the eventual six-point defeat margin, LSU head coach Ed Orgeron bypassed three possible field goal attempts by All-American placekicker Cade York on the Tigers' last three possessions in the game's final 6:46.
Those possessions ended at the Alabama 7 (a failed fourth down gamble), at the Tide 41 (another fourth-down gamble) and the Alabama 30 where Johnson's desperation Hail Mary to the end zone was knocked down as time expired.
"We were coming in this house to win the game," Orgeron said of LSU's let-it-all-hang-out late-game offensive decisions. "I truly thought we were the better team tonight, but came up a couple of plays short. I wish we would have had a better plan on offense. We had opportunities to score and we didn't. I have to take that responsibility."
LSU had a chance to take the lead with just under seven minutes left to play as the Tigers drove from their 19 to the Alabama 7.
After a favorable instant replay turned a lost fumble by Johnson into a third-down completion, Johnson's fourth-down pass was too high for Trey Palmer in the end zone with 6:46 left to play.
The Tigers refused to fold with Cam Lewis blitzing Alabama quarterback Bryce Young and forcing a fumble recovered by LSU's Jaquelin Roy at the Alabama 42 with 3:25 remaining.
But after LSU running back Ty Davis-Price gained a yard on first down, Johnson, under severe pass rushes, threw three straight incompletions and Alabama took over on downs at its 41 with 2:38 left.
Yet, LSU's defense forced Alabama to its fourth three-and-out in its final five series of the second half and had one last possession with 50 seconds left at the LSU 38.
A 16-yard Johnson to Brian Thomas Jr. completion converted a fourth-and-9 to the Alabama 45 with 9 seconds left and Johnson's 15-yard completion to Jaray Jenkins to the Alabama 30 with 5 seconds remaining set the stage for Johnson's futile loft to end zone being batted down.
"We should have played like this every single week," said Johnson, who completed 16 of 32 passes for 160 yards and two TDs despite absorbing a horrific physical beating. "To be in the spot we're in is kind of frustrating."
LSU dropped to 4-5 overall and 2-4 in the SEC West. Alabama improved to 8-1 and 5-1 in the SEC West, but Tide coach Nick Saban was relieved to get the win.
"There were a lot of things in the game that we probably didn't do well," he said, "I knew this was gonna be a tough game. I knew they (LSU) would play their best game of the year against us. All in all, I can't complain. We won and we stopped them when we needed to."