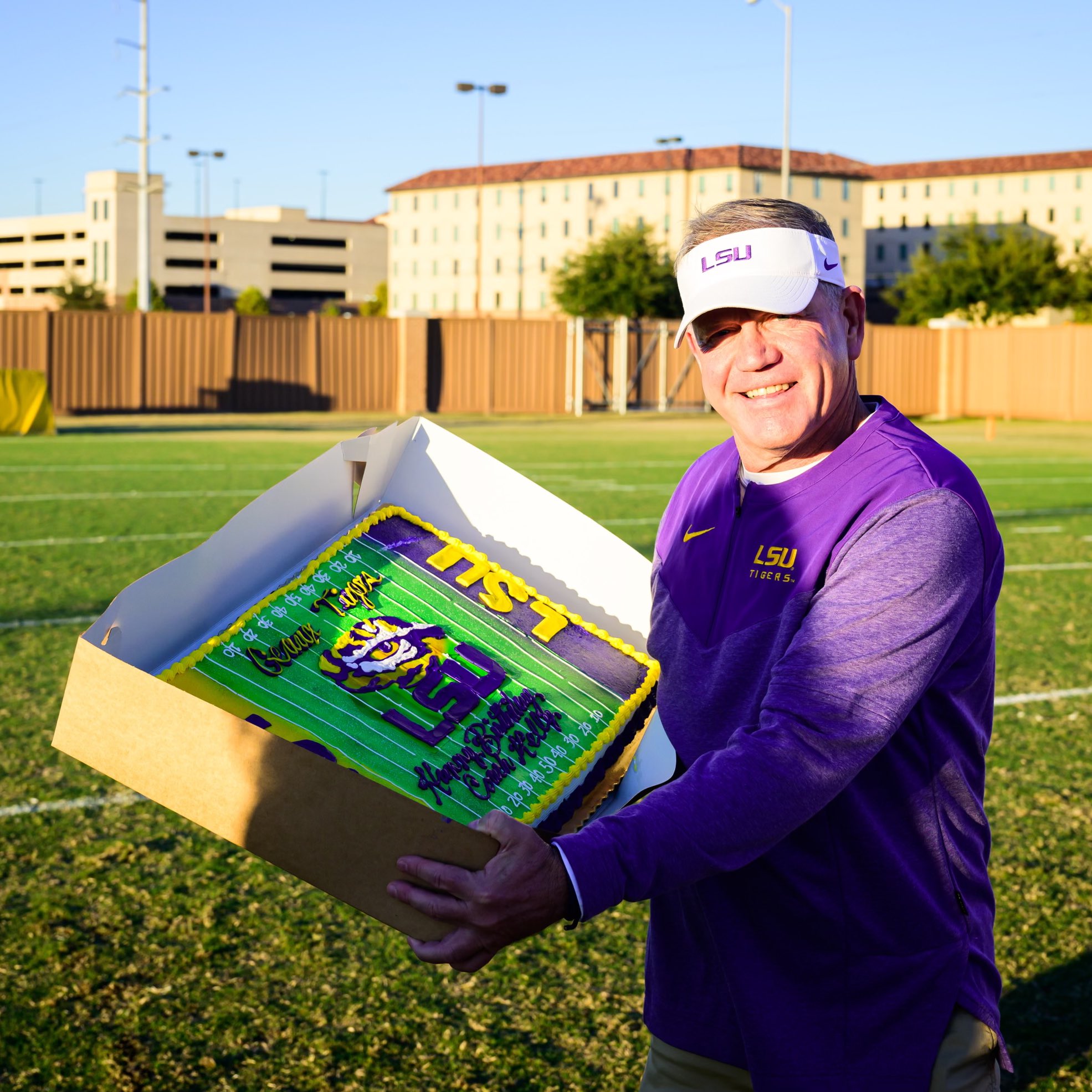 First-year LSU football coach Brian Kelly believes that his team has the utmost respect for Saturday's opponent sixth-ranked Alabama.
But Kelly doesn't consider his No. 15 Tigers (6-2, 4-1 in SEC) to be in awe of the Crimson Tide (7-1, 4-1) when the two Southeastern Conference West Divisional rivals kick off at 6 p.m. on ESPN.
"Well, we have no choice (laughing), unless Alabama wants to forfeit, and I don't think that's in Nick's plans," Kelly said of his counterpart and former LSU coach Nick Saban. "I think that this team understands the challenges but welcomes them at the same time. It fights.
"This group fights and welcomes it, and I think more than anything else, they're fighting for something and not fighting against something," Kelly added. "That's a big change from where they were. I think they're excited about it, and they're excited about the challenge. They know it's a challenge, but just sensing them last week, they're excited about the challenge."
Since LSU last defeated Alabama during its run to the 2019 national championship, the Crimson Tide have won the last two meetings with the Tigers – including last year's narrow 20-14 decision in Tuscaloosa.
LSU put itself in position to the share the lead in the SEC West with Alabama by winning 45-35 at Florida and 45-20 at home against Ole Miss. The Crimson Tide answered a 52-29 road loss against third-ranked Tennessee with 30-6 home win over Mississippi State, setting up Saturday's pivotal matchup.

Here's what else Kelly had to say:
Opening statement:
"Well, it's a big day, as you know. It's Nick Saban's birthday, so I want to wish him a happy birthday to start this off. Maybe that will soften things up a little bit. You can always start a press conference by throwing a little happy birthday wish out to your opposing coach. Certainly, what's to say about Alabama other than consistency, excellence, arguably the greatest head coach in college football history in Nick Saban. I have a great deal of respect for Nick and what he has accomplished and what he has done for college football and great players. It starts with Bryce Young. The Heisman Trophy winner is a playmaker. When it comes to making plays on the field, you just put on the film, and you watch him. It's pretty amazing some of the plays that he makes. And he is a quarterback. He is a quarterback that is talented. He is not making it up, but he is improvising and making plays. He is elite. That's all I can say. A pretty terrific player. He has a great running back in Jahmyr Gibbs, who I got a to see firsthand at Georgia Tech, but he is surrounded certainly a very good offensive line and talented players. So very explosive offense. It's led by obviously one of the great players in college football.
"On defense you start with (Will) Anderson, who is an elite defensive player. Elite in terms of not only his ability to rush the passer, but what they ask him to do. He is an unselfish player. He plays a four technique. He plays a five. He stands up. He does a little bit of everything. He does a lot of different jobs. That's why he is going to be a great NFL player as well. But, you know, on the other side (Dallas) Turner playing into the boundary is an outstanding football player. You can't just say, 'Hey, we're going to fan and we're going to slide to one side. You've got problems on both sides when you talk about both of these ends. Massive inside. (Jaheim) Oats and (DJ) Dale. It's deep and talented inside. I think you talk about in their entirety the defensive structure is sound and fundamental. They just do a really good job of coaching. This is a well-coached football team with elite talent that knows how to win and has played at this level consistently for year in and year out.
"What do we have to do? The first thing we need to do is just understand that you have to take this game and think about how you got here. We've done it by our preparation. We've prepared well. We have focused on playing our best when our best is needed. We can't be distracted by this is a big game or this is Alabama. That's not going to help us in this situation. What's going to help us is playing our best when our best is needed. Our best players are going to have to play well. We're going to have to play consistently for four quarters. We must get off to a good start because we've shown that we're going to play well in the second half, but we have to play well for four quarters. We have to play consistently, one play at a time. All the basic tenants of a game like this. That's why you come to LSU. It's not pressure, it's a privilege to play in games like this. Certainly, this is why I came to LSU, to play in games like this. But, you know, all of the noise, all of the other things are just distractions. This is about preparation. This is about focusing on our process this week and preparing to play our very best and adding another layer to what we're doing and being more intentional in our practice. And then when it's time to flip the switch to performance, play more consistently when it's time to play."
On team's momentum after Ole Miss win going into a bye week?
"I thought they were very intentional this weekend. Today will be a big day for us. You want to make sure that when you take a few days, you want them to stay sharp mentally and physically. It can't be just, 'hey, I'm going to roll up on the couch and watch TV for two days.' That's not going to work, and they know that coming back today and having a really good day will be important to us. But I thought that the week was really good. I thought that they were focused, that the intentionality in terms of what they needed to do last week was work on some of the mistakes that had been made over the last couple of weeks. We cleaned those things up. We got a bit of a preview of Alabama in terms of their structure. Then we'll dive in a little deeper on Alabama today. So far so good, but I think today is a big day for us."
On jumping three spots to No. 15 this week in AP poll?
"I didn't even know. I'm not just bringing that up. I had no idea that we jumped up because it's really not anything that changes what we do and how we do it? It's kind of what I just talked about. The most important thing really is what we do on the practice field today and how we prepare. If it generates more buzz in terms of getting into the stadium and more fans, I'm all for it. Jump us up as high as you can. But it's really about our preparation that focuses my attention."
On previous matchups coaching against Saban when you were at Notre Dame?
"They were extremely talented teams. The '13 team was as physical as a football team that I have ever played against and have not played a team as physical. Then if you look at the perimeter skill that they had in '19, it was amazing. Two different teams, but just fabulous players on both sides of the ball."
Updates on injured Garrett Dellinger and Major Burns?
"Major Burns is cleared to participate, so he will be out at practice today. He will be in our game plan. We expect him to play and be an important part of what we do. Garrett Dellinger is day-to-day. He had a good weekend. As you can imagine, that's a little bit different because he has to be able to take a load on that knee. When you are coming back from a knee injury, it's easier to obviously not have to worry about running and cutting, but you've got to be able to take the load. That's what we're working on right now. We think we're going to get him there, but it's still a process because now we're going to add practice on to it. We have to see how he responds each day after practice. We had people leaning on him individually over the weekend. Now we're going to be leaning on him for a full practice, and we'll see how it goes, but he is making good progress."
On updates on injured players Jack Bech and John Emery Jr.?
"Both positive. They'll both practice today. I'm certain Jack will practice. I didn't get a report in our training room on Emery, but I did get a report before I got in here on Jack, and he is much improved, and he was cleared to get out on the practice field today."
On plan to use linebackers such as Harold Perkins Jr. and BJ Ojulari?
"I think it's important that the best players play. I think we've seen consistently who those players are. Micah Baskerville has been playing really good football for us. Obviously, we want to get Ojulari on the field and Perkins. Those guys are making plays and have had for us high production. Greg (Penn) has done a really nice job for us as well, but those are your high-production guys. When you are playing a team like Alabama, if you know what you are doing at all, you better get your best players on the field."
On getting pressure on Alabama QB Bryce Young?
"I think it's making sure that you don't give up big plays. You've got to minimize those. Staying in coverage. You know, if he scrambles for a few yards here and there, that's going to happen within the realm of the structure of the offense or defense, but it's coming out of coverage. It's losing your eyes and not staying disciplined. If you have a man, you have to be able to lock on it. Then we've got to be able to attack them when we get our opportunities. He breaks down your defense when he scrambles, and he is so intuitive and can make those plays happen. I think what we're concerned more is turning a smaller play into larger plays."
On facing and trying to win recruiting battles with Alabama?
"I think it starts with pulling your base. I think our base extends all the way up to the border north of Baton Rouge. I think there's been a heightened focus that making sure in the state of Louisiana we're not myopic in the sense that we're just in one geographical area. It's got to really focus on the entire state. I think it starts there. I think identification of (20)25s and 26s and making sure that we know all the players in this state and have done a really good job of identifying everybody in the state of Louisiana. This adage of locking down the borders is like being a lockdown corner. You know, there are no lockdown corners. There are good corners, and there are corners that are elite. We can be elite in the state of Louisiana, and that's what we need to do. I think you start there. And then it's about filling the needs that we have currently in our program. We're not there yet. Unfortunately, we're probably going to have to dip back into the transfer portal a little bit. We have some really good young players, and we're not going to forsake them. That's where we want to build this program. This program will be built on freshmen, but there are a couple of positions that still have holes in them that need to be supplanted with some transfers. We're much better than we were last year. We'll get better this year, and then hopefully in another year, this is just about player development and bringing in freshmen. That's Stage Two in terms of getting to where we need to be to hopefully get to that final narrative of upstaging Alabama. But we're certainly not there yet."
On looking more forward to coaching against a coach the caliber of Saban?
"Well, I think it's all about what your players can execute on Saturdays. We can be the smartest guys in the room, but that doesn't really matter if they can't go out and execute it. I think we're at that point, both teams are, as we get into Week 9 here. It's about what your players' strengths and weaknesses are. Knowing your team and knowing what your team can execute at a higher level. I think the good coaches now have settled into here's what we do, let's go do it well, and we have to go stop it. I think we're both at that level of, we're going to do the things that we do. There might be a wrinkle here or there because of self-scouting, and we might have had a tendency here or there and they may have had a tendency. And we're going to try to break a couple of those, and they're going to try to break a couple of theirs. But I think, by and large, we know our strengths and weaknesses, and now it's about putting your kids in a good position where they can play fast and free and physical and be the best version of themselves going into November."
On significance of the matchup and time of year game takes place?
"Historical significance is one where there is a clear rivalry between the programs that is real, that you can feel. That's longstanding. It goes way back to just these two teams being original teams in the conference going against each other. I have come to know that a lot of these games that we play in the SEC have some interesting side notes along the way. This one becomes (bigger) even more because of the success that both programs have had. These are two teams that have won national championships within the last few years. So, you know, they bring on a lot of national notoriety as well. Any time you play a game like this that's conference, within your conference, they have to have significance historically, but in real time, both teams are fighting for the SEC West. The games matter when both teams are in a position for this game to have the kind of scrutiny that it does today. I think that this is what you are looking for if you are an Alabama fan or an LSU fan."
On getting Mason Taylor and Josh Williams involved in pass protection?
"I think you have to employ schemes that help out the tackles. Whether it's a tight end or a running back or you're sliding your protection there, they're pretty good on both sides. The ball has to come out quickly. We've got to recognize that. We're not going to be able to sit back there in the pocket and just go through five progressions. The ball has to come out quickly. We are going to have to move the pocket. We're going to have to protect. We're going to have to max protect. We're going to have to do a little bit of all those things, but certainly additional players other than the offensive linemen will be involved in protection, no doubt."
On an increase in confidence Jayden Daniels has shown in his receivers?
"You can see is it in practice. I think there's much more of an understanding of where they're going to be and what he is doing. He doesn't need to look them down. There was a lot of visual hook-ups where he was waiting for that receiver. He can get the ball out of his hands now without the receiver being out of his break. That just takes time. We just didn't have that time earlier in the season, and that's starting to build that kind of relationship that wasn't available to us earlier in the year."
On watching Jayden Daniels' development?
"I think it starts with he enjoys being here. I think he is in the right space mentally, first and foremost, because he really enjoys being here.I think he has been in a learning process. He has learned a lot of football, and that growth process has really started to benefit itself, and we're starting to see that come to fruition on the field.I think more than anything else he is in a good space, and because of that, you're seeing growth and production happen at the same time. I think any time as a coach, as a teacher, as an educator, when you see that with a player, you feel pretty good about where you are at.
On development of running game and the role Josh Williams has played?
"Yeah, I think it's like anything else. You need to find some balance within your offensive structure. If you are so one-dimensional that you have to throw the ball on those second and third down situations, then the defense has the advantage in those kinds of situations. I think the offensive staff and I think (offensive coordinator) Mike (Denbrock) has done a really good job of making sure that, through play-calling, there is a balance where you have to defend the run and you have to defend the pass. That's been the philosophy from Day One is that we better be equally as good at both depending on what we get, and I think we've done a pretty good job there."
On defense's preparation from a mental standpoint to curtail early touchdowns?
"That's the million-dollar question. We're trying to figure that out. We all look at things that I need to do in terms of preparation for our players. What I started doing about three weeks ago is I moved up some contact, 11-on-11 contact, from what would be 45 minutes into practice. I moved it up into the first 20 minutes of practice to kind of heighten that and get our guys ready immediately when they come out to practice that, 'we need to get after it. We need to be ready right away to build that in.' That's only been a couple of weeks, so we're trying to build that in. We're trying to look at some quizzes on Saturday morning and making sure that we're sharp mentally. We're looking at all those things and sometimes maybe it's just you've got to go make a play. Let's make that catch, let's make that play, and get off of a good start."
On any specifics you got from Saban on LSU job?
"It was much more about the SEC. It was much more of a general conversation. He didn't give up any secrets about etouffee or Louisiana or LSU. If he did, I would have bought that house on Highland that he lived in. There was nothing that specific, but it just had been a conversation about the SEC in particular."