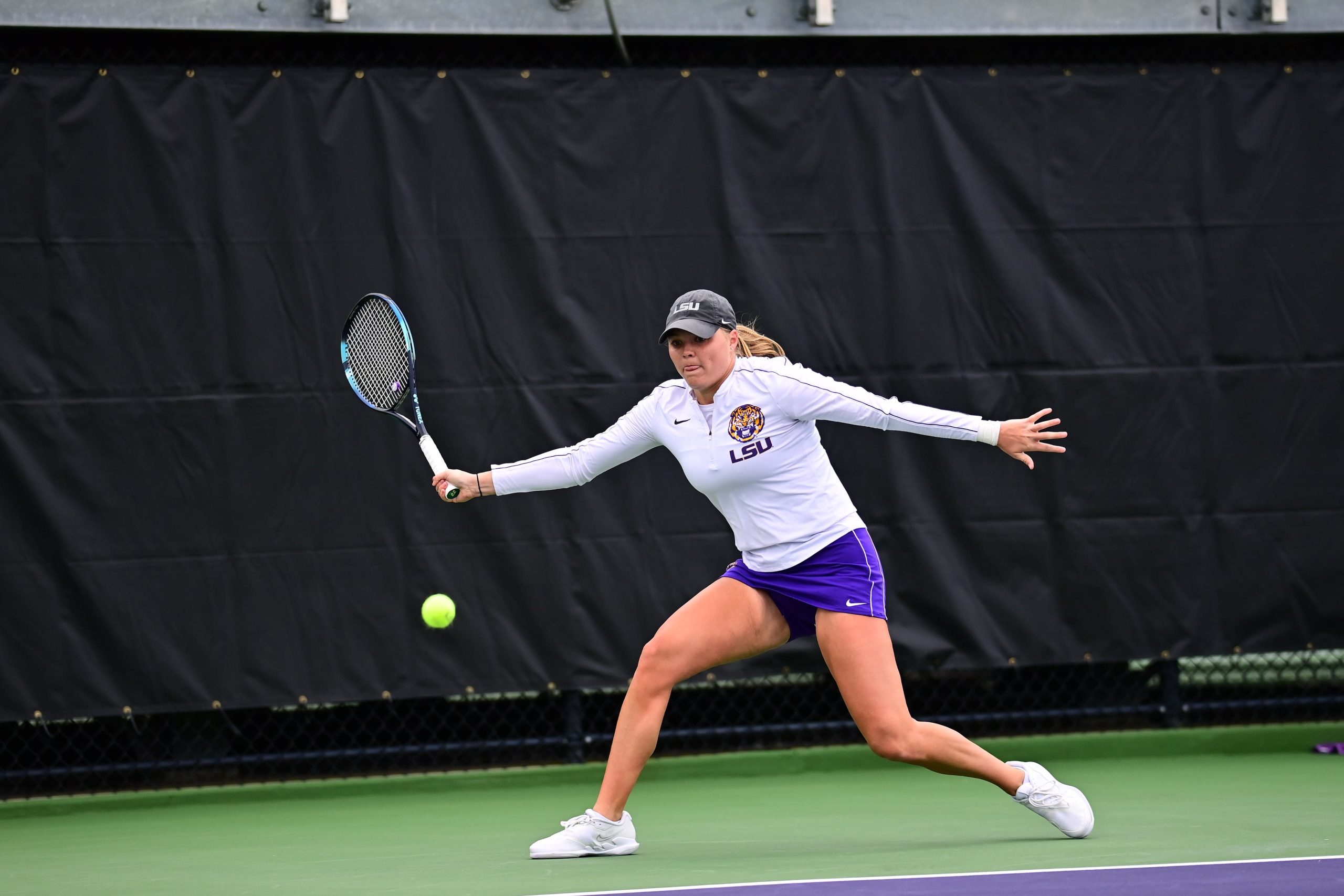 The LSU women's tennis team opened the 2023 season Sunday with a pair of 4-0 victories over the University of Louisiana at Monroe at the LSU Tennis Complex.
In the eight matches that were completed the Tigers (2-0) didn't drop a set to the Warhawks (0-2).
"You go through all the hard work with the team throughout the year, so getting two strong wins today was awesome for them," LSU coach Taylor Fogleman said. "The team did great, especially with three players playing in their first dual matches of their career (Noor Carrington, Anastasiya Komar and Nikita Vishwase). It doesn't matter whether you were the top junior tennis player in the world, dual matches are different beasts than individual tournaments. I thought our whole team, from our freshmen to our experienced graduate student Mia (Rabinowitz), played well today."
LSU jumped out to early leads in doubles play and extended its lead in both matches. The No. 3 team of Nina Geissler and Mia Rabinowitz lit the spark for the Tigers with a 6-2 win, followed by the No. 1 team of seventh-ranked Nikita Vishwase and Anastasiya Komar with a 6-2 win in their first outing and a 6-1 verdict in their second match.
The No. 2 doubles team of Maggie Cubitt and Safiya Carrington won its second match 6-0 after being unable to finish their first outing in which they led, 5-3.
Safiya Carrington rolled to a pair of straight sets wins, 6-1, 6-1 in her opener, and 6-2, 6-2 in the finale, at No. 2 singles. LSU also picked up singles wins in its opener from Vishwase (6-0, 6-1) at No. 5 singles and Rabinowitz (6-0, 6-0) at No. 6 singles.
No. 32 Komar had a 6-2, 6-3 win at No. 1 singles in her second match after leading 6-1, 5-2 in her first match that wasn't completed when the match was already clinched.
LSU returns to action Friday at home against Harvard at 2 p.m.