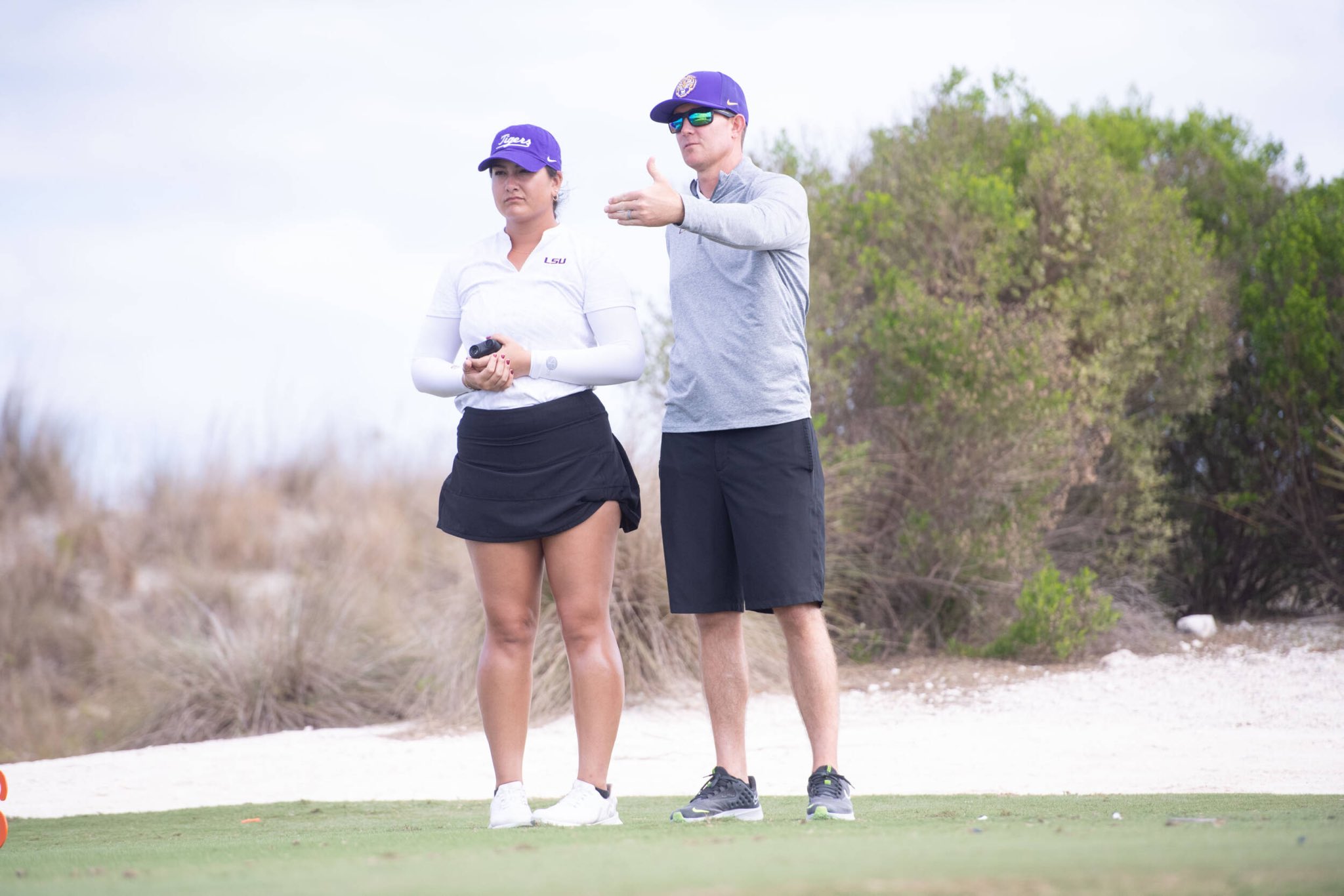 The LSU women's golf team won its third team title in the fall/spring season Tuesday with a wire-to-wire win in the Moon Golf Invitational in Melbourne, Florida.
Under coach Garrett Runion the past five years, the Tigers won 10 tournament, including five titles since last spring.
LSU finished with a 30-under total of 834, the second-lowest 54-hole score of the season and third lowest in school history.
LSU's 30-under total is also a tournament record for the six-year-old event.
"It was a great victory," Runion. "Any time you can go wire-to-wire it is a good feeling because it's so hard to do. Florida made a run in the final round that made it interesting, but it came down to our "Final Five" (holes) that we played well on all week. It's great to get a victory on the second leg of this three-week stretch we have. "
Individually, LSU had four golfers finish in the top 13 and all five team players finished in the top 23.
Senior Ingrid Lindblad and Carla Tejedo both finished tied for fifth in the standings at 8-under par 208.
Lindblad posted rounds of 68-67-73 and Tejedo had rounds of 66-68-74.
Senior Latanna Stone and sophomore Aine Donegan both under-par rounds on the final day and were 5-under par 211.
Freshman Edit Hertzman had rounds of 70-70-73 and finished at 3-under 213 and in a tie for 23rd.
Senior Jessica Bailey, playing as an individual, had her second under par round of the event with a 71.
"We're so proud of Carla (Tejedo) on how she bounced back from last week," said the LSU Coach. "Latanna (Stone) had a great final round (Tuesday), Edit (Hertzman) played very steady and Aine (Donegan) had another great tournament. We had four Tigers, including Ingrid Lindblad, finish in the Top 13, which is great. Our goal was to have all three team scores this week be under par and we did that. All in all, very proud of the ladies. We played great and now have a short break before we head to the Darius (Rucker Invitational), which we'll be ready for."
Moon Golf Invitational
Suntree Country Club
Melbourne, Florida
Final Team Results (Par 288-564)
1 LSU 276-274-284 – 834 -30; 2 Northwestern 281-280-282 – 843 -21; 3 Florida 281-283-282 – 846 -18; 4 Auburn 281-278-290 – 849 -15; 5 Michigan State 285-289-276 – 850 -14; 6 Clemson 279-288-287 – 854 -10; T7 Arkansas 285-284-286 – 855 -9; T7 Vanderbilt 282—286-287 – 855 -9; T7 UCF 278-283-294 – 855 -9; T7 Michigan 286-278-291 – 855 -9; 11 Florida State 286-291-279 – 856 -8; 12 North Carolina 281-285-290 – 866 +2; 13 Alabama 289-297-291 – 877 +13; 14 Virginia Tech 284-293-301 – 878 +14; 15. Louisville +15 295-292-292 – 879 +15; 16 Augusta 288-296-296 – 880 +16; 17. Miami 300-304-305 – 909 +45
Individual Top 5 (Par 72-216)
1 Mirabel Ting, Augusta, 68-67-68 – 203 -13 (won playoff)
2 Leila Raines, Michigan State, 69-69-65 – 203 -13
3 Lottie Woad, Florida, State, 66-69-71 – 206 -10
T5 Ingrid Lindblad, LSU, 68-67-73 – 208 -8
T5 Carla Tejedo, LSU, 66-68-74 – 208 -8
T5 Jackie Lucena, Florida, 69-73-66 – 208 -8
T5 Lauryn Nguyen, Northwestern, 68-72-68 – 208 -8
T5 Kajal Mistry, Arkansas, 70-69-69 – 208 -8
LSU Scores
T5 Ingrid Lindblad 68-67-73 – 208 -8
T5 Carla Tejedo 66-68-74 – 208 -8
T13 Latanna Stone 72-71-68 – 211 -5
T13 Aine Donegan 72-69-70 – 211 -5
T23 Edit Hertzman 70-70-73 – 213 -3
T42 Jessica Bailey 70-76-71 – 217 +1