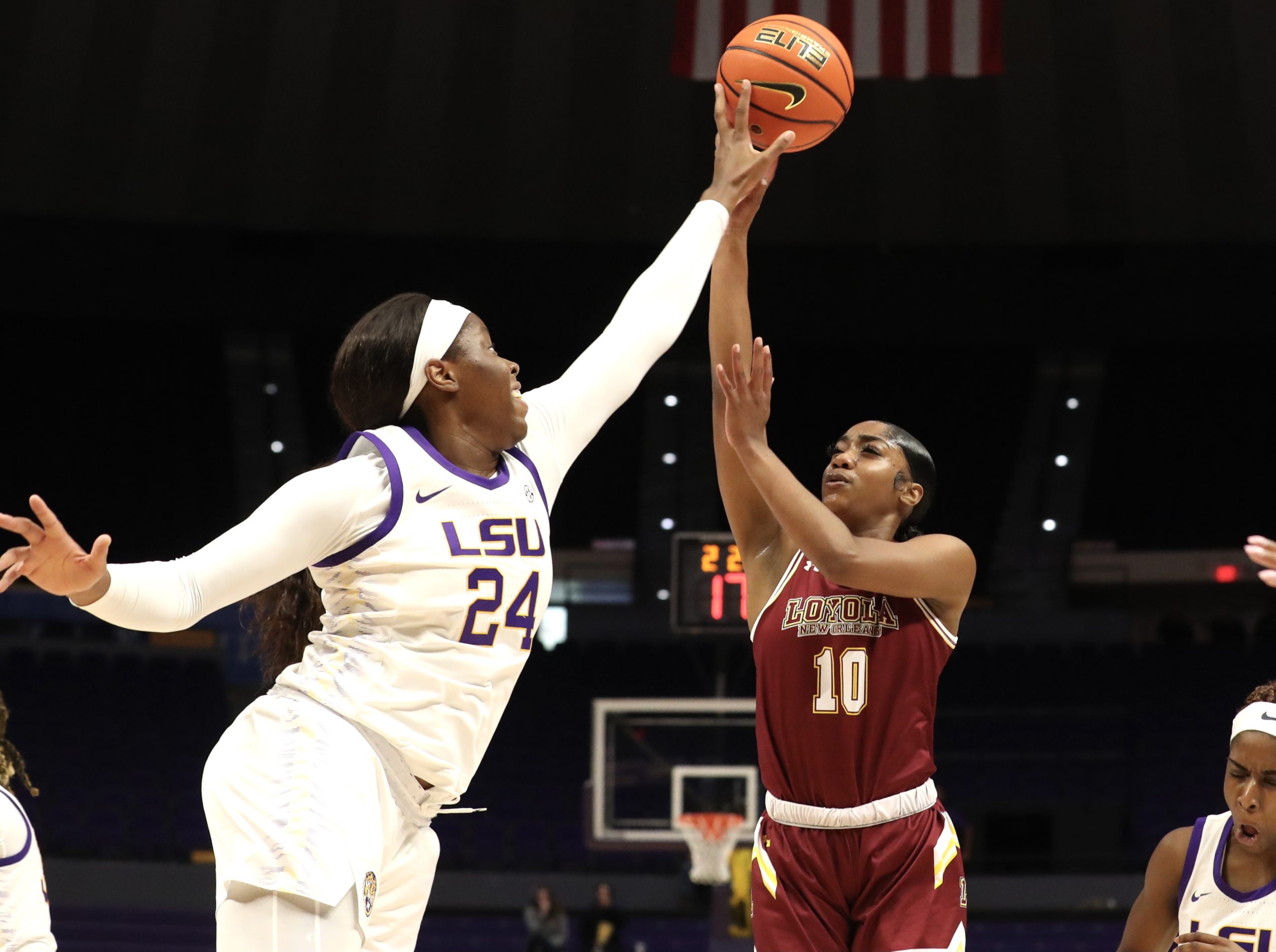 All-SEC preseason first-team selection Khayla Pointer poured in a game-high 24 points to lead LSU women's basketball team to a 87-49 exhibition victory Thursday over Loyola-New Orleans in the Pete Maravich Assembly Center.
"Every time we get on the floor, we get better," said LSU coach Kim Mulkey, whose team opens the regular season Tuesday with an 11 a.m. home game vs. Nicholls State. "We are scoring a lot of points in the two exhibition games. But I still feel like, honestly, our defense is really wearing people down."
Pointer, who led the Tigers with 24 in last Saturday's exhibition win over Langston, shot 58 percent from the field, grabbed 5 rebounds and had 2 assists.
Autumn Newby, the graduate transfer from Vanderbilt, led LSU in rebounding for the second straight game with 12 boards, including 11 on the offensive glass.
​​"I just try to go out there and play as hard as I can," Newby said. "One of my specialties is rebounding so I know that I bring that to the team every night; offensively and defensively."
All 11 players that played for LSU scored. The Tigers shot 47.9 percent from the field and held Loyola to just 31.3-perccent. The Tigers scored 36 points off 29 turnovers, but did turn the ball over 20 times themselves.
Loyola was led by senior guards Tay Cannon and Kennedy Hansberry. Cannon gave the Tigers trouble from behind the arc making all three of her attempted three pointers as she finished with 15 points and 3 assists. Hansberry finished with 12 points and 5 rebounds.
Senior guard Sarah Shematsi jumpstarted the Tigers' offense with two 3-pointers in the first two minutes of play, but the Wolfpack hung around early. Loyola shot 80 percent from behind the arc in the game's opening quarter and held a lead for a majority of it. As time ran down though, Pointer pulled up from deep to give the Tigers a 20-19 lead after one.
With the score tied at 25, LSU went on a 17-1 run and held Loyola without a field goal for the final 6:28 before halftime. Pointer had 18 first-half points on 60 percent shooting and she had 10 points during the Tigers' late-half rally.
Senior guard Jailin Cherry picked up where she left off defensively last Saturday, with six steals in just the first half. Loyola cooled off significantly following its hot first quarter. LSU held the Wolfpack to six percent shooting in the second quarter, enabling the Tigers to lead 42-26 at halftime.
LSU put together a 12-0 run and a 10-0 surge over the last three minutes that extended their lead to 67-34 on a 10-foot straight-away jumper from Awa Trasi.
The fourth quarter saw freshman Timia Ware making her mark with a pair of 3-pointers and a layup to finish with nine points on the day. Both of Ware's treys were second-chance opportunities. Ajae Petty and Amani Bartlett also each contributed four points in the final quarter of play.