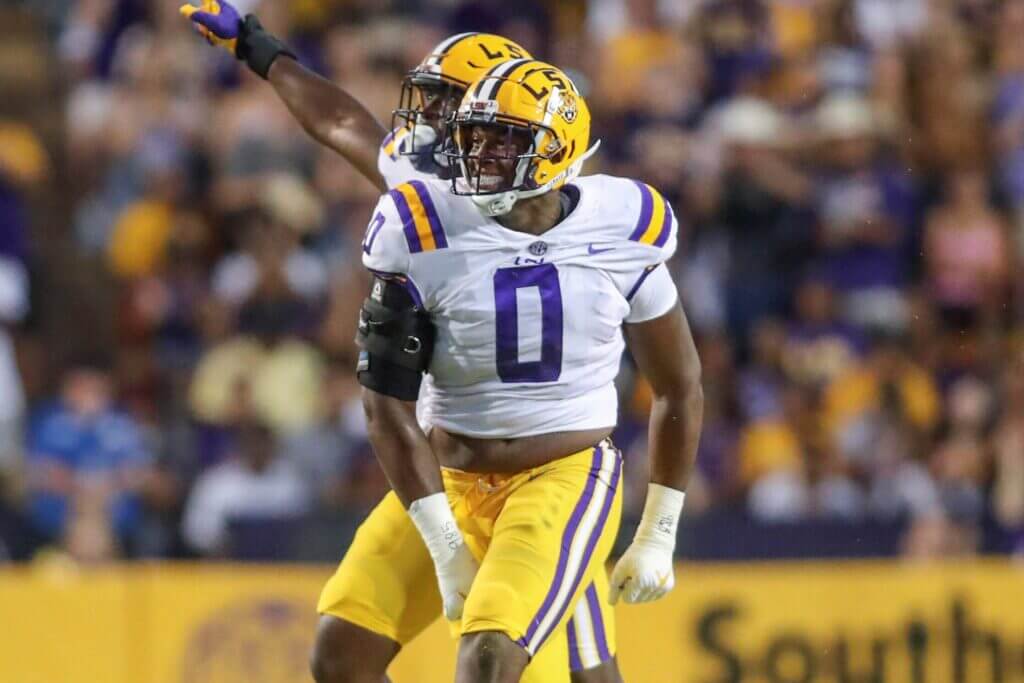 Most of LSU football coach Ed Orgeron's media conferences lately have been basically injury updates for a 4-4 team that's losing more players every week.
In his final media briefing Thursday night before LSU's game at No. 2 Alabama on Saturday night at 6 p.m., Orgeron said that starting defensive end Maason Smith has been on crutches since Tuesday.
"He's very questionable, but we're still hoping he can play," said Orgeron of Smith, a true freshman who has made 19 tackles with five tackles for loss and four sacks this season.
If Smith doesn't play, senior Soni Fonua will get the first start of his career. After missing four games because of academic problems, Fonua has had 11 tackles in the last four games.
Starting linebacker Micah Baskerville practiced for the first time Thursday. Orgeron said that it appears Baskerville, who's second on the team with 52 tackles, will play against the Crimson Tide.
LSU has had just nine players this season start every game. They are Baskerville, LG Ed Ingram, C Liam Shanahan, RB Ty Davis-Price, QB Max Johnson, DT Neal Farrell Jr., LB Damone Clark, punter/.kickoff kicker Avery Atkins and placekicker Cade York.
Here's how LSU has been decimated by injuries and suspensions starting in the preseason:
Players lost for the year (14)
Preseason (5)
TE Nick Storz (career ending injury)
QB Myles Brennan (broken arm, season ending, enter transfer portal)
LB Jared Small (torn ACL, season ending)
RB John Emery Jr. (academically ineligible)
OT Dare Rosenthal (team suspension for failed drugs tests, transferred to Kentucky)
In-season (9)
WR Kayshon Boutte (torn ankle ligaments vs. UK game 6, out for season Oct. 11)
WR Koy Moore (enters transfer portal on Oct. 19 after 7 games)
OL Anthony Bradford (undisclosed injury in game 7, out for the season)
DE Ali Gaye (hurt shoulder in game 6 at Kentucky, season-ending surgery)
DE Andre Anthony (knee injury in game 3 vs. Central Michigan, season-ending surgery)
LB Bug Strong (enters transfer portal Oct. 27 after 8 games)
DB Derek Stingley Jr. (played first 3 games, had a surgical procedure performed on his foot Oct. 6, likely out for the season)
DB Eli Ricks (torn labrum but had shoulder surgery after game at Kentucky, declared out for the season on Oct. 13)
DT Joseph Evans (played 5 games, out for the season for no reason given on Oct. 7) 
Players who have missed games because of injuries or suspensions who are still on the roster
DL Glen Logan (missed first 6 games because of broken foot in preseason, returned)
WR Jontre Kirklin (missed first 4 games because of unknown suspension)
DE Soni Fonua (missed first 4 games because of academic suspension)
S Sage Ryan (missed first 5 games of season with injury from preseason, will miss Alabama game with an injury)
WR Malik Nabers (missed first 5 games because of preseason injury)
WR Chris Hilton (missed entire season, 8 games and counting, because of preseason injury)
S Todd Harris Jr. (missed 4 games with an injury)
RB Armoni Goodwin (missed last 2 games with injury, returns this week)
DB Raydarious Jones (didn't play in first 2 games injury or suspension)
OT Cam Wire (missed 3 games with an injury
OT Austin Deculus (missed 1 game with an injury)
S Major Burns has missed last 3 games with foot injury and will miss the Alabama game
CB Cordale Flott has nagging injury and will miss the Alabama game
WR Deion Smith missed the last 2 games with ankle injury and may return against Alabama
OL Chasen Hines (missed 1 game with leg injury and will return against Alabama)
RB Tre Bradford (has hamstring injury and will miss the Alabama game. . .he has been ineligible for the seven games after transferring from Oklahoma where he transferred following playing for LSU last season)
.