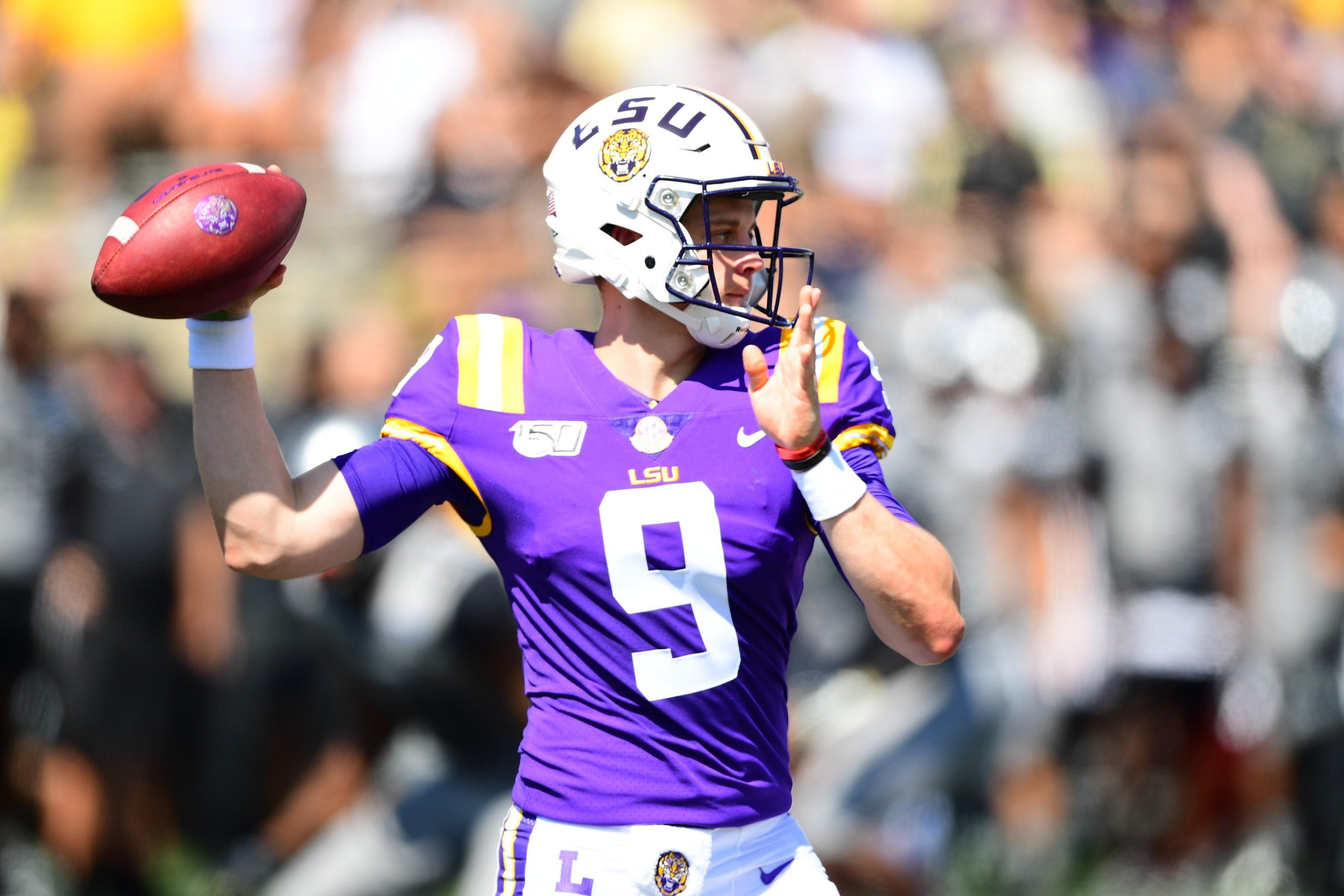 NASHVILLE — The No. 4 LSU football team's offense enjoyed a record-breaking day in Music City on Saturday during Tigers 66-38 beat down of Vanderbilt.
LSU fans inundated Vanderbilt Stadium for the morning kickoff to watch Joe Burrow set the program's single-game passing touchdown record in the third quarter when he hit Ja'Marr Chase for the duo's fourth scoring connection of the game.
The score broke a six-year-old record set by Zach Mettenberger in 2013 against UAB. As luck would have it, Mettenberger actually attended the game and watched Burrow break the record.
"They told me (about the record) when it happened," Burrow said. "I was more focused on going to get another one."
Burrow finished the game completing 25 of 34 passes for 398 passing yards and six touchdowns, while Chase caught 10 passes for 229 yards and four scores. Chase finished one touchdown and 64 yards short of breaking LSU single-game records himself.
"Yeah, (Chase) was alright today, wasn't he," Burrow asked in jest. "That was one of the better performances I've seen. He was getting open on just about every play. I was happy for him to have that kind of game."
Chase himself was just happy to get back on the field after missing last week's game against Northwestern State, mostly so he could get back in on a $100 (or trip to Waffle House) bet he has with Justin Jefferson and Terrace Marshall for who reels in the most touchdown passes this season.
With four touchdowns he definitely made up for lost time as he made seemingly big play after big play using his speed and athleticism to keep the offense rolling
"I'm just happy I played today," Chase said. "They play a lot of man backside… Joe took advantage of one-on-one backside and I just made the play when I got the ball."
Burrow also broke another record during the game, throwing for 357 yards in the first half, breaking a record Josh Booty set with 291 passing yards against Western Carolina in 2000.
Unfortunately, the Tigers' defense, ravaged by injuries, continued to struggle once again, allowing the Commodores to tally 374 yards of total offense, with running back Ke'Shawn Vaughn garnering 130 yards and two touchdowns on 20 carries.
"Was everything pretty," LSU head coach Ed Orgeron asked rhetorically. "No, it wasn't. It wasn't. But you know what? We kept on fighting and we made some big plays. We made some uncharacteristic bad plays, but we'll get those fixed."
LSU's offense exploded once again in the first quarter. The Tigers needed just 15 plays to amass 261 yards of total offense and four touchdowns.
Ja'Marr Chase was responsible for two of those touchdowns, the first being a 64-yard touchdown pass from Burrow he caught in the middle of the field before proceeding to speed past the Vanderbilt defense for the score.
The Tigers' defense didn't get off to as great a start, but it began to figure itself out as the first half progressed.
Vaughn opened the game with a 41-yard rush to kick off what would be an 8-play, 75-yard touchdown drive capped off by a five-yard touchdown rush by Vaughn.
The lapse in defense raised eyebrows, but the Tigers quickly found their footing, forcing three-and-outs on the next two drives and limiting the Commodores to just three more offensive points for the remainder of the first half, allowing the offense to build a significant lead.
Burrow and Chase had those watching the game feeling a sense of déjà vu in the second quarter with a similar play to their first connection, this time from 51 yards out that put the Tigers up 38-10 with less than two minutes before the half.
It looked as though the Tigers would head to halftime with at least a four-touchdown lead until momentum shifted just before the break.
Clyde Edwards-Helaire dropped a handoff near the Tigers' goal line and Vanderbilt linebacker Elijah McAllister jumped on it in the end zone to cut LSU's lead to 38-17 just before the break.
Both Edwards-Helaire and Burrow took the blame for the play, and both were adamant that it can't happen again, especially at that point in the game.
"That's just a play that can't happen," Burrow said. "I'll take the blame for it. That's just a miscommunication between me and Clyde, something that can't happen."
Linebacker Micah Baskerville had a standout day on special teams. He opened the second half with a 41-yard onside kick return to the Vanderbilt 2-yard line and later got into the end zone with a blocked punt he then jumped on for a score that gave LSU a 59-24 lead.
That kickoff return to open the half shifted momentum back in LSU's favor, and aside from a couple big plays by Vaughn and wide receiver Kalija Lipscomb, the Tigers controlled the entirety of the second half.
Derek Stingley came down with his first career in the third quarter after failing to hold onto a couple would-be interceptions in which he jumped routes earlier in the game, one of which was earlier in the drive.
JaCoby Stevens picked up LSU's second interception of the season late in the fourth quarter as he picked off Vanderbilt backup quarterback Deuce Wallace
LSU running back Clyde Edwards-Helaire had his best game of the season, rushing for 106 yards and a touchdown on 14 carries. Freshman John Emery got some good playing time in the second half, and he tallied 51 yards and a touchdown on eight carries.
Unfortunately for the Tigers, they won't leave Nashville unscathed. Linebacker Michael Divinity injured his left ankle during the first half and had to be taken to the locker room.
LSU also had two starting wide receivers exit the game early with leg injuries in Jefferson and Terrace Marshall. In addition, receiver Racey McMath received an ejection and will miss the first half of the Utah State game in two weeks after committing a targeting penalty during a punt return in the fourth quarter.
Orgeron said Jefferson will be OK, but didn't seem so optimistic about Marshall or Divinity.
Sports Illustrated's Ross Dellenger reporter after the game that Marshall suffered a fractured foot and could miss "a few weeks"
After the game, Jefferson seemed to confirm that he was OK, tweeting that he suffered a minor sprain.
The good news for LSU is that the Tigers will now enjoy an open week in which they will practice light and hopefully heal up before taking on Utah State in their last non-conference game of the season.
"I think it's perfect," Orgeron said. "We'll have three days of practice. The guys will have off Sunday and Monday, we'll come back and get to work Tuesday, Wednesday and Thursday, they can go home over the weekend, come back Sunday and get ready for Utah State."
Photo Courtesy of LSU Sports Information