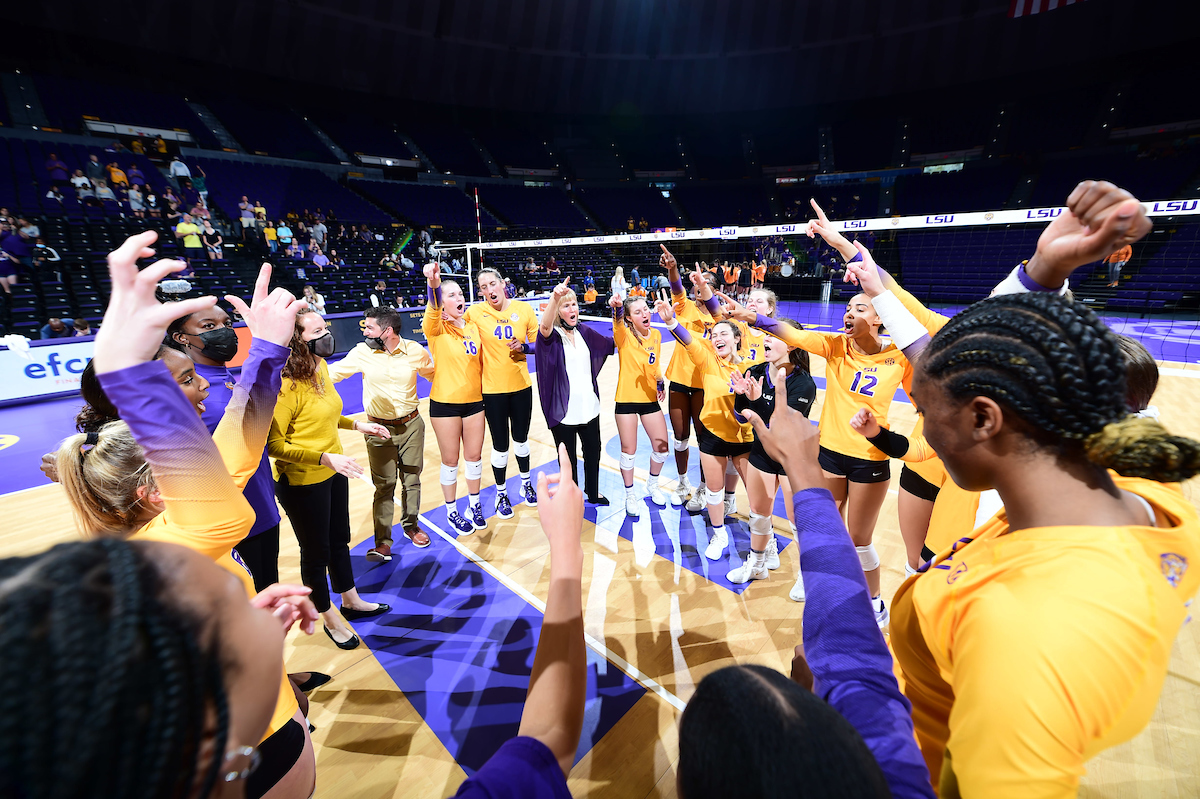 After losing a hotly-contested five-set match to No. 20 Tennessee on Saturday, LSU gained revenge and then some with a 25-20, 25-20, 25-23 three-set sweep of the Vols on Sunday afternoon at the Pete Maravich Assembly Center.
The victory was LSU's first sweep over a top 25 team since defeating No. 6 Florida in three sets on Oct. 11, 2009. It was the 40th win for LSU (9-12, 5-7 SEC) against the Lady Vols (16-4, 8-2 SEC) in the all-time series, and it is just the second time this season that Tennessee has been swept in three sets. 
It is the second time that the Tigers prevailed over a top 25 opponent this season (No. 20 Florida on Oct. 10). The last time LSU had two top 25 victories in a single season was 2010, when they defeated No. 22 and 21 Tennessee (Oct. 10 and Nov. 12, respectively). The last time they beat two separate ranked opponents was in 2006, with victories over No. 22 Minnesota (Sept. 2) and No. 13 Tennessee (Sept. 15).
"That is a good team we beat today," said LSU head coach Fran Flory said. "Today, we played well and tough. We sustained a high level for the first time in an entire match with a good team on the other side of the net. I'm proud of the team's effort." 
The Tigers came out of the gate swinging and never looked back, firing 49 kills on a .368 hitting percentage, the second highest of the season. The Tigers improve to 4-0 on the year when hitting above .300. Tennessee held to a .228 hitting percentage with just 39 kills. LSU's serving propelled them to five aces to Tennessee's two, and the Tigers doubled the Vols' block count (8-4).
LSU was led by right side Taylor Bannister, who had a match-high 15 kills, a .364 hitting percentage, five digs, and three aces. Outside hitter Kylie DeBerg had 12 kills with no errors, and her .480 hitting percentage is a season-high and the third time this year hitting over .400.
Libero Raigen Cianciulli had a match-high 15 digs, and setter Ella Larkin also led the way with a double-double, posting 38 assists and 11 digs.
The Tigers held all Tennessee attackers to under 10 kills for the first time this season that resulted in a Volunteer loss. Right side Morgahn Fingall and outside hitter Lily Felts each tallied nine kills, and Felts recorded 11 digs.