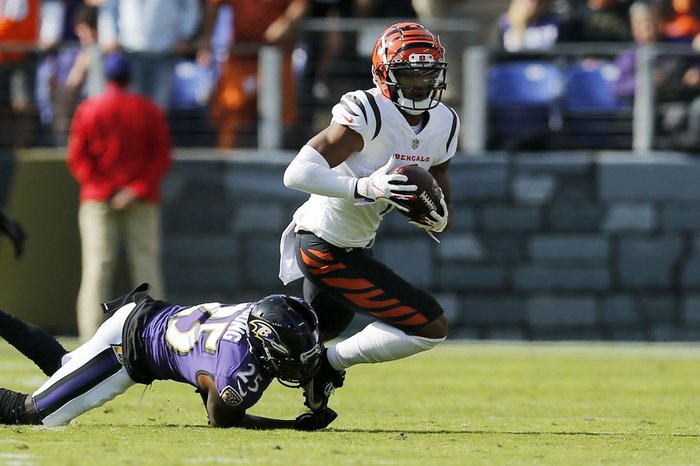 Former LSU and current Baltimore Ravens linebacker Patrick Queen discovered Sunday playing the Cincinnati Bengals with former Tigers' teammates Joe Burrow and Ja'Marr Chase in the lineup together is much different than without them.
Last year, the Ravens beat the Bengals twice by combined score of 65-6. Burrow played in the first loss but was already out for the season after undergoing knee surgery by the time the teams met in the last game of the regular season.
Fast forward to Sunday. Rookie receiver Chase again proved that Cincy taking him in the first round in 2021 NFL draft and pairing him with his old Tigers' throwing Burrow was a brilliant move.
Burrow threw for a career-high 416 yards and three TDs and Chase had eight catches for 201 yards including a game-breaking 82-yard TD in a 41-17 Bengals win at Baltimore. Chase's 754 yards through his first seven games are the most by any player in NFL history through his first seven games.
"We have a lot of reps accumulated the last three or four years," Burrow said of his connection with Chase. "We've been together for a long time. We've been throwing on Saturdays together since I was 21 years old."
Here's a look at how former LSU players performed in the NFL's Week 7:
Thursday night
Cleveland Browns 17, Denver Broncos 14
Broncos: Broncos: C Lloyd Cushenberry Jr. started for an offensive line that allowed two sacks and helped produce 223 yards total offense including 182 passing and 41 rushing; CB Kary Vincent Jr. (inactive list).
Browns: CB Greedy Williams, 0 tackles, 1 PBU; WR Odell Beckham Jr. 2 catches for 23 yards; S Grant Delpit 1 tackle; WR Jarvis Landry 5 catches for 37 yards; LB Jacob Phillips (injured reserve).
Sunday afternoon
New York Giants 25, Carolina Panthers 3
Panthers: CB Donte' Jackson 4 tackles (4 solo) 1 PBU; WR Terrace Marshall Jr. (inactive list); DT Frank Herron (practice squad); TE Stephen Sullivan (practice squad).
New England Patriots 54, New York Jets 13
Patriots: DT Davon Godchaux 1 tackle; CB Jalen Mills 3 tackles (2 solo), 1 TFL; DE Tashawn Bower (practice squad).
Tennessee Titans 27, Kansas City Chiefs 3
Chiefs: RB Darrel Williams 20 rushing yards on 5 attempts, 3 catches for 30 yards; S Tyrann Mathieu 6 tackles (5 solo; RB Clyde Edwards-Helaire (injured reserve).
Titans: CB Kristian Fulton no stats; WR Racey McMath (injured reserve).
Green Bay Packers 24, Washington 10
Washington: OT Saahdiq Charles no stats.
Atlanta Falcons 30, Miami Dolphins 28
Falcons: LB Deion Jones 15 tackles (11 solo), 1 sack, 3 TFL, 1 QB hit; WR Russell Gage 4 catches for 67 yards, 1 TD.
Dolphins: LB Duke Riley 2 tackles (1 solo); LS Blake Ferguson snapped for 3 punts, 0 of 1 field goals, 4 of 4 extra points.
Cincinnati Bengals 41, Baltimore Ravens 17
Bengals: QB Joe Burrow 23 of 38 for 416 yards passing and 3 TDs, 0 yards rushing on 1 attempt; WR Ja'Marr Chase 8 catches for 201 yards, 1 TD; DT Tyler Shelvin (inactive list); TE Thad Moss (practice squad injured).
Ravens: LB Patrick Queen 2 tackles (1 solo), 1 for loss
Los Angeles Rams 28, Detroit Lions 19
Lions: DE Michael Brockers 3 tackles.
Rams: OT Andrew Whitworth got his 227th start of his 231st game in a 16-season career for an offensive line that gave up no sacks and helped produce 374 yards total offense including 327 passing and 47 rushing.
Las Vegas Raiders 33, Philadelphia Eagles 22
Eagles: LB JaCoby Stevens (practice squad).
Raiders: TE Foster Moreau 6 catches for 60 yards, 1 TD
Arizona Cardinals 31, Houston Texans 5
Cardinals: DT Rashard Lawrence (inactive list)
Tampa Bay Bucs 38, Chicago Bears 3
Bucs: LB Devin White 10 tackles (8 solo), 1 TFL, 1 QB hit, 1 fumble recovery; RB Leonard Fournette 81 rushing yards, 1 TD on 15 carries, 2 catches for 9 yards; ILB Kevin Minter 5 tackles (3 solo) 1 QB hit; WR Cyril Grayson (practice squad); CB Rashard Robinson (practice squad).
Sunday night
Indianapolis Colts 30, San Francisco 49ers 18
49ers: DL Arden Key 2 tackles (2 solo).
Monday night
New Orleans Saints at Seattle Seahawks
Saints: C William Clapp ; OLB Kwon Alexander (injured reserve).
Seahawks: S Jamal Adams; OG Damien Lewis; DT Al Woods; C Ethan Pocic (injured reserve); QB Danny Etling (practice squad).
Teams with byes
Bills, Cowboys, Jaguars, Chargers, Vikings, Steelers