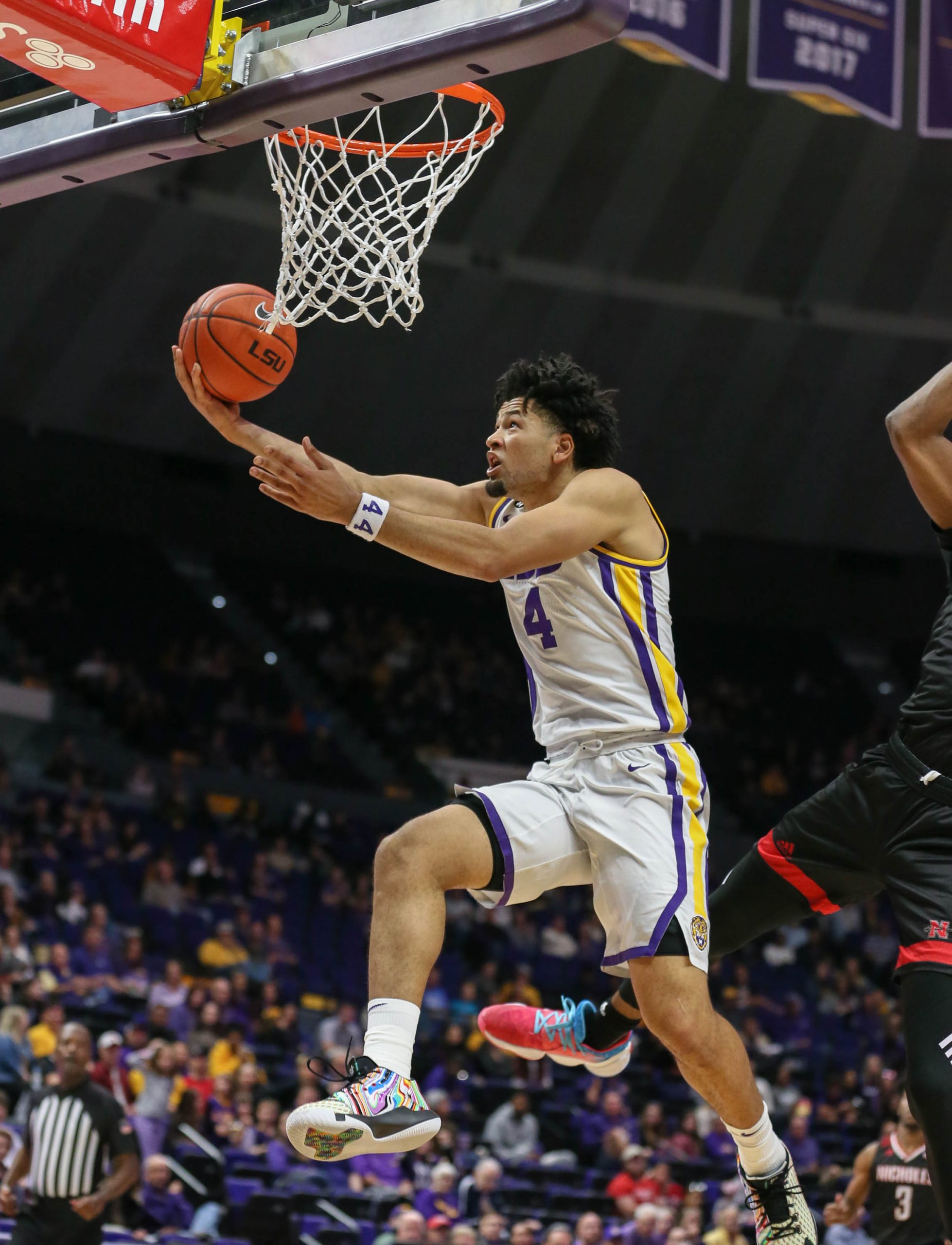 The LSU basketball team is back from Jamaica and ready to defend the PMAC against a string of teams that the Tigers should be heavily favored to beat.
The first of those matches will take place tonight, and it will likely be the toughest as the Tigers (4-2) take on Missouri State at 7 p.m.
The Tigers went 1-1 in Jamaica after a disappointing loss to No. 15 Utah State, but Wade said a lot of positives came from their trip to the island nation.
"I thought the biggest thing we showed in Jamaica was we started to develop a little bit of an identity," said LSU head coach Will Wade. "I thought we played harder than we've played all year. I thought we played extremely hard for a vast majority of the minutes. That's something we want to keep as our identity. The other thing is I thought we played inside-out. We got to the paint a lot. I thought the second game especially, I thought we did what we needed to do in the paint, drawing fouls, playing inside-out. I thought those things are core parts of what we want to be our identity to be."
The Bears (3-4), despite their sub-.500 record, pose a legitimate threat with an experienced and long team that serves as one of the best offensive rebounding squads in the nation.
Missouri State has stayed with and even beat some of college basketball's most recognizable teams in its last four games, including Xavier (L, 59-56), Miami (L, 74-70), St. Joseph's (W 71-69) and most recently Buffalo (L, 75-74).
"They should have won at Xavier earlier this year," Wade said. "They've lost two games by one point and to Miami by four points. Those are their losses and the Xavier game was at Xavier, and the Miami game was on a neutral floor. They were picked to win the Missouri Valley Conference for a reason. They have really good guard play and really good bigs so it's going to be a tough matchup for us."
The Bears have yet to be blown out by a team yet this season, and the Tigers will have to do a good job on the boards and limit turnovers if they want to be the first.
LSU just played its cleanest game of the season in a 96-83 victory against Rhode Island in which the Tigers turned the ball over only 11 times, three of which came in the final two minutes of the then-out-of-hand game.
"We were much better against Rhode Island," Wade said. "I knew our guys would be ready. We moved on very quickly. … I thought our staff, our players, everybody in the organization reacted quite a bit better (after Utah State). We were able to move on and we were able to play our best game to date against Rhode Island."
LSU forward Emmitt Williams had a career night against Rams, posting 27 points on 11 of 15 shooting to go along with 9 rebounds, five of which came on the offensive side of the court.
"We have to continue to give him the ball. He and (Darius) Days are shooting over 60% so we have to get them the ball more. I was very vocal about that; we have to feed the guys that shoot the highest percentages. It's simple math. We are going to continue to get him the ball and he's going to continue to deliver for us. I've been very proud of his approach."
Fellow forward Darius Days also continues to be one of the most offensively efficient players in the country with an offensive rating of 148.4, 12th in the nation, according to KenPom. His effective field-goal percent of 73 percent is the nation's 22 best, and he's No. 3 in scoring on the team with 13.3 points per game.
Days and Williams will have their work cut out for them as they take on a long and lengthy Missouri State squad who only has one regular rotation player under 6-foot-5.
The Bears like to play through Gaige Prim, a 6-foot-8, 250-pound junior forward who has shot 60 percent from the field for 16.5 points per game.
Senior guard Keandre Cook serves as Missouri State's highest scorer with 16.9 points per game. He is also among the Bears' leading rebounders with 5.6 boards per game.
Keeping Prim and Cook off the scoreboard and the boards will be a key challenge for the Tigers in the first of a string of four straight home games.
"Missouri State is really good, they're really big and they are the most physical team we've played all year," Wade said. "They have the best post player we will have played against this year and it's going to be a battle on Friday night. Hopefully everyone that is in town for Thanksgiving will come to the game because we need a great crowd. Our students are gone but we need as good as a crowd as we can get on Friday night because it's going to be physical. It's going to be a really good game; they are really well coached and like I said, they are very physical."
WHO: LSU (4-2) vs. Missouri State (3-4)
WHEN: Friday, Nov. 29, 7 p.m.
WHERE: PMAC
TV: SEC Network+ (online only)
RADIO: 98.1 FM
Spread: LSU -13
KenPom Prediction: LSU 77-64