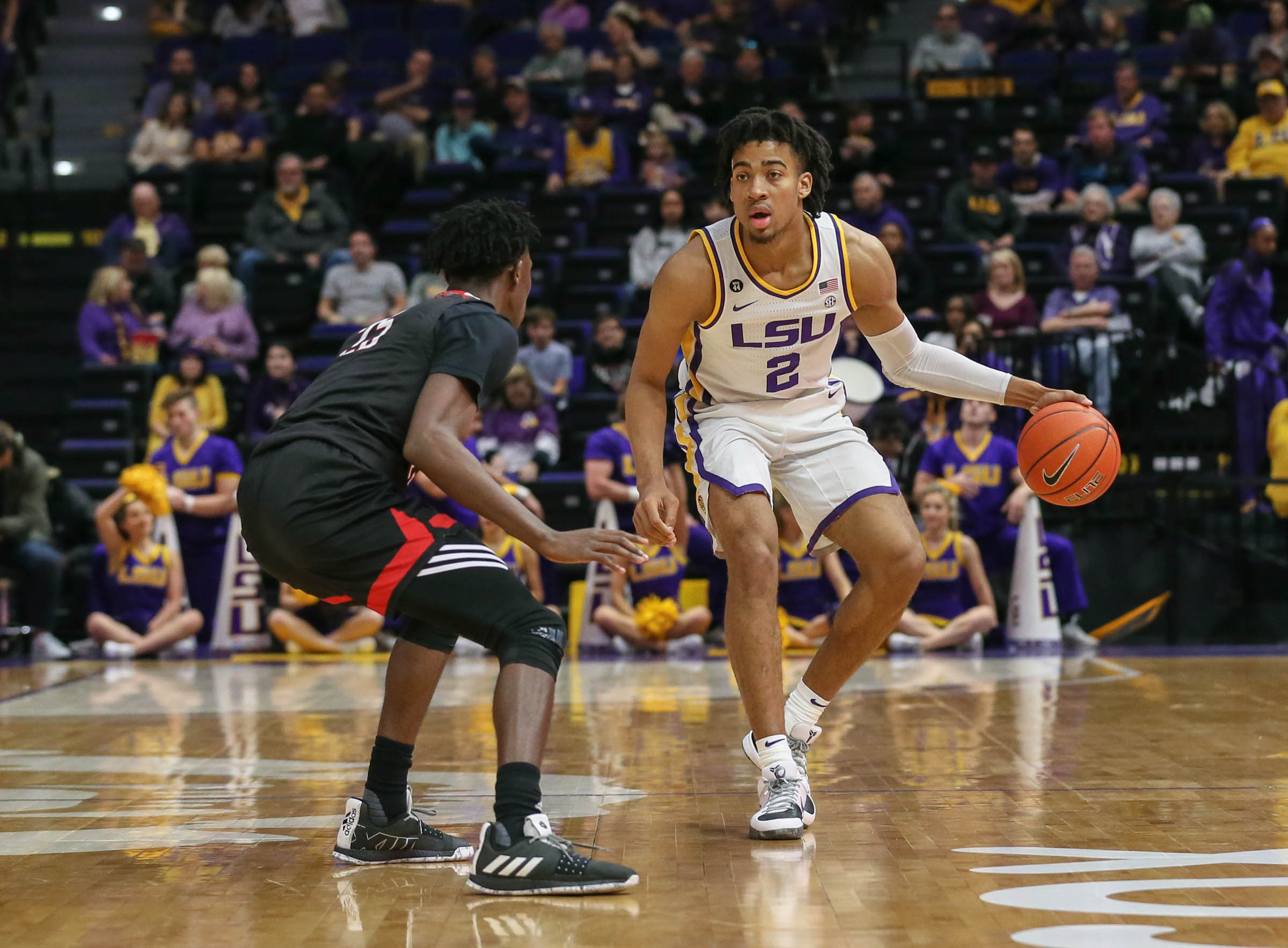 On LSU's NCAA Sweet 16 SEC regular season champions last year, Darius Days was so far down the food chain of the Tigers' primary scoring options that he had to put his name on a wait list.
There was Tremont Waters, then Naz Reid, Skylar Mays, Javonte Smart, Kavell Bigby-Williams, Emmitt Williams and Marlon Taylor.
Finally, there was Days, a somewhat lanky 6-6 true freshman forward whose primary job was to come off the bench, run to open spots behind the 3-point line and start lofting bombs. He was an asset some games, a non-factor in others.
Waters, Reid and Bigby-Williams are now in the NBA's G-League, so Days knows it's his time to shine. An intense off-season in the weight room has transformed a boy into a man, as evidenced by Days' third double-double of young 2019-20 season in LSU's 73-58 victory over pesky Missouri State on Friday night in the Pete Maravich Assembly Center.
Days scored a career-high 20 points and 10 rebounds, and hit a key 3-pointer in Tigers' 14-2 run in a 3:37 span of the second half that gave LSU (5-2) enough breathing room to hold off the Bears (3-5) of the Missouri Valley Conference.
"I was just in the right place at the right time and my teammates were finding me," Days said. "Javonte saw me in the corner, Skylar saw me in the corner. Emmitt got me a couple of passes under the bucket. I was just in the right place."
It wasn't an accident that Days was everywhere he was supposed to be. Just ask Williams, who contributed 14 points and 6 rebounds.
"That's my guy who can come in, I can get some work with and he's going to push me," Williams said. "We've been coming in, watching film and getting up a lot of shots together."
LSU third-year coach Will Wade isn't surprised with Days' leap of improvement.
"He's one of our most consistent workers," Wade said of Days. "You want to see good things happen to guys who do all the right stuff. The ball finds him, he makes shots, finishes around the rim, everything you could ask."
Wade knew Missouri State, a typical mid-major team with a senior and junior-heavy starting lineup, would give the Tigers a thorough challenge.
They certainly did, even without 6-8 junior college transfer Gaige Prim, who sat out the game with an injury. Prim had been averaging a team-best 16 points and was the Missouri Valley Conference Newcomer of the Week after averaging 19.3 points in the Charleston Classic.
No Prim just meant that the Bears worked even harder, especially on the backboards. Missouri State outrebounded LSU 35-30 and stayed in the game by scoring 18 second-chance points off 15 offensive rebounds.
"We rebounded well even without Prim," Missouri State coach Dana Ford said. "We had 15 offensive rebounds and to be honest I thought we should have had even more. We missed some shots around the rim. When you play a team that's so good offensively, you can't miss layups and expect to beat them."
LSU led 33-27 at halftime, gaining the upper hand by continuing what it did in its 96-83 win over Rhode Island last Sunday in Jersey Mike's Jamaica Classic.
Working against the visiting Bears 2-3 zone defense, the Tigers' ball reversal on the perimeter was able to find Williams and freshman forward Trendon Watford when they slipped through cracks of the zone. Just under half of LSU's first half total points were Williams and Wadford combining for 15 points on 7-of-9 field goals.
Missouri State cut LSU's lead to 47-45 with 12:57 left to play on a Josh Hall outside jumper. The Tigers then unleashed a three-fourths court zone press defense that caused three Bears' turnovers in the offensive explosion that extended LSU's cushion to 61-47.
"It (the press) allowed us to get the pace going," Wade said. "They (Missouri State) wanted us to play like we were in quicksand. Just slow, slow, slow."
LSU has home games next Tuesday night against New Orleans at 8 and next Sunday afternoon vs. Northwestern State at 8 before a 10-day break for fall semester final exams.
(Look for Will Wade's postgame interview and the LSU players press conference on the Tiger Rag Facebook page)