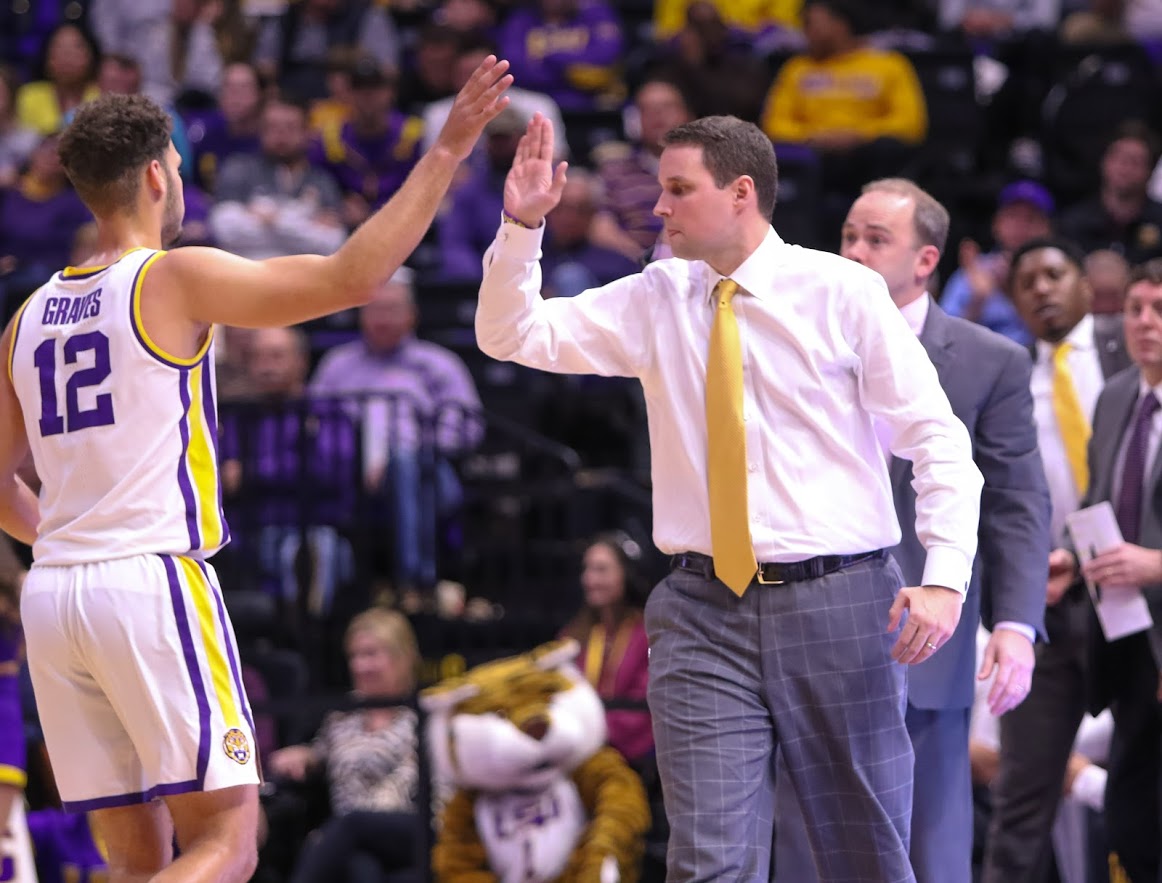 Before the LSU basketball team travels to the island nation of Jamaica, it
has some housekeeping to take care of.
The Tigers (2-1) will host UMBC (4-0) — famous for being the first 16-seed
in the NCAA Tournament to win a first-round game against Virginia two years ago— on Tuesday night in the PMAC. The game will be broadcast by the SEC Network. 
LSU dropped out of the Associated Press Top 25 poll this week after a loss
to now-No. 21 VCU and a closer-than-comfortable victory against Nicholls State
over the weekend.
Turnovers continue to haunt the Tigers, as they have given the ball up 67
times in in three games. Their average of 22.3 turnovers per game is the second
worst in D-I NCAA basketball, Rider being the only team to turn the ball over
more often.
"We have 32 assists on the year and opponents have 36 steals,"
said LSU coach Will Wade. "We've thrown the ball to the other team four
more times than we've thrown it to ourselves. That's not good."
Still, Wade remains confident that his team will find a way to drive that
number down. It has to start with his experienced guards
"We have to get that under control, but we have good guards," Wade
said. "Javonte (Smart) is a good guard, Skylar (Mays) is a good guard,
(Charles) Manning is a good guard, (Trendon) Watford plays like a guard but
he's at the 3 or the 4. We'll get this under control."
The Retrievers will do their best to keep LSU from finding a remedy to that
problem with pressure defense. While the Tigers have turned the ball over more
than all but one team in the NCAA, UMBC forces the 17 turnovers per game, Wade's
team will have to be mindful and smart with the basketball.
""They are one top teams in the American East, every year its them and
Vermont.  Vermont has just been clubbing
people.  They just beat St. Johns the
other day, they have been beating everybody.
Every year it comes down to Vermont and UMBC, the year UMBC beat
Virginia, they also beat Vermont in the conference championship.
Darnell Rogers leads the team in scoring with 16 points in addition to 5.3
assists and 4 rebounds per game despite his 5-foot-2 stature.
No, that is not a typo. UMBC's best players stands in at just more than
five-feet tall, but he's not someone the Tigers should take lightly.
"I've seen him play since he was on the AAU circuit for CP3. He's a very
good player," Wade said. "His father (Shawnta Rogers) was a hall of famer and a
great player for George Washington. He does a really good job with their team.
He's a prolific scorer.
"He's really good; he's cat like quick, can score by driving or shooting
behind ball screens. Whenever you have a little guard you have to be able to
shoot. He can shoot and fill it up.  He's
somebody I've seen play for four or five years. When you first see it, you
don't know how it's going to work but when you watch him play, he plays with
highest motors we will see anyone play with all year long."
On a more somber note, Wade announced Monday afternoon that Marlon Taylor
would continue to miss time, likely for at least a couple more weeks.
Taylor, who had surgery on his foot over the summer, still hasn't quite
healed properly, and every time he tries to practice, he can't seem to go for
more than a few minutes before having to come out.
"We are going to go back and look at something in the foot," Wade said. "He
still has some issues in his foot that we need to get addressed so I think the
earliest he will be back is in two to three weeks. I think our goal would be to
have him back by the East Tennessee State game.
I think that would be a realistic goal for him to come back in the
middle of December but if not then right after Christmas."
Who: LSU (2-1) vs. UMBC (4-0)
Where: Pete Maravich Assembly Center
When: 6 p.m.
Broadcast: SEC Network
Spread: LSU -17
Money Line: LSU -144
Kenpom Prediction: 80-64 LSU