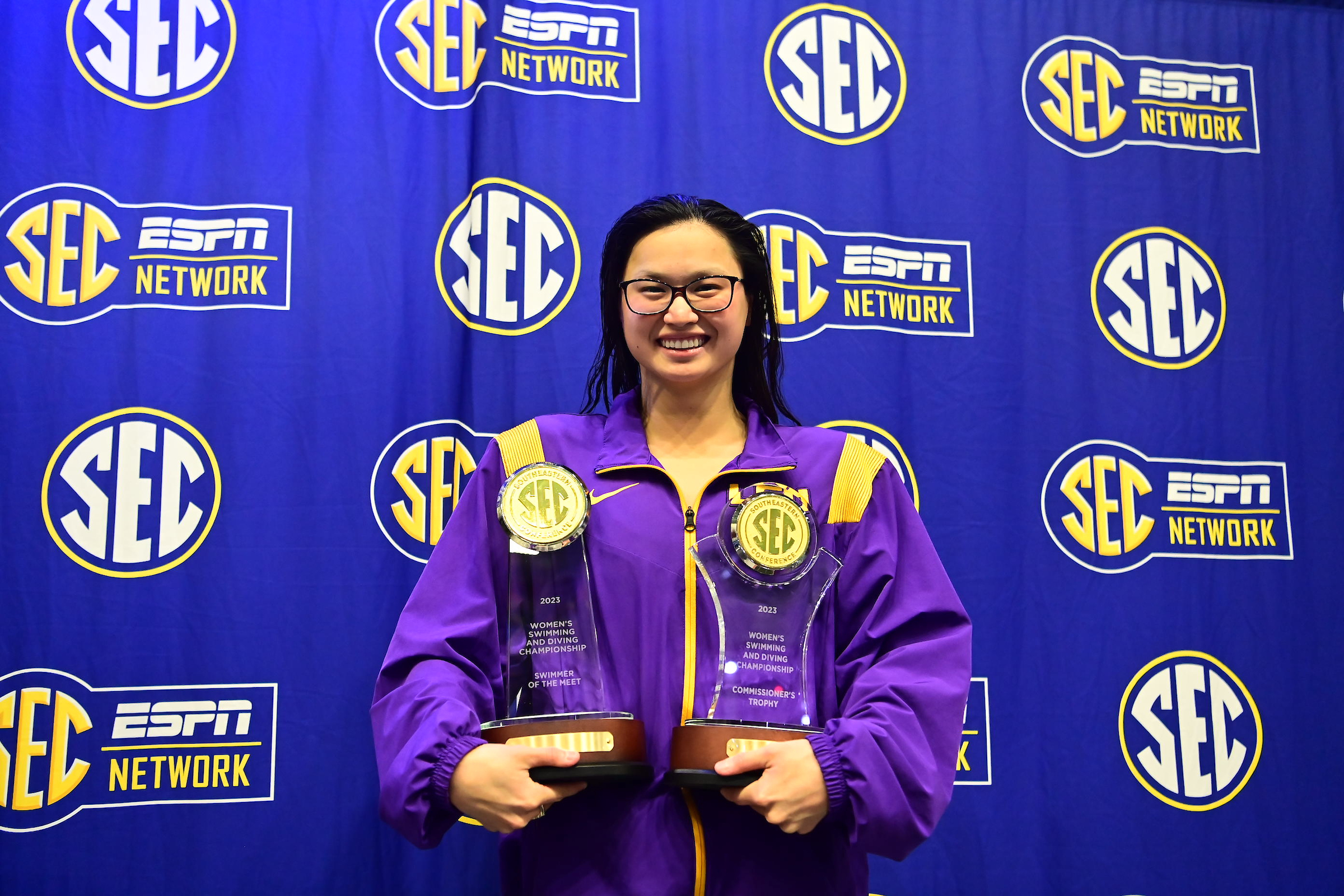 KNOXVILLE, Tennessee – LSU will have 11 swimmers and divers taking part in the 2023 NCAA Championships starting Thursday in Knoxville at the Allan Jones Aquatic Center on the University of Tennessee's campus.
"It's really exciting to have such a large group of swimming and diving women representing LSU at the NCAA Championships this week," LSU diving coach Drew Livingston said. "It speaks to the growth and strength of our women's program. We're not just here to participate, though. We have some student-athletes who have opportunities this week to score points, become All-Americans, and possibly win some national titles. The sky is the limit for what we can do this week and I'm excited to be a part of this team. Geaux Tigers!"
LSU, which is ranked No. 17 in the latest CSCAA dual meet poll, sent four individual swimmers, three relay alternates, and four divers. Maggie MacNeil will compete in the most events as an individual for the Tigers including the 50-yard free, 100-yard free, and 100-yard fly. She is also set to swim in at least two relays.
Additionally, LSU's remaining individual competitors include 200-fly SEC Champion Jenna Bridges and freshman Megan Barnes. The Tigers' 200-back SEC Champion Ella Varga, who is in her first year in Baton Rouge, will also compete individually. Bridges will swim in the 200-fly, Barnes will compete in the 200-free, and Varga will race in the 200-back.
On the diving side, LSU had an impressive outing in Minneapolis at the Zone D diving regional. The Tigers qualified a total number of nine times, and four different divers accomplished the feat.
Helle Tuxen and Montserrat Gutierrez Lavenant qualified for all three events. Lavenant, who is the 2023 SEC Champion on platform looks to match her performance on the tower and score some valuable points on the springboard events. Chiara Pellacani, a four-time SEC medalist, finished within the required standard on both springboard events. Maggie Buckley qualified for her first NCAA meet on platform.
LSU begins its competition at 9 a.m. CT with the prelim session. The Tigers have participants in the 500-free, 50-free, one-meter diving, and 200-free relay events. The meet is available to stream on ESPN+ and live stats can be viewed on the MeetMobile app. For diving-specific events, divemeets.com carries live scores from dive to dive.