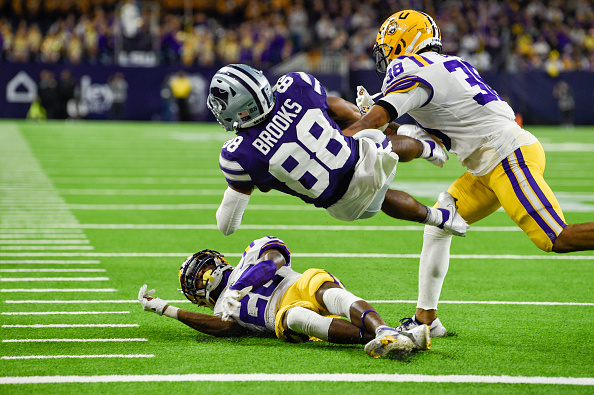 LSU reserve defensive back Pig Cage has entered the NCAA transfer portal.
   Cage, a walk-on product of Archbishop Rummel High from Kenner, transferred to LSU from Nicholls after the 2021 FCS spring season, his freshman year.
He appeared in eight games last season, including LSU's Texas Bowl loss to Kansas State.
Cage finished with seven total tackles last season, including six with one sack while starting in the secondary against the Wildcats in the bowl game.
"After a lot of prayer and talking with my family," he posted Wednesday morning on Twitter, "I've been (faced) with making one of the toughest decisions of my life.
"I would like to thank Louisiana State University, (former LSU coach Ed Orgeron's) staff, (new) coach (Brian) Kelly's staff for giving me an opportunity to chase a childhood dream. I would like to thank (all) the fans and the entire Tiger Community for welcoming me into their family.
"This was an experience I will always cherish and never forget," Cage added. "But at this moment in time this is the best decision for me to be able to pursue my dreams."
He posted the news with the added comment of "Dreams meant to be Chased not waited!"
Cage is the second Tiger to enter the portal this week, along with reserve linebacker Josh White.
"After heavy prayer I've decided to step away from LSU and enter my name into (the portal) with 4 years of eligibility," White wrote on Twitter.
White appeared in 10 games as a freshman special teams contributor with no stats in 2020. He did not play in 2021.
But White, a product of Cy Creek High in Houston, has received offers from Texas, Baylor (where former LSU defensive coordinator Dave Aranda is the coach), Southern Cal, Miami, Colorado and Nebraska since going into the portal.
Cage had 30 total tackles including 11 for loss while playing all seven games in Nicholls' 2021 COVID-prompted spring season, including a season-high nine tackles against fellow Southland Conference member Southeastern Louisiana.
He was a first team Louisiana Sportswriter's Association Class 5A pick and a two-time New Orleans Advocate All-Metro selection at Rummel.