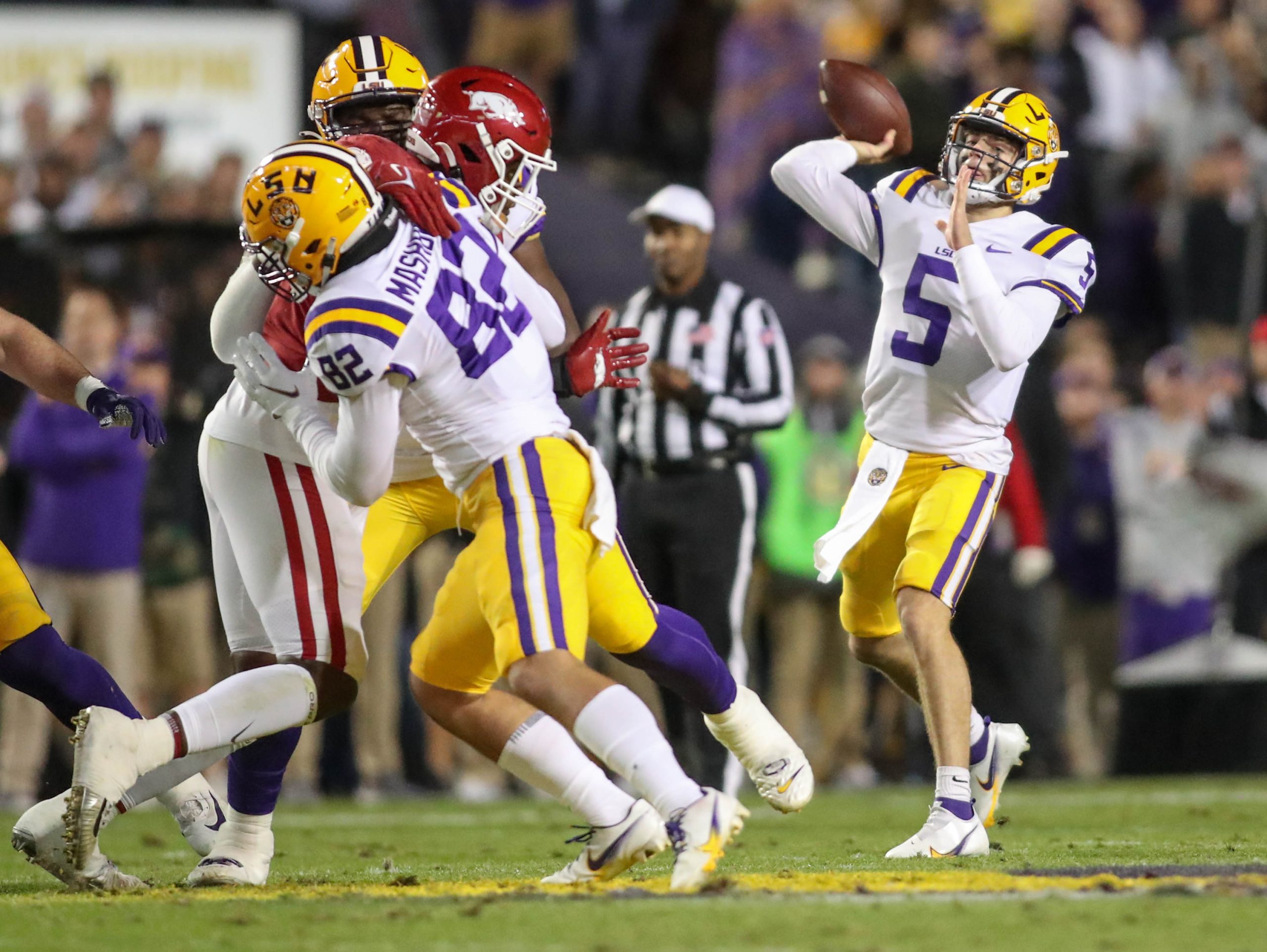 If LSU interim football coach Brad Davis has his way, quarterback Garrett Nussmeier would start in the team's Jan. 4 Texas Bowl against Kansas State and still protect his redshirt year.
Davis said the school has asked the NCAA to allow Nussmeier to play in the bowl game and still maintain his redshirt year, thus still giving him four years of eligibility remaining.
"If that were denied, for whatever reason, we have some contingencies in place," Davis said Tuesday during a news conference, the day after the team began preparations for the bowl game. "We will be able to move the football and execute our offense."
Starting quarterback Max Johnson announced Dec. 7 his intentions to enter the NCAA's transfer portal, marking the second LSU quarterback to do so. Senior Myles Brennan, who suffered an injury before the 2021 season and didn't play, announced on Nov. 1 that he was entering the transfer portal.
Nussmeier played in the NCAA allowable four games and still be able to redshirt. He completed 51 percent (29 of 72) passes for 329 yards with two touchdowns and two interceptions.
After getting extensive playing time in the team's 16-13 overtime loss to Arkansas, then LSU head football coach Ed Orgeron said that Nussmeier and his family agreed to take the redshirt season and not play in either of the Tigers' first two regular season games against UL-Monroe and Texas A&M.
With Johnson starting in both games, his backup on team's depth chart was listed as walk-on Matt O'Dowd of Plantation. Fla.
After Nussmeier, the team has no scholarship quarterbacks on their current roster where O'Dowd and fellow back-up Tavion Faulk of Carencro are listed.
Fifth-year senior wide receiver Jontre' Kirklin was a former Class 3A All-State quarterback in 2016, leading Lutcher to a state championship. He finished his high school career with 10,500 total yards and 147 touchdowns.
"We've put together a plan here that we feel really great about," Davis said. "We have a multitude of quarterbacks taking reps during practice, Garrett Nussmeier being one of them. We're working through some things right now, to be able to have him play for us and still maintain his redshirt. We do have a contingency. We're being very intentional about how we rep our team. We will be able to execute the offense."
Here's what else Davis had to say
Opening statement
"I'm really excited about the opportunity to coach this team in the TaxAct Texas bowl against Kansas State. It'll be a really great contest between two really prestigious football teams, both who have proud histories, both teams who pride themselves on being physical and have a great support across the country. So, we're excited to go to Houston and play this game in unbelievable venue. We're excited to play in front of our fan base. Houston has a huge support and alumni base for LSU football and so it's a great opportunity for our guys. We had our first practice yesterday. Our players went out there. It was incredibly spirited and competitive. It was great for our guys to get back to playing football. We've had a little bit of time off since our last football game. And our guys definitely went out there and got after it. So really excited about preparing this team, you know, sending our seniors out the right way and going out and competing one more time together. So that has been the focus really in this journey going forward. I'm really, really optimistic about what this team it can and will do in Houston when we go out and play Kansas State."
On team's first bowl practice Monday
"It was super electric. Just a ton of energy, guys just having fun, you know, finals over with you know, it's been a long season, but we get an opportunity to finish it, put a bow on it. So, we respect the heck out of our opponent. We fully anticipate competing in a very, very physical game. And we're excited about the opportunity to go play in a great college football professional for that matter of venue in front of some of the best fans in college football, which is LSU Tigers."
On significance of a win going into the offseason
"You know, it would be a big win for our program. We'd have a huge significance for us. No. 1, just finishing the season off. We have a group of selfless men in our in our locker room, and I think they exemplify toughness. It's probably one of the most close-knit teams that I've ever been a part of. Where it's truly a group of guys who go out and fight and compete for one another. In the midst of adversity or you know, any uncertainty and things that have gone on, you know, this season around our program, our guys have stayed together. They haven't blinked. They haven't made excuses or pointing the fingers. You know, they simply gone to work. This is an opportunity for us. You know, when everything seems perhaps you know, uncertain or maybe unstable at times, you know, when you roll that football out their guys get a chance to go compete you know, that's the main thing. I've never had any questions or concerns as it pertained to our guy's willingness to go compete. We won't be a distracted football team. You know, we there won't be any excuses made regarding our performance. We expect to go out and execute, play fundamental football, and we certainly have a respectful opponent that we're going to play, and we know they're going to bring it as well, so we don't have time to put our energy and focus on anything outside of winning this football game."
On the unique circumstances of practicing in Houston to start the year and returning to play there at the end of the season
"It's funny how things sometimes go full circle. It's definitely something that we could not have anticipated obviously, on either end. You know, from an expectation standpoint, going into the season, you know, obviously we did not expect to be displaced, by a hurricane or natural disaster. And yet it was a testament to the administration here at LSU for how we pulled together, and it was certainly a testament for the city of Houston and how they welcomed us with open arms. It made our time there comfortable. It is somewhat of a fitting ending to go back to Houston and be able to finish this season. Our players are super excited about it. You know it's a great place for our kids, not only to go out and compete and play football but in their in their leisure time to be able to enjoy the city of Houston. They've got so many different amenities and things to offer. For people who are out of town, we fully expect our players to be able to partake in some of it, not too much obviously, because we want to remain focused on the game. It is a fitting ending and we couldn't be more excited."
On the endorsements he's received to be retained on new staff
"It's an honor when anybody feels strongly convicted about a coach. What I tell all recruits in terms of them attending LSU it's never about one person. LSU football is bigger than did any coach that's here now or has been here will be here, the brand itself, the university what it stands for the opportunity to run out that tunnel in Death Valley. That's something that really no recruit should ever pass up. So even though I'm not allowed to speak on particular recruits and those things, I'm honored to be here. Every day that I've been here has been a joy for me. I understand everyday what's at stake. That I have to show up and I have to produce and put a product on the field that allows LSU to progress and move forward. So, I'm excited about the opportunity to continue to do that."
On the early NCAA signing period on Wednesday
"We hit the ground running. Recruiting obviously is the lifeblood of any college football program. And so, in the time that coach (Brian Kelly) was here, we briefed him on the targets that LSU had, as it pertains to signing a class here on tomorrow. And so, we did a thorough evaluation, both in terms of physical attributes and more so character, you know, different traits and things that fit Coach Kelly's program philosophy, and I feel great about it. You know, I think the guys we're going to bring in are going to be great representations of LSU football. High character, talented athletes who value education. And so, we are incredibly excited to bring in a great group of future champions here at LSU. So, we can't wait to show off to the world, the guys that are going to be a part of our future going forward."
On the recruiting pitch to recruits
"It's been a great sell. You look at Coach Kelly and what he's accomplished in his career as a head football coach. It's nothing short of phenomenal. He's had success but more importantly, he's had consistent success. In the time that I've gotten to spend with him and conversing about what his plan looks like, I'm really excited for our players, I'm really excited for LSU football. It's definitely he has a plan. It's not a just a slogan or just coach speak. I think that you know, when we get an opportunity to turn the page in coach is able to resume full control of this team in terms of leading them for the '22 season. I think our players are going to really love you know, what we do and how we go about doing it. I'm excited to be a part of it. I'm excited to go in and fulfill all the expectations that coach has for us."
On the concerns of team's lack of depth
"Well, we need 11. We've got that many for sure. I'm choosing to focus on the guys that are here. The guys that have made the choice and commitment to go out and finish the season for their teammates more than anything. No, we don't have concerns regarding the safety. That's obviously that's key, that is paramount. Obviously. As for player safety, you know, I've been very, very thorough and intentional about how we plan to practice. To get our players in elite shape to go on perform. But number two, you know, keeping guys healthy, you know, and given us our best opportunity to get our best players on the field on January 4th. We're not going to have any excuses. I guess that's the best thing I can tell you. We're going to go out and compete at a high level. We'll be fine."
On the things can LSU fans will see from the team
"First thing we want to make sure that we put a group of kids on the field that'll be incredibly disciplined and tough. You know, obviously (Kansas State) coach (Chris) Klieman and his program is built around the same things. We're expecting to be a physical, hard-nosed football game. It should be a group of kids that you see what they bring excitement to the table. Our guys they love playing football. That's something that I hope will jump off of people's TV screens if they're watching at home. You're going to see a group of guys that are fired up to play for one another. You know, our guy's relish being LSU Tigers. This is one of the premier football programs in the country, bar none. And it's an honor to go out there and put on the purple and gold and represent the state of Louisiana. So, you know, I fully expect our guys to go out and execute at a high level. We expect our guys to go out and play an exciting brand of football. But more importantly, if you watch between the lines, you'll see a group of men that really, really care about each other and that's something we're really proud of."
On showing the Houston area what LSU's all about
"Every game is an opportunity. LSU is a program that's on a big stage obviously playing in the SEC, and the SEC West. Every opportunity that we get to go and show our product to go out there and show our brand of football and represent the state of Louisiana is a great opportunity for us. Obviously playing in a prestigious venue like NRG stadium and playing in a great bowl game like the Texas Bowl for us is a great opportunity to you know, show kids that in the midst of you know things going on in your program or run your program for that matter, football is the most important piece of this thing going forward for our team. I'm excited about the opportunity. It's a big deal for our to our kids to go and win this game."
On the advantage of signing seven additional players from transfer portal
"Roster management is a really, really big part of your success, in particular football season. No. 1 because you know, if you operate at a deficit or have fewer numbers, it puts strain on other bodies. You want to be able to have a full roster, to be able to go out and just execute practice and develop competitive depth. But the most important piece, obviously taking care of your kids. The elements here in south Louisiana, and there's really the nature of college football being incredibly physical. You know, when you start having operating at a deficit, meaning asking your players to go out and compete at a high level with a shortage of numbers, it can be pretty taxing and stressful on our student athletes. That rule will create a better working environment, not only for LSU, but really all of college football."