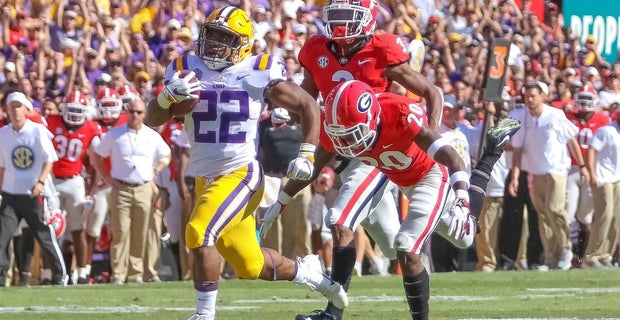 After a season being half of a one-two-duo at running back that brought LSU a lot of success, junior running back Clyde Edwards-Helaire is ready to shoulder the burden of being the Tigers' leader in the offensive backfield.
The undersized yet versatile speedster tallied 658 yards on 146 carries last season as part of a team with former LSU running back Nick Brossette that called themselves "the question mark" all season after being perceived as a weak point to the offense entering last year.

The duo then combined for more than 1,700 yards on the ground, leading Edwards-Helaire to enter this season as the established favorite to start.
"I would say it's more responsibility than anything," he said, "having those young guys come in and being able to tell those young guys the right and wrong things to do and also just being that leader in the room."
Those young guys he refers to are incoming freshmen John Emery and Tyron Davis-Price, two highly-touted recruits now competing for playing time.
Edwards-Helaire had high praise for both of them, saying they entered camp ready to work.
He added it can be tough to teach and learn over the summer with a lack of coaches available due to NCAA rules, but they came to Baton Rouge with the intent of competing for an on-field role, and it showed in the weight room and on the practice field.
"Overall, they're excellent backs. They do what they're told. That's the best thing about them. You tell them something, they do it. It's a one-time thing. It's corrected. That's always a plus for a running back.
"And running the ball, that's no problem for them. They showcased great talent yesterday. Exceptional."
All three have plenty to learn this fall as LSU installs a new offense concocted by offensive coordinator Steve Ensminger and passing game coordinator Joe Brady.
It didn't take long for Edwards-Helaire to fall in love with the new scheme, as it seems designed for him.
Brady has said all offseason that the goal of the new offense will be to get "speed in space," and that's made just for speedy backs like Edwards-Helaire.
"When I saw just the first install, I instantly got excited," Edwards-Helaire said. "Being able to get in space again, catch the ball again and not be downhill so much, but still have the aspect of running the ball downhill because the last two years… that's been what we've been doing.
"I found success in it, learned out to find success in it. Then you throw the aspect in of being able to run and catch the ball in the same offense, it's like the best of both worlds for me."
With Brady coming from a job with the New Orleans Saints and using what he learned under head coach Sean Payton, Edwards-Helaire hasn't had to look far for inspiration as to how to run.
Ezekiel Elliott may be his favorite back due to his ability to aggressive block, but Edwards-Helaire will try to emulate Saints running back Alvin Kamara, another seemingly undersized but speedy and strong back with an ability to make plays either from the slot or running downhill when needed.
"It's to the point where I've recorded things from the film (of Kamara) on my phone to watch it over and over again," Edwards-Helaire said. "Not to mimic but just to understand the thoughts of rotations of defense and how he would run certain routes. It's been a plus."
It's no secret that Edwards-Helaire's sophomore season ended in unusually tragic fashion.
Before the Fiesta Bowl, he and teammate Jared Small were involved in a third-party-sale-gone-wrong in which an 18-year-old man was shot and killed after allegedly trying to rob the duo at gunpoint.
"God gives his toughest battles to his strongest soldiers," Edwards-Helaire said. "I got through it and past it. That's that and that's it."
As for personal goals, Edwards-Helaire said he definitely wouldn't mind joining the 1,000-yard club, a goal his predecessor and former teammate Brossette focused intently on reaching last season.
But that goal takes a clear back seat to the team goals he and the rest of the Tigers have set coming into the season.
"It's not always about individual goals, but if it happens it happens," he said. "Ultimately, I want to be over 10 wins. I want be better than what we were last year. I want to win an SEC Championship. I want to go to the playoffs. I want to win a national championship.
"That's the reason I came to LSU. That's the reason I stayed home. I knew the guys coming in, the guys that were here and the guys I was coming in with, and I felt we'd have the talent to do it. I feel like this is one of the years to do it."