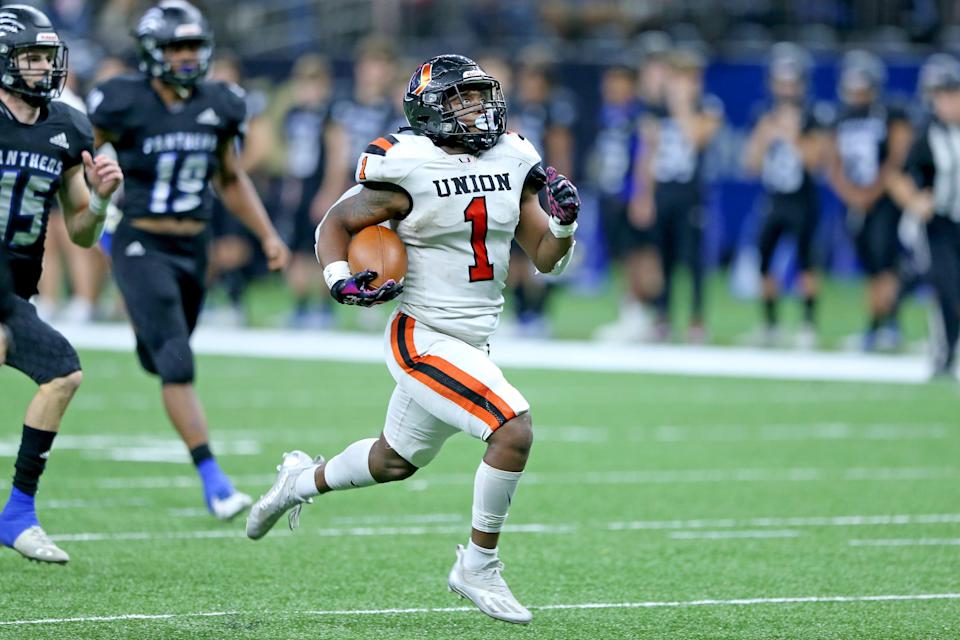 How did Union Parish running back Trey Holly celebrate his new state career rushing record last Friday?
By making a 400-plus-mile round trip a day later to watch LSU, where he's currently committed, beat New Mexico, 38-0 in Tiger Stadium.
"It was a great weekend," Holly during Tuesday's appearance on Tiger Rag Radio. "I had fun. As soon I came out, people were saying, 'there goes the new king'. That felt pretty amazing."
The 5-foot-8, 180-pound Holly was in the presence during his unofficial visit of the state's former record holder, Nick Brossette, who current serves under first-year football coach Brian Kelly as his director of alumni relations and high school outreach.
The two have developed a bond that's grown since Holly, the nation's No. 16 rated all-purpose running back, decided to follow in the footsteps of Brossette and committed to play his college football at LSU on May 15.
"That's been like my dream growing up. I always wanted to play in Tiger Stadium ever since I was young," Holly said. "That's one of my main goals, just to be there in front of 100,000 fans. That's going to be great to know that I'm actually living out my dream."
Brossette, who rushed for 8,704 yards in five years at University High, was clearly in the corner of Holly, who began the 2022 season 875 yards shy of the state's rushing mark. He caught and surpassed Brossette last Friday with 21 carries for 250 yards and four touchdowns with the last score pushing him to 8,708 career yards in a 62-12 home win over Bastrop.
"Multiple people asked me which game I planned on breaking it," Holly said. "I was thinking Week 4 which was actually scheduled at Bastrop (game was moved to Union Parish). I was telling people I wanted to do it Week 5 in front of my home crowd because I worked so hard throughout my career. I felt I should do it in front of my home crowd."
Holly, like Brossette, got a head start on his record-breaking career with 849 yards as an eighth grader. He piled up more than 5,000 yards the past two seasons, including a career-best 2,709 yards and 44 touchdowns, in 2020 to set the stage for his senior year.
"It feels great to be the all-time leading rusher, knowing I worked my whole life for this," Holly said. "It's a blessing."
Brossette compiled 8,704 yards during 2010-14 at University High which is on LSU's campus. He still currently holds the state's touchdown record at 154, but Holly has that mark in his sights as well with 119 with six regular season games left, plus the state playoffs, to potentially flirt with 10,000 career yards.
Derrick Henry, the former standout at Alabama and current running back of the Tennessee Titans, is the nation's career rushing leader at 12,124 yards from 2009-12 in Yulee, Florida.
"I want to set it high so my record can never be broken," Holly said. "I'm going to try and push it to the max. My goal this season is to get 10K.
"I still have goals in high school I still haven't accomplished by getting a state championship ring," Holly added, noting Union Parish has been the Class 3A state runners-up the past two seasons. "I still got a lot to accomplish while I'm in high school."
Holly said Brossette has been a positive force in his life, encouraging him to break the record. It's a refrain that continued to last Friday's game which the Farmers (3-1) handled from the start.
"Before the game he text me to go and break the record," Holly said of Brossette. "He motivated me. We have a great bond. He's like an older big brother to me."
With the game getting out of hand, thus diminishing his window to set the record at home, Holly capitalized on his final offensive series before taking a seat on the sideline.
Holly, who needed 247 yards going into the game, capped his 250-yard effort with a 14-yard TD for a 49-12 lead at the 6:55 minute mark of the third quarter. The carry made him the state's new rushing leader and after the touchdown, promptly delivered the football to his mother who was standing on the track for safe keeping.
"My No. 1 goal is you have to have heart to play this game," Holly said. "I go into every game knowing I'm not as big as those guys, but my heart's way bigger than those guys … 10 times bigger than those guys. I go into every game feeling like I can't be stopped."