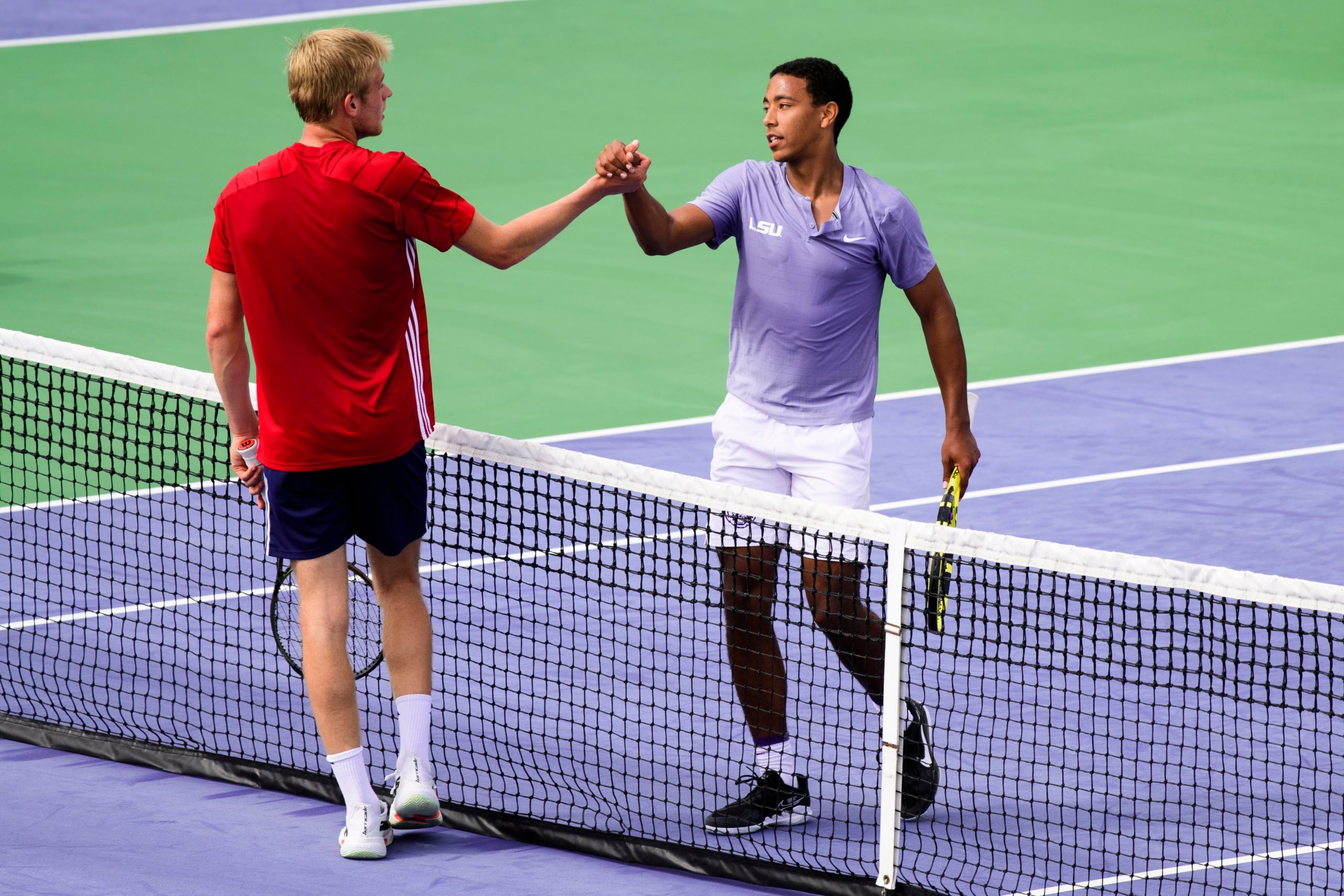 COLUMBIA, S.C. – The LSU men's tennis team fell to No. 6 South Carolina, 4-3, Sunday afternoon at the Columbia Tennis Facility.
Doubles
South Carolina took a quick upper hand in doubles after Ronald Hohmann & Vlad Lobak fell on court one, 6-3. Courts two and three would go towards the Tigers, however. On court two, Kent Hunter and Gabriel Diaz Freire defeated Raphael Lambling and Carter Morgan, 6-3. The Boris Kozlov/Nick Watson duo would be the ones to clinch the doubles point on court three, 6-4.
Singles
LSU (7-4, 0-2 in SEC) took a 1-0 lead into singles and would need three of the six courts to clinch the match. The Tigers got off to a promising start with Kent Hunter putting LSU up 2-0 after defeating South Carolina's Jake Beasley, 6-2, 6-4. LSU took a 3-0 lead after Diaz Freire defeated Beau Pelletier, 6-3, 6-3. The Gamecocks turned it on at this point and got on the board after No. 19 Daniel Rodrigues took down No. 35 Ronald Hohmann, 6-2, 7-5.
The lead was cut to 3-2 after Boris Kozlov fell on court six, 6-2, 7-6 (8-6). Court two and four would come down to a third set where the Gamecocks tied the match on court four after Joao Graca fell, 6-4, 3-6, 6-3.
All eyes fell on court two between LSU's Vlad Lobak and Raphael Lambling where Lobak took the first set, 7-5, but Lambling followed up with a 6-3 victory in the second set and 6-0 showing in the the third set to clinch the match.
Next Up
The Tigers return to the LSU Tennis Complex next weekend to host Mississippi State on Friday, March 11, at 5:00 p.m. and Ole Miss on Sunday, March 13, at 1:00 p.m.
#6 South Carolina 4, #42 LSU 3
Singles
#19 Daniel Rodrigues (SC) def. #35 Ronald Hohmann (LSU) 6-2, 7-5
Raphael Lambling (SC) def. Vlad Lobak (LSU) 5-7, 6-3, 6-0
Kent Hunter (LSU) def. Jake Beasley (SC) 6-2, 6-4
Casey Hoole (SC) def. Joao Graca (LSU) 6-4, 3-6, 6-3
Gabriel Diaz Freire (LSU) def. Beau Pelletier (SC) 6-3, 6-3
Carter Morgan (SC) def. Boris Kozlov (LSU) 6-2, 7-6 (8-6)
Doubles
Daniel Rodrigues/Beau Pelletier (SC) def. Ronald Hohmann/Vlad Lobak (LSU) 6-3
Gabriel Diaz Freire/Kent Hunter (LSU) def. Raphael Lambling/Carter Morgan (SC) 6-3
Boris Kozlov/Nick Watson (LSU) def. Jake Beasley/Casey Hoole (SC) 6-4