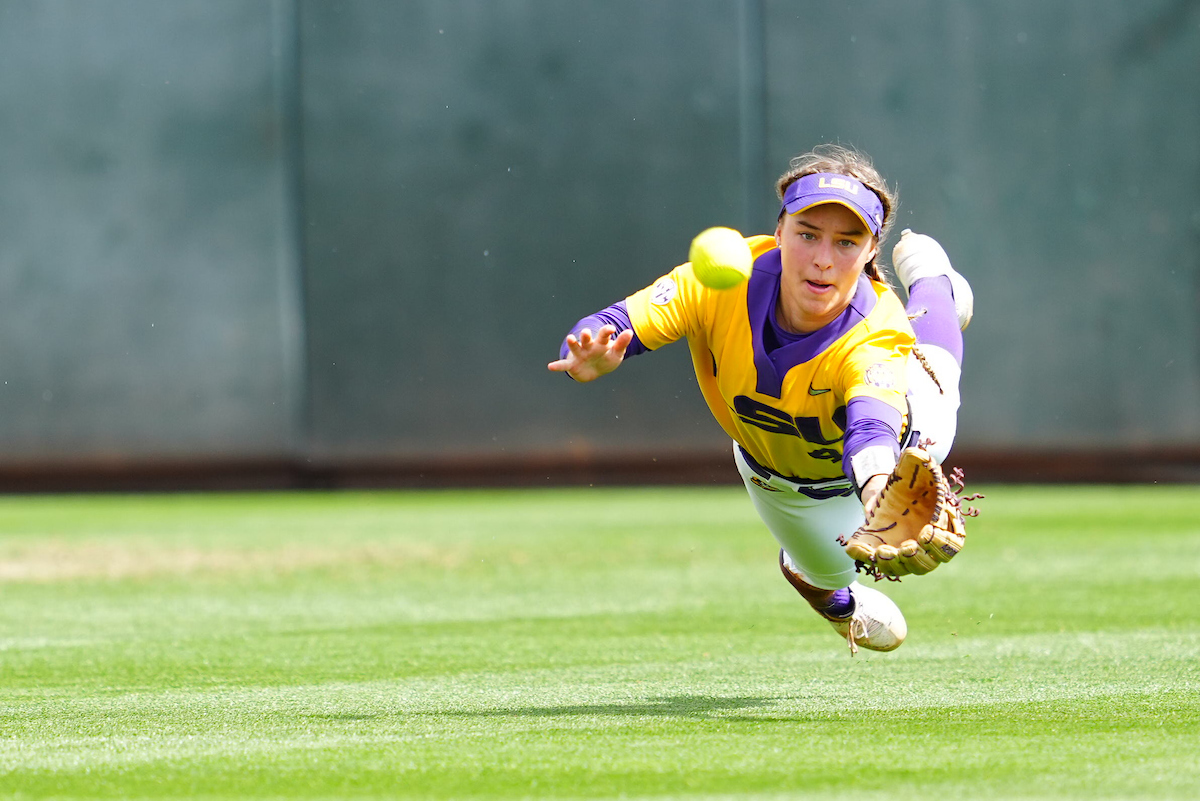 LSU's prized freshman pitching recruit Raelin Chaffin more than lived up to her billing Sunday and helped the Tigers complete a dominating performance in the circle.
Chaffin made her fourth appearance of the season a special one, throwing a complete-game, three-hit shutout with a career-high 12 strikeouts in a 5-0 victory over Central Connecticut State at Tiger Park.
"I could always be better, but today I had a great defense behind me who made amazing plays and a great coach calling pitches," Chaffin said.
No. 21 LSU (17-6) also got a three-hit shutout from Shelby Wickersham in Sunday's 8-0 run-rule win over Louisiana Tech in six innings.
The Tigers finished with a 5-1 record in the LSU/UL-Lafayette Crossover and returns home Friday to begin a three-game series with No. 2 Alabama in Southeastern Conference play.
"We did not play well the first weekend, and the second weekend, we played a 'who's who' list of opponents," LSU softball coach Beth Torina said. "We are building and getting better every weekend and I am happy with the spot we are in right now."  
LSU 5, Central Connecticut State 0
Chaffin's strikeout total represents a season high for LSU pitchers this season.
The former star at Airline in Bossier City (2-0) tossed her third complete game, first career shutout and bolstered her strikeout total which was 11 in 9.2 innings coming into the game.
"I thought Raelin did a great job," Torina said. "She did everything we needed her to do. She obviously had her best start of the year, and one of the best starts we have had from a pitcher all year, honestly." 
LSU totaled nine hits, taking a 4-0 lead on the strength of a three-run second inning which was highlighted by the first career homer, a two-run shot, from freshman right fielder Baylea Brandon. Third baseman Danieca Coffey added an RBI single that scored Jordyn Perkins, who doubled and moved to third on a wild pitch.
Shortstop Taylor Pleasants led off the third and made it 4-0 by scoring on a wild pitch from third during the at bat of Perkins and LSU added its final run in the fifth on the third homer of the season from left fielder Ali Newland off the scoreboard in right.
"I think that I just had to stay in it," Newland said. "My first few at-bats were not what I wanted, but my teammates kept encouraging me the whole time. I got up there and told myself to be on time, and I just kind of went with it from there."  
LSU 8, La. Tech 0 (6)
Based on the number of uncharacteristic walks in the first two innings of the game, it didn't appear Wickersham would be around to see an entire game.
Even Torina had to make visits to the circle in each of the first two innings where Wickersham had exceeded her career worst for number of walks in a game with five of her seven free passes to that point.
Not only did Wickersham (2-3) settle down, getting through the remainder of the second inning unscathed, but the New Orleans native went on to finish with her second shutout of the season and fifth complete game that included six strikeouts.
Catcher Morgan Cummins threw out a would-be base stealer in the first, Wickersham responded with a strikeout looking and Pleasants threw to Coffey at third for a fielder's choice to get out trouble of the first.
LSU established an early 4-0 lead for Wickersham, scoring twice in each of the first and second innings against La. Tech's losing pitcher Audrey Pickett, whose team had a three-game win streak snapped.
Pleasants (2-2, 3 RBIs) doubled in her team's first run and designated player Shelbi Sunseri drive in another run on a single to center.
The Bulldogs loaded the bases with two outs on two walks and a single before Wickersham worked her way out of trouble, including a visit from Torina, and got Kate Cooper looking at strike three for the final out.
Cummins (2-3, RBI) led off the second with a double and scored on a Sydney Peterson's single and error in right field and Pleasants made it 4-0 on Clark's RBI-single to right.
Cummins (2-3) led off the fourth with her first homer of the season, knocking Puckett out of the game after three-plus innings of work. She allowed eight of 13 hits and five runs.
The Tigers loaded the bases against reliever Emma Hutchinson of nearby Holden with Pleasants driving in a run on a sacrifice fly to center.
LSU was able to close out the game in the sixth on back-to-back RBI producing hits from Pleasants – a double to right-center field – and Clark who's sacrifice bunt scored Ciara Briggs.