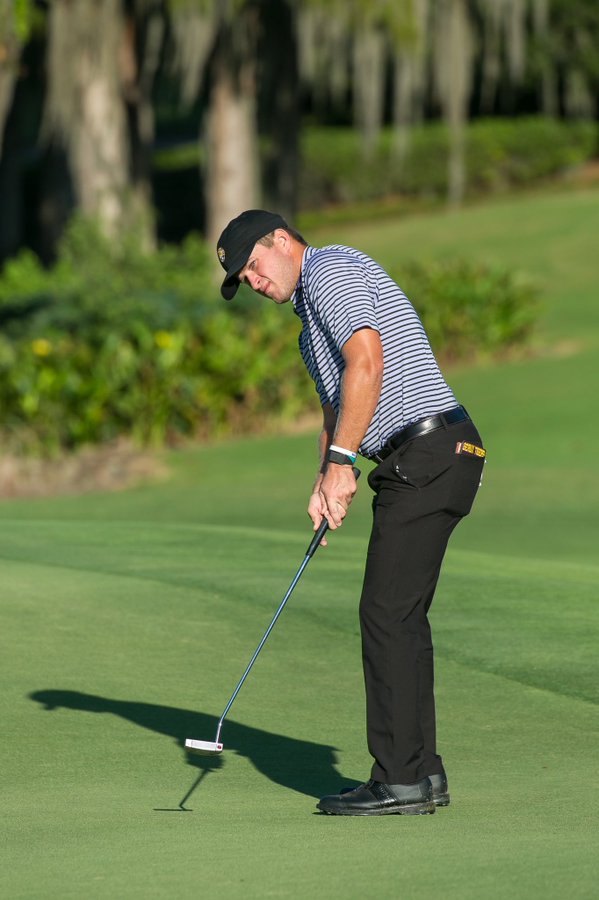 A final round of 1-under par jumped LSU's men's golf team from sixth place to a fourth-place finish Tuesday in the Isleworth Collegiate Invitational played at the Isleworth Golf & Country in Windermere, Florida.
The Tigers finished the tourney at 5-over par 869 after their 1-under 287 in the final round. LSU was 16 shots behind tourney winner Arizona State.
Senior Garrett Barber led the Tigers, finishing in a tie for eighth place among the individual leaders at 3-under 213 after scoring a 1-over 73 in the final round. It was the eighth top 10 finish of Barber's LSU career.
Freshman Cohen Trolio's final round 3-over 75 dropped him into a tie for 22nd at 3-over 219. Sophomore Nicholas Arcement had his best round of the tourney, a 1-under 71, and advanced 11 places to a tie for 31st at 5-over 221.
Senior Michael Sanders also shot a 1-under 71 and moved seven places into a tie for 33rd at 6-over 222. Senior Trey Winstead, after a terrible opening round of 81, shot par 72 for the second straight day and moved 11 places to finish tied for 41st at 8-over 224.
The tourney concluded LSU's fall schedule.
LSU FINAL SCORING IN ISLEWORTH COLLEGIATE INVITATIONAL
291-291-287 – 869 +5 over
Garrett Barber 68-72- 73 – 213 -3 under
Cohen Trolio 71-73-75 – 219 +3 over
Nicholas Arcement 75-75-71 – 221 +5 over
Michael Sanders 77-74- 71 – 222 +6 over
Trey Winstead 80-72-72 – 224 +8 over