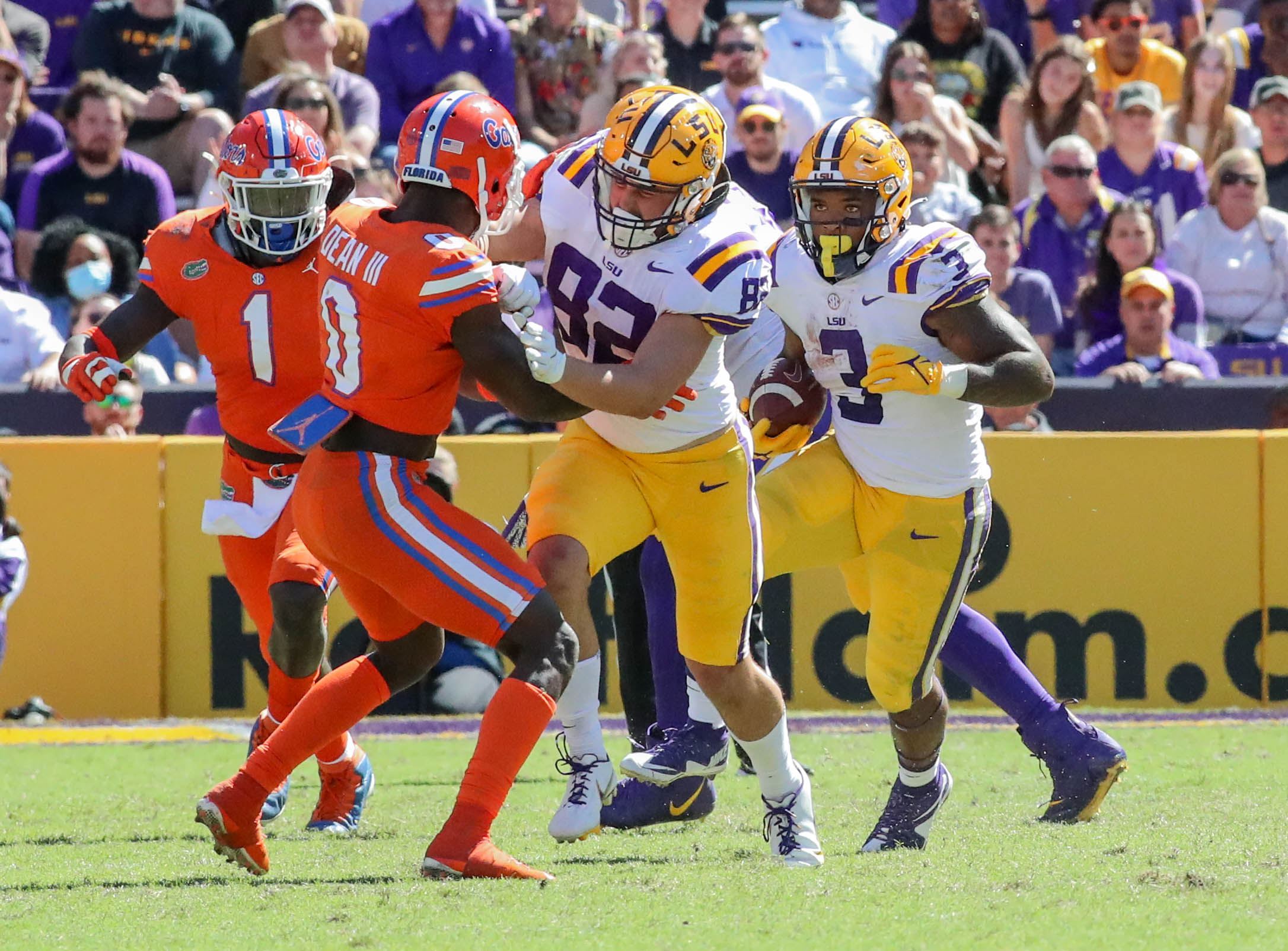 Since the beginning of the 2021 season three years after entering the program as a walk-on quarterback, there are two vastly different things about LSU's Jack Mashburn that should have been dead giveaways better times were ahead.
There was a subtle switch of jersey numbers from 30 to 82 and the appearance of a protective small neck roll attached to Mashburn's shoulder pads, giving him the distinct look of someone looking to flatten opposing defenders.
Mashburn certainly looked the part. Outfitted in more of a traditional number for a tight end, he gained his first career start and played a pivotal role in LSU's 49-42 victory over No. 20 Florida last Saturday when the Tigers rushed for a season-high 321 yards on 45 attempts.
"We saw that Jack was doing a great job of blocking during the week, so we made him first team and he did a great job," LSU football coach Ed Orgeron said. "What you saw from Mashburn is what we've seen for two years."
The Florida game represented the seventh of the season for Mashburn. But in his first career start, the 6-foot-3, 230-pounder was a prominent figure in the running of junior Ty Davis-Price as he rumbled 36 times for a school-record 287 yards and three touchdowns.
Orgeron said Mashburn, a sophomore, will be the team's starter again in this week's road game at No. 12 Ole Miss.
"Throughout the week I was taking a lot of the ones reps," Mashburn said of the first team. "They prepared me to be ready, both mentally and physically for the role I played. We repped the main plays we were going to run that game against different looks. It all kind of just fell into place. It was a really good day."
LSU showed flashes of finally getting its moribund running game going in the second half at Kentucky on Oct., 16 where Davis-Price had 22 carries for 147 yards with 2 touchdowns in the Tigers' 42-21 loss.
Mashburn's playing time increased during the second half of the Tigers' game with the Wildcats and a excellent week of practice for Florida manifested itself into his first college start.
"This year I went to McNeese's camp and got the opportunity to talk to Coach O," St. Paul's football coach Ken Sears, who coached Mashburn. "He went on and on about Jack. He talked how they were going to give him a scholarship and I was very happy to hear that and very proud of him. But it didn't surprise me because of his work ethic."
Mashburn began his career at St. Paul's as a wide receiver and H-back.
Sears said it was evident that at his size Mashburn enjoyed being a physical player before eventually moving to quarterback as a junior.
"It was a matter of need to have someone at quarterback," Sears said. "He gave us someone with a lot of dimensions. He was physical runner as well as doing a great job in the passing game for us."
Mashburn enjoyed a two-year run at quarterback where he accounted for 4,195 yards and 36 touchdowns. He was voted first team All-District 6-5A at athlete and Class 5A honorable mention after passing for 1,611 yards and 6 TDs and running for an additional 718 yards and 16 TDs.
With limited scholarship opportunities waiting, along with some preferred walk-on spots, Mashburn followed his dream to play for LSU and walked in the fall of 2019.
"Growing up in Louisiana, I've always wanted to come to LSU," Mashburn said. "It's always been a dream of mine coming to LSU games multiple times a year. When they told me I had the opportunity to walk on here, I couldn't pass it up."
There's not much stability in the life of a walk-on and as a 205-pounder Mashburn tried to forge his path onto LSU's roster, first at quarterback followed by tight end, wide receiver and back to tight end.
He didn't play in 2019 and redshirted. LSU signed the nation's No. 1 tight end Arik Gilbert and Kole Taylor for the '20 season which was reduced to limited playing time in three games, including the Tigers' 37-34 road upset of No. 6 Florida.
Mashburn, listed at 218 pounds, wore No. 30 in 2020.
With Gilbert eventually transferring and fellow tight end Nick Storz receiving a medical hardship and unable to play LSU's prospects at tight end for this season were thin after the 6-7, 247-pound Taylor.
The Tigers signed Jack Bech, a 215-pounder, as a wide receiver/tight end who even as a willing blocker, has been asked to spread out more and not be attached the offensive line.
Since he's been at LSU, Mashburn has reached 6-3 and says he weighs between 230 to 235 pounds, the result of the school's strength and conditioning program under coach Tommy Moffitt and following a weekly meal plan that calls for gulping down weight-gain shakes from the nutrition center.
"I worked throughout the whole offseason, the whole (fall) camp, during the season," Mashburn said. "It all kind of just worked out."
With LSU's running game unable to get in gear, ranking next-to-last in the SEC in yards per game (83.17) and 104th nationally in yards per carry (2.9), the Tigers remained committed to running the ball against Kentucky and experienced their first breakthrough of the season.

Despite trailing 21-0 at halftime, LSU unleashed a ground attack with Mashburn playing tight end that gained 99 yards on 16 carries in the second half alone and wound up with 147 overall on 35 carries.
LSU continued that trend in the second half of the game with Florida, rushing 25 times for 220 yards with Davis-Price piling up a good bit of his 193 yards on a counter play the Tigers ran to Mashburn's side.
Mashburn even caught the first pass of his career, a 7-yarder in the third quarter from quarterback Max Johnson.
"I think it speaks for his patience and detail for the game of wanting to get better and what coaches are asking him to do," Sears said. "That's part of his character. He's a very hard-working kid, very coachable. He just wants to go there and perform well and win."