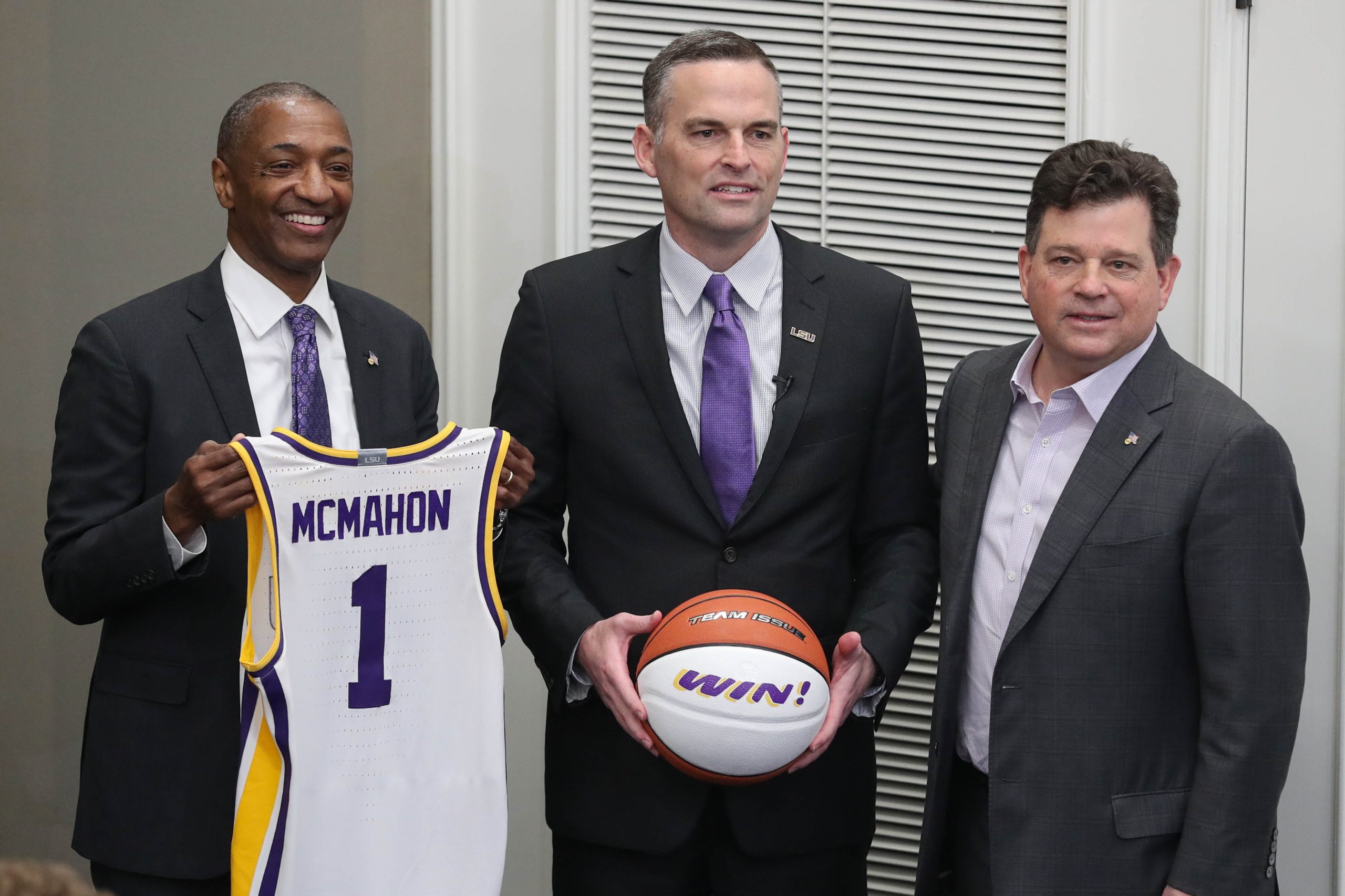 The LSU basketball program has had all sorts of comings and goings since coach Will Wade was fired March 12 due to alleged recruiting-related violations.
Multiple Tigers entered the NCAA transfer portal, two declared their intent to enter the 2022 NBA Draft pool, interim coach Kevin Nickelberry landed a new job and new coach Matt McMahon has been busy building his 2022-23 LSU roster.
Here's a look at the movement:
NEW ADDITIONS
SHAWN PHILLIPS
7-0 C
Old school: Dream City Christian (Glendale, Arizona)
The skinny: The former North Carolina State signee changed his mind and signed with LSU on May 17. Phillips, nicknamed "Baby Shaq," picked the Tigers over programs including Georgetown, Kansas State and Miami. After playing at Ypsi Prep in Ypsilanti, Michigan, and Belmont High in his hometown of Dayton, Ohio, the 250-pound shot-blocking rim protector moved to Arizona, to play this past season for Dream City Christian, where averaged 15.9 points, 14.7 rebounds and 3.4 blocks per game. He's rated as the nation's No. 111 overall prospect and No. 20 center according to 247Sports Composite.
CAM HAYES
6-3 G
Old school: North Carolina State
The skinny: Hayes, who committed on April 8, entered portal last month after averaging 7 points over 32 games including 13 starts as a sophomore in 2021-22. That's down from 7.8 ppg as a freshman, when he started 14 of 23 games. The combo guard from Greensboro (North Carolina) Day School originally chose North Carolina State over Tennessee, Florida State and Virginia Tech.
KENDAL COLEMAN
6-8 C/PF
Old school: Northwestern State
The skinny: Coleman, a first team All-Southland Conference pick and first team All-Southland Defensive Team selection in 2021-22, is Matt McMahon's first pickup from the transfer portal. He spent the past two seasons at Northwestern State and averaged a double-double with 15.4 points and 10.1 rebounds per game while starting all 30 games this season, making him one of just 15 NCAA Division I players to average a double-double in '21-22. A product of Captain Shreve High in Shreveport, where he led the state in blocks as a junior, the Louisiana native is a high-energy big who started all 59 of his games at NSU. Coleman joins former Northwestern State associate coach Jim Moore, the Tigers' new recruiting coordinator, at LSU.
TRAE HANNIBAL
6-2 G
Old school: Murray State
The skinny: Hannibal averaged 9.2 points and 5.1 rebounds while logging an average of 29.1 minutes off the bench in his lone season at Murray State. He scored in double figures in both of the Racers' NCAA Tournament games, including 18 in a first-round win over San Francisco. Hannibal is from Elliott, South Carolina, and Hartsville High in Hartsville, South Carolina. He transferred to Murray State from South Carolina, where he averaged 6 points in 20 games in 2020-21 for the Gamecocks and 4 points, 2.1 rebounds and 1.2 steals as a freshman in 2019-20. Hannibal was South Carolina's Class 4A co-State Player of the Year coming out of Hartsville, where he averaged 26.8 ppg as a senior including 62 points with 20 rebounds in his final high school game.
JUSTICE HILL
6-0 G
Old School: Murray State
The Skinny: Hill, who is from Little Rock, Arkansas, started all 34 games for Murray State in 2021-22, averaging 13.4 points, 5.1 assists with an assist-to-turnover ratio that ranked 13th nationally, 2.3 rebounds and 1.1 steals in 31.3 minutes per game. He hit 35.8% percent from 3-point range with 63 made treys. Hill scored a season-high 36 points against Belmont and had nine assists in a first-round NCAA Tournament win over San Francisco. He originally signed with Arkansas as part of the Razorbacks' 2019 class, then transferred to Salt Lake Community after one semester before averaging 5.7 points with 10 starts for Murray State in 2020-21.
CORNEILOUS WILLIAMS
6-10 F/C
Old school: Combine Academy (Charlotte, North Carolina)
The skinny: Williams originally signed with Murray State out of Combine Academy, then got his release from the Racers after coach McMahon left for LSU. Originally from Meridian, Mississippi, he's a long and athletic defensive presence who'll bring a paint presence with a penchant for dunking to the Tigers.
DEREK FOUNTAIN
6-9 F
Old school: Mississippi State
The skinny: Fountain, a product of Holly Spring (Mississippi) High, played the past two seasons at Mississippi State. He averaged 1.8 points and 1.8 rebounds in 8.4 minutes per game over 25 games with three starts last season and 5.4 points and 3 rebounds in 19 games as a freshman, when he scored a career-high 20 points against LSU and started 12 of the season's final 14 games. The versatile Fountain can defend multiple positions. He shot only 2-of-12 on trey tries in 2021-22 but made 15-of-39 (38.5%) as a freshman. Fountain's mother, Bernita Fountain, played at Southern Miss.
JALEN REED
6-10 F
Old school: Southern California Academy
The skinny: Reed, a native of Jackson, Mississippi, is ranked No. 45 nationally and as the No. 7 power forward by On3.com, and he's a member of the ESPN100. The son of Ole Miss All-American and 2001 SEC Freshman of the Year Justin Reed, Jalen Reed is a versatile forward can create off the dribble and score from multiple spots on the floor. He originally was signed by coach Mike White at Florida last November, but when White left for Georgia Reed received his release and was recruited LSU, Kentucky, Louisville, Memphis and Texas Tech. He previously played for Oak Hill Academy in Virginia and Santa Clarita (California) Academy, and averaged 12.5 points for ProSkills at the NIKE Peach Jam.
TYRELL WARD
6-7 SG/SF
Old school: DeMatha Catholic (Hyattsville, Maryland)
The skinny: The product of Washington, D.C. area, high school power DeMatha Catholic originally signed with Xavier, but was released from his NLI after coach Travis Steele left. LSU then beat out Georgetown and Virginia Tech for Ward, the nation's No. 23 recruit according to Rivals (No. 26 by On3.com, No. 34 by ESPN). The versatile swingman can knock down 3-pointers and finish at the rim. He averaged 19.1 points, 4.5 rebounds, 1.8 assists, 1.4 steals and 1.0 blocks per game at 21-7 DeMatha last season.
KJ WILLIAMS
6-10 F
Old school: Murray State
The skinny: Williams was named Ohio Valley Conference Player of the Year for a senior season in which he averaged a league-high 18 points, 8.4 rebounds and 1.4 steals in 29 minutes per game while starting all 34 games for the Racers. A product of Cleveland Central High School in Cleveland, Mississippi, the skill post player averaged 13.4 and 7.2 rebounds while shooting 61.2% from inside the arc throughout his four-season career at Murray State. Williams, a first-team all-conference for three straight seasons, joins former Racer teammates Trea Hannibal and Justice Hill in transferring from Murray State to LSU. He has one season of eligibility remaining at LSU, which announced his addition on May 5.
STAYING PUT
MWANI WILKINSON
6-5 F
The skinny: Wilkinson was the 11th of 11 Tigers to enter the transfer portal, but on April 12 LSU announced he was remaining with the program for a third season. He averaged 4.3 rebounds and 1.2 steals in 2021-22. The product of Bishop Gorman High in Las Vegas appeared in all 34 games for the 22-12 Tigers, opening 30. Wilkinson had 44 starts in 61 games during his two seasons.
JUSTICE WILLIAMS
6-4 G
The skinny: The reclassified freshman from Philadelphia played in 20 games, including SEC starts against Auburn and Texas A&M. He averaged 1.7 points in 10.6 minutes. The school announced his plans to remain at LSU on April 13.
ADAM MILLER
6-2 G
The skinny: A product of on the south Morgan Park High, Miller averaged 8.3 points while starting all 31 games as a freshman at Illinois in 2020-21 – making him the fifth-highest scorer among all Big Ten freshmen that season. He also made 52 3-pointers, most among Big Ten freshman. The shooting guard transferred to LSU for the 2021-22 season but didn't play due to a preseason knee injury sustained in October. Before tearing an ACL, Miller – Illinois' 2020 Mr. Basketball – played last offseason on USA Basketball's gold medal-winning Under-19 World Cup team. He announced his decision to stay at LSU on May 13, sticking with the Tigers over TCU.
DECLARED FOR THE DRAFT
TARI EASON
6-8 F
New team: Houston Rockets
The skinny: Eason, a transfer from Cincinnati, came off the bench in his lone season with the Tigers but led LSU in scoring at 16.9 ppg. He was taken No. 17 overall in the June 23 NBA Draft. Eason also was an All-SEC Team pick.
DARIUS DAYS
6-7 F
New team: Reportedly agreed to terms with San Antonio Spurs for summer league
The skinny: Days, from tiny Raleigh, Florida, averaged a career-high 13.7 points per game and a team-high 7.8 rebounds game. He played four seasons at LSU, starting 91-of-92 games over his final three. After pulling out of the draft in 2021 and returning for his senior season, Days went undrafted.
SHAREEF O'NEAL
6-10 F
New team: Reportedly agreed to terms with San Antonio Spurs for summer league
The skinny: A stress fracture in his foot kept O'Neal from playing during the 2021-22 season until Jan. 12, and he wound up averaging 2.9 points and 2.1 rebounds including a 9-point game against Missouri in late February. O'Neal, the son of LSU legend and retired NBA star Shaquille O'Neal, transferred to LSU in 2020 from UCLA, where he played 13 games as a redshirt freshman in 2019-20.
IN THE TRANSFER PORTAL
XAVIER PINSON
6-2 PG
New school: New Mexico State
The skinny: The transfer from Missouri was limited to 27 games due to a sprained MCL in his lone season as LSU's starting point guard but averaged 9.8 points and a team-leading 4.8 assists per game with 16 double-figure scoring games. Pinson somewhat surprisingly entered the portal after opting to not turn pro this year and committed May 18 to New Mexico State.
BRANDON MURRAY
6-5 G
New school: Georgetown
The skinny: The starting shooting guard from Baltimore and IMG Academy in Florida averaged 10.0 points, 3.0 rebounds, 1.9 assists and 1.1 steals while playing in 33 of LSU's 34 games, starting all but one of the 33 and averaging a team-high 31 minutes a game. Murray was an All-SEC Freshman team selection. He joins former LSU assistant coach and interim head coach Kevin Nickelberry at Georgetown.
EFTON REID III
7-0 C
New school: Gonzaga
The skinny: The freshman from Richmond, Virginia, and IMG Academy in Florida was the only Tiger to start all 34 games in 2021-22. He averaged 6.3 points and 4.3 rebounds in 19.6 minutes per game and had seven scoring games in double figures, including a season-high 16 points in LSU's season-opener against UL Monroe. Committed to Gonzaga on May 1.
ERIC GAINES
6-2 G
New school: UAB
The skinny: Playing in all 34 games with eight starts, Gaines averaged 9.0 points, 3.3 rebounds, 2.9 assists and 2.1 steals. The sophomore from Lithonia, Georgia, opened at the point when usual starter Xavier Pinson was injured and out, and LSU struggled during that stretch. But the combo guard scored in double figures in 14 games, including five straight in late January through early February with a career-high 16 against both Texas A&M and Ole Miss. Gaines committed on April 12 to play for Andy Kennedy at Alabama-Birmingham.
ALEX FUDGE
6-8 F
New school: Florida
The skinny: The wing player from Robert E. Lee High in Jacksonville, Florida, appeared in 29 games this season. He averaged 3.3 points and 3.2 rebounds while logging 14 minutes per game. Fudge had three games with double-figures scoring, including a season-high 14 points against Texas State in November. He committed Wednesday to remain in the SEC and play for Florida.
BRADLEY EZEWIRO
6-8 F
New school: Georgetown
The skinny: The freshman from Torrence, California, and Oak Hill Academy in Virginia played in seven games last season, six of them against non-conference opponents, and averaged 1.8 ppg. He committed to the Hoyas on May 10, joining teammate Brandon Murray and former LSU assistant coach Kevin Nickelberry.
JERRELL COLBERT
6-10 C
New school: Kansas State
The skinny: The freshman from Tennessee Class 3A state-champion Houston High, located near Memphis, played in four games, all of them against non-conference opponents. Committed to K-State of the Big 12 on Sunday.
COACHING CORNER
WILL WADE, head coach
Status: Fired by LSU
The skinny: Wade was fired prior to the NCAA Tournament amid allegations of multiple recruiting-related NCAA rules violations. The former Chattanooga and Virginia Commonwealth coach was 105-51 in five seasons at LSU with his teams qualifying for three NCAA Tournaments.
BILL ARMSTRONG, associate head coach
Status: Fired by LSU
The skinny: Armstrong, Wade's top assistant, was let go at the same time as Wade amid the NCAA's allegations against the programs. The former Ole Miss assistant was at LSU for all of Wade's five seasons.
KEVIN NICKELBERRY, interim head coach
Status: Hired as an assistant at Georgetown
The skinny: Nickelberry, a former head coach at Hampton and Howard, was elevated from assistant coach to LSU's interim head coach after Will Wade was fired. He worked the Tigers' first-round NCAA Tournament loss to Iowa State, then was hired by Georgetown coach Patrick Ewing to be an assistant coach and recruiting coordinator in his native Washington, D.C.
MATT MCMAHON, head coach
Status: Hired by LSU
The skinny: McMahon was hired away from Murray State, which went 31-3 overall and 20-0 in the Ohio Valley Conference regular season in 2021-22 followed by an OVC Tournament win and a first-round NCAA Tournament win over San Francisco before losing in the Round of 32 to Saint Peter's. The Oak Ridge, Tennessee, native is a former Appalachian State and UNC Wilmington assistant coach who played shooting guard at App State. He was 154-67 with three NCAA Tournament appearances in six seasons at Murray State.
CASEY LONG, assistant coach
Status: Hired by LSU
The skinny: Long joins the Tigers after spending five seasons as an assistant to Matt McMahon at Murray State, a span that included four Ohio Valley Conference regular season championships and three OVC Tournament titles. Originally from Leesville, Long previously was an assistant coach at his alma mater, Tennessee-Chattanooga, for three seasons from 2012-15. He also was director of basketball operations for one season, 2015-16, and an assistant coach for one season, 2016-17, at Virginia Commonwealth – when fired LSU coach Will Wade was the head coach there. Long is the only player in UT Chattanooga program history to finish his career with more than 1,000 points, 450 rebounds and 350 assists.
RONNIE HAMILTON, assistant coach
Status: Hired by LSU
The skinny: Hamilton spent the past four seasons as an assistant coach at Ole Miss and four prior to that as an assistant at Middle Tennessee, working in both programs under former LSU assistant Kermit Davis. At Ole Miss, he worked primarily with Rebel guards. Hamilton also spent two seasons each as an assistant at Houston (2012-14), Tulane (2010-12) and The Citadel (2008-10). He spent three at Tarleton State (2005-08) after beginning his career as a graduate assistant at North Carolina-Pembroke. The Oxford, North Carolina, native played four seasons as a defensive back at Duke and signed a free agent contract with the New York Giants before pivoting to basketball coaching.
CODY TOPPERT, assistant coach
Status: Hired by LSU
The skinny: Toppert spent the past three seasons as an assistant coach under Penny Hardaway at Memphis, where he created and managed the team's analytics program and went to the NCAA Tournament in 2022. He was an assistant and player development director for the NBA's Phoenix Suns for one year and coached the organization's North Arizona Suns G League franchise from 2017-18. He also was an assistant for Rio Grande Valley of the G League from 2015-17. A Cornell product and a native of Albuquerque, New Mexico, the former point guard played one season for the NBA Development League-champion Albuquerque Thunderbirds in 2005-06, then spent most of the rest of his seven-season pro career playing overseas, including stops in New Zealand, Portugal, England and Spain.
TIM KAINE, Chief of Staff
Status: Hired by LSU
The skinny: A former assistant under Matt McMahon at Murray, Kaine steps into a new role which include basketball operations duties. He's spent 20 seasons as a college assistant, also including stops at Georgia Southern (2014-15), Florida Atlantic (2008-14), Winthrop, Newberry, Guilford and Austin Peay.
TASMIN MITCHELL, special assistant to the head coach
Status: Retained at LSU
The skinny: A Denham Springs High product born in Baton Rouge; Mitchell remains on staff for a sixth straight season at LSU. A former director of student-athlete development for the Tigers, he was promoted to assistant coach by Wade in 2019. Mitchell was a part of two SEC Championship teams at LSU, where he's still No. 3 on the school's all-time scoring list with 1,989 points behind Pete Maravich and Durand "Rudy" Macklin. His 950 career rebounds rank No. 6 all-time in LSU history, and he's one of three LSU players in to record at least 1,000 career points, 500 rebounds, 200 assists and 100 steals. After leaving LSU in 2020, Mitchell played professionally for six seasons, including stops with Erie of the G League and ones in Canada, Israel, Russia and France.
RONRICO WHITE, director of player development
Status: Hired by LSU
The skinny: White spent the past three seasons working under Matt McMahon at Murray State, two as player development director and last season as an assistant. He played at Tennessee-Chattanooga, leaving as the program's No. 14 all-time scorer. White previously was an assistant coach at Gardner-Webb in 2018-19 and at NCAA Division III Emory & Henry College in 2017-18. His father, former Tennessee guard Tony White, was the UPI SEC Player of the Year in 1987.
JEFF MOORE, director of recruiting
Status: Hired by LSU
The skinny: Moore spent the past 16 seasons at Northwestern State, including last season as associate head coach and recruiting coordinator for Mike McConathy. He previously was head coach and athletic director at John Wood (Ill.) Community College from 1997-2002, and before that was an assistant coach at Tyler Junior College and Bossier Parish CC. The Lake Arthur High product played at Missouri Valley College.