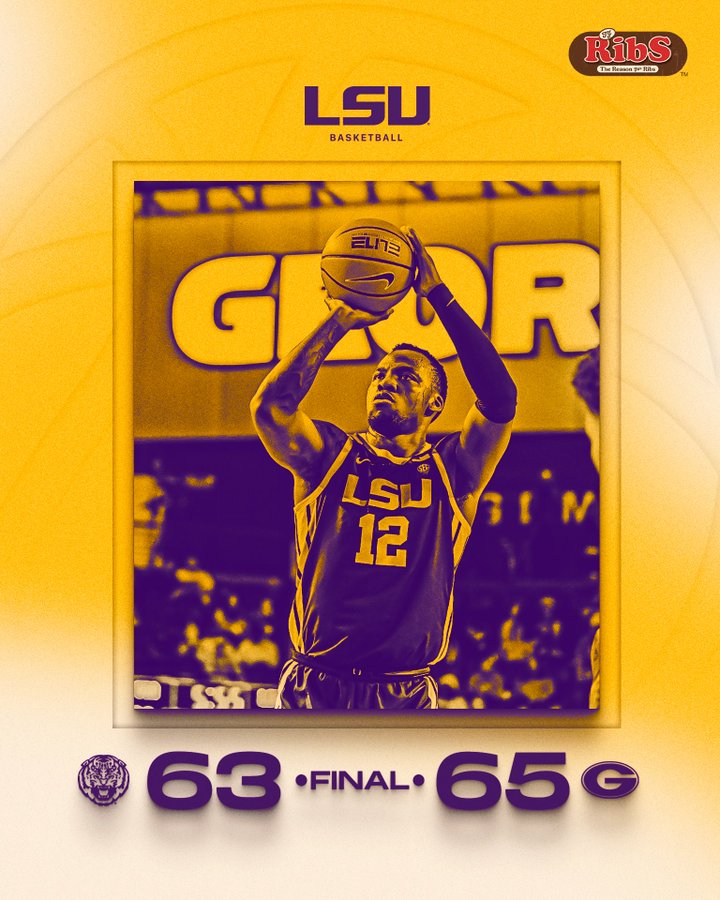 LSU came close in Georgia against the Bulldogs on Tuesday night.
But the Tigers could not close the deal in the final seconds after a late rally.
KJ Williams hit a go-ahead turnaround jumper with 11 seconds to play to put LSU up, 63-62, but the Tigers did not seal the gap, literally, in the next four seconds, and wound up losing, 65-63.
Following Williams' apparent game-winning jumper, Georgia's Justin Hill topped it by making a prayer.
Hill drove the lane and ended up launching a shot over Williams that kissed off the glass above the top of the square, falling through the hoop with 4.4 seconds to play to put the Bulldogs back up by one.
LSU still had a chance, however, but Tyrell Ward turned the ball over on the inbounds pass attempting to find Jalen Reed. Reed immediately fouled Hill who added a fre throw, and that was all she wrote.
Georgia (16-10, 6-7 SEC) escaped, extending LSU's losing streak to 13 straight games.
LSU (12-14, 1-12 in SEC) has now lost 12 consecutive conference games.
LSU coach Matt McMahon blamed himself.
"Disappointed. It's my fault, I wish I could have done a better job for them there down the stretch," McMahon said. "(We) really executed. KJ made a great play to finish there. Hindsight is always 20/20, call a timeout in that situation, use your last time out. You'll see on the clip, we just didn't have great discipline in the gaps. KJ made a great play to come over and wall up. But they were able to finish.
"Proud of our guys' fight. I thought we really competed. I thought we competed at much higher level that we did on Saturday and gave ourselves a chance. The 19 turnovers, and then in the second half, Georgia 12 of 15 from two-point range. I thought that was really the difference," he said.
Braelen Bridges led Georgia with 13 points, 11 in the second half when Georgia force fed him the ball in the paint for the last 20 minutes of the game. He was in foul trouble late, finishing the game with four fouls.
Hill finished with 10 points and Jabri Abdur-Rahim added 11 points for Georgia.
LSU went on a 7-0 run to take its first lead, 63-62, since the 15:31 mark of the second half with 11 seconds to play on Williams' jumper.
Williams' 18 points, on 7-of-13 shooting, led LSU and he also grabbed nine rebounds for LSU.
The Bulldogs shot just 30% but the Tigers took a 28-26 at halftime.
But in the second half Georgia shot 61% (14 of 23). Bridges scored all 11 second-half points without missing a shot, hitting four field goals and three free throws.
Abdur-Rahim made two free throws and a 3-pointer that sparked a 13-3 run and gave Georgia a 57-49 lead with 6:24 to play, its largest of the game.
LSU had 19 turnovers and gave up 32 points in the paint, despite controlling the boards all night.
LSU hosts South Carolina at noon on Saturday at the PMAC.
Score by Period
TEAM 1 2 T
LSU 28 35 63
UGA 26 39 65
Team Comparison
STATISTIC
LSU
UGA
FG%
38%
44%
FGs
20-52
22-50
3FG%
30%
29%
3FGs
7-23
6-21
FT%
84%
58%
FTs
16-19
15-26
TOs
19
13
PtsOffTO
17
15
TotReb
37
28
DefReb
31
26
Off Reb
6
2
2ndChPts
8
2
BenchPts
19
24
PtsPaint
24
32
FstBkPt
9
2
Blocks
0
4
Steals
8
8
Assts
11
10
Times Tied:
5
Time Tied:
2:53
Lead Chg:
10
LeadTime
17:46
19:21
LSU Player Stats
#
Player
PTS
FG
3FG
FT
REB
A
PF
TO
MIN
1*
HAYES,C
5
1-4
1-2
2-2
0
3
0
2
23
12*
WILLIAMS,K
18
7-13
0-1
4-5
9
1
4
1
37
15*
WARD,T
7
2-6
1-3
2-2
3
0
3
2
22
20*
FOUNTAIN,D
8
3-5
2-4
0-0
2
1
3
3
16
44*
MILLER,A
6
2-10
2-8
0-0
2
2
2
1
31
0
HANNIBAL,T
4
0-2
0-1
4-6
1
2
0
3
18
3
HILL,J
6
2-6
0-3
2-2
5
2
2
2
26
13
REED,J
9
3-6
1-1
2-2
6
0
5
3
16
34
PHILLIPS JR.,S
0
0-0
0-0
0-0
7
0
2
2
11
TM
TEAM,
–
–
–
2
0
0
Georgia Player Stats
#
Player
PTS
FG
3FG
FT
REB
A
PF
TO
MIN
3*
OQUENDO,K
6
2-5
0-1
2-2
1
1
0
1
19
4*
HOLT,J
7
3-5
0-2
1-2
4
0
2
1
23
11*
HILL,J
10
4-10
1-3
1-2
2
2
1
2
28
12*
MONCRIEFFE,M
5
2-4
0-0
1-2
6
1
1
1
19
23*
BRIDGES,B
13
4-5
0-0
5-5
3
1
4
0
20
0
ROBERTS,T
6
2-8
1-6
1-7
2
4
2
6
29
1
ABDUR-RAHIM,J
11
3-6
3-6
2-2
1
0
2
0
18
5
ANSELEM,F
4
1-2
0-0
2-4
4
0
1
0
20
13
MCBRIDE,M
0
0-1
0-0
0-0
0
1
0
0
15
15
INGRAM,J
3
1-4
1-3
0-0
2
0
0
2
10
TM
TEAM,
–
–
–
3
0
0