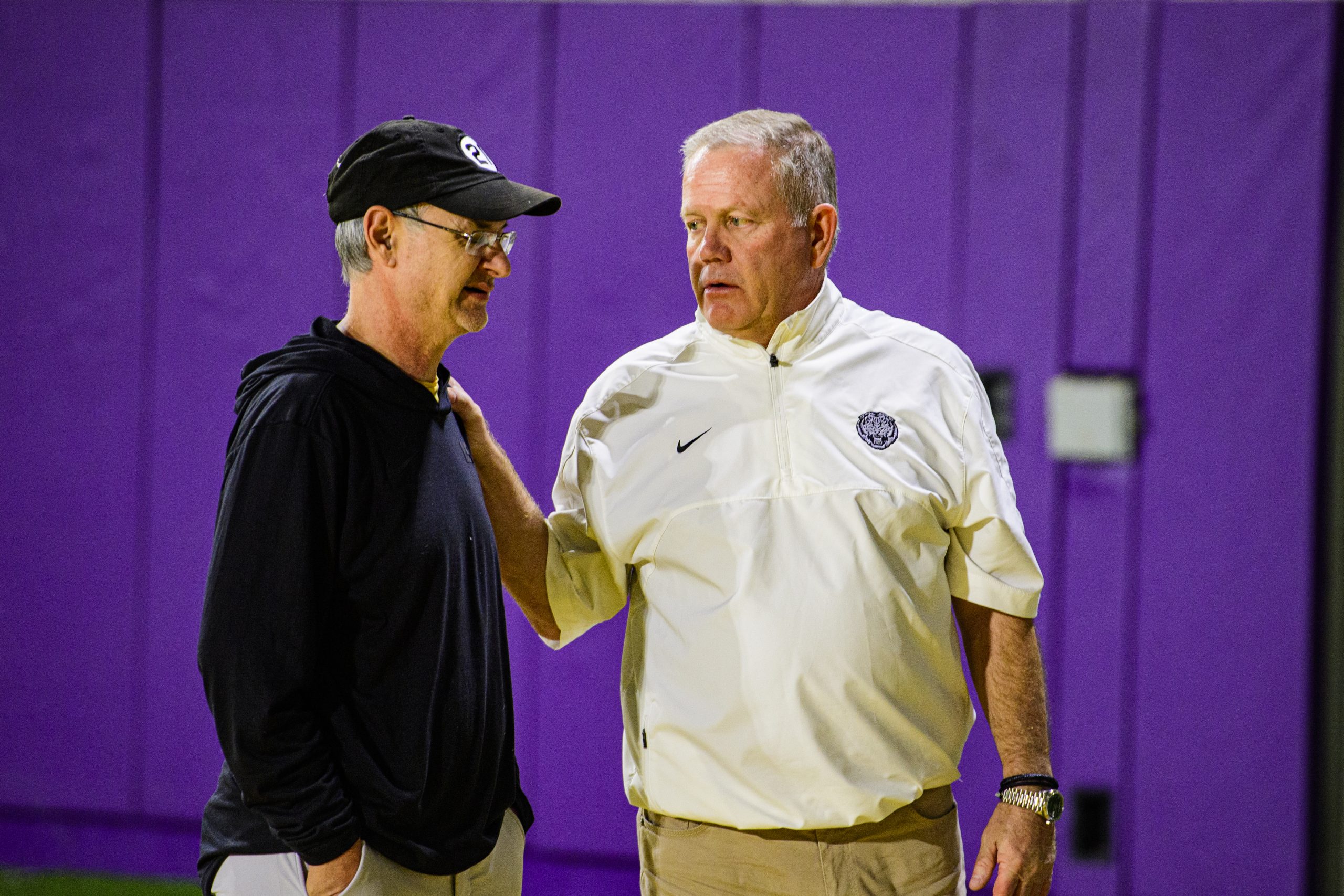 One of the gems in Jack Marucci's rise to success in athletics has been his inherent ability to relate to people.
During his 25 years as LSU's director of athletic training, Marucci – whose name is perhaps best known outside of Baton Rouge for the bats he has put into the hands of countless of Major League Baseball stars – believed it was imperative to build a relationship, developing a trust that would allow him to serve as a conduit between coaches and players.

He's always believed there was an endless supply of information that could be gleaned from having such a rapport with a student-athlete who instead of seeing an open door to his respective head coach saw a dividing wall.
One of the more amiable players on LSU's record-setting 2019 national championship football team was running back Clyde Edwards-Helaire, who turned into a first round NFL draft choice of the Kansas City Chiefs. His versality enabled the Tigers' offense to do many things it might not have otherwise, and it was Edwards-Helaire's openness with Marucci that helped quarterback Joe Burrow take the offense to another level.
Over the course of their time together the talks between Marucci and Edwards-Helaire ran the gamut from injuries to pass routes. It was the latter that struck a chord with Marucci, particularly during the Tigers' memorable '19 season.
Marucci has an insatiable appetite for data, a heaping helping of analytics, making him a natural in his current role of LSU's Director of Performance Innovation – a first of its kind in college athletics when athletic director Scott Woodward made the announcement on June 16 of last year.

Because Marucci was as much of a confidante and advisor to athletes as he was a head trainer, it wasn't uncommon for him and LSU players to talk Xs and Os.

In this case Edwards-Helaire spoke with great conviction about his ability to run an angle route in LSU's offense and how his speed could create a mismatch against opposing linebackers.

The catch?

Approaching then-offensive coordinator Steve Ensminger with such information and getting the route integrated into an LSU offense in which wide receivers Justin Jefferson and Ja'Marr Chase commanded the bulk of opposing teams' attention.

"You get so much insight talking to players," Marucci said. "Clyde said the angle route was open. I thought I'm going to give this to Steve Ensminger and he's going to say, 'What the heck are you giving this to me (for)?' I was just giving him information, but he said they did a lot of that with (former running back) Spencer Ware and we needed to add it back in."

The result?

Burrow's record-breaking season of 5,671 yards, 76% completion percentage and 60 touchdowns included a rudimentary option out of the backfield to Edwards-Helaire, who caught 55 passes for 453 yards and a touchdown and left linebackers looking helpless to stop the play.

Marucci would sometimes turn to data to make the case.

"Sometimes it's hard for a player to go tell a coach and say, 'I think I'd be good in this'," Marucci said. "We have the test results to prove something, it can be easier to present it that way. You learn a lot from listening to the player."

A MASTER IN HIS FIELD
Throughout his two-and-a-half decades as LSU's head athletic trainer, Marucci was director of 21 varsity sports and oversaw a staff of 13 full-time trainers. During that span, the Tigers won three national championships under three different head coaches, the last being Ed Orgeron, who saw the value analytics could play in the success of LSU's football program.

Marucci graduated with a degree in athletic training from home state West Virginia in 1986 and finished his master's from Alabama two years later. He served as a graduate assistant trainer at Alabama for three years before moving to the NFL with the Cleveland Browns in 1985 and the Tampa Bay Buccaneers in '87.

He made the jump back to big-time college athletics in 1988, serving as assistant trainer for eight years at Florida State, where the Seminoles, under head coach Bobby Bowden, won the 1993 national championship with such standout players as quarterback Charlie Ward, running back Warrick Dunn and linebacker Derrick Brooks.

Marucci fondly recalls his love for picking apart those players' brains, trying to find out what made them tick aside from 40-yard dash times and weight room performances.

"I felt like looking at players and analyzing players is where the character stuff started to come out," Marucci said. "I always liked talking to the player. Going back to Florida State, I still talk to Charlie, Warrick and Derrick."

By the time he moved to LSU, Marucci's star was starting to soar. He was considered one of the nation's fastest risers in the industry and has since been lauded for his research, analysis and technological advances in player health. He also oversaw a 17-year study on the advancement of ACL surgeries that reduced recovery time for LSU athletes nearly in half.

The innovative and resourceful Marucci has had a particularly keen eye in the area of character evaluation too.

"Character's the No. 1 trait off of all four (national championship) teams I've been a part of," Marucci said. "There are certain positions on that team that carry (character), based off the information I had. I've always kind of kept a mental data base on these things, but you have to quantify it somehow."

So Marucci did just that, and he continues to do so through quantitative data. He's devised a character score for each incoming freshman class since 2001, focusing on the cognitive skill set of each athlete.

What's an athlete's processing time? Reaction time? How do they see the field?

Marucci wanted to tackle the sports science aspect of athletics head on. Orgeron welcomed the input from his detailed reports on player productivity.

"Jack is the most innovative trainer I have ever worked with," Orgeron said in a university release at the time of Marucci's promotion to his current role. "He was an integral part of building the culture of our championship program, and he will be a tremendous asset to us in his new role. His ability to take cutting edge technology and use it to study performance in order to help us develop our players, is the best in the nation."

Marucci welcomed Orgeron's acceptance of the technological advances being made in and around the program.

"Coach Orgeron allowed us to grow in that area because he felt it changed the game and it changed it fairly quick," he said. "Blocking a kick, getting a sack, the running back is better running an angle route to this direction. I liked it. I've done the athletic training enough where this was something I kind of had a knack for it. I'm still in the training room, talking to the player. He knew we had a good relationship with players, which is something we always had."

YOUTUBE, GOOGLE ARE YOUR FRIENDS
The humble nature of Marucci, 58, doesn't allow him to take full credit for the meteoric rise of Marucci Sports.

What is now a bat-making giant was born in Marucci's backyard woodshop, where he toyed and toiled one day trying to make a wooden bat for his son. Marucci has since taken on a different role in the empire that still carries his name. Connecticut-based Compass Diversified Holdings purchased Marucci Sports for $200 million on March 9, 2022. The company, led by former LSU and Major League Baseball players Kurt Ainsworth and Joe Lawrence, is riding a nine-year run as the nation's No. 1 producer of wooden bats.

Marucci Sports has since grown to include the production of balls, gloves, batting gloves, batting helmets and chest protectors. The company's portfolio has grown to include aluminum bats, which this year's NCAA Tournament-qualified LSU baseball team uses, along with softball apparel as well.

The company experienced a steep incline when stars including David Ortiz, Albert Pujols, Manny Ramirez and Todd Helton started using Marucci bats. That fraternity now counts Bryce Harper and LSU All-American Alex Bregman among its membership.

"I always tell people the best class I ever took was woodshop back in eighth grade," Marucci said. "My first bat was awful. That was the genesis of it. It created an opportunity for me to make a bat for my son. I have a degree in athletic training and master's in health. I also have a degree in woodshop, and I went to Google and got my master's in YouTube. I'm always open to learning and the access is out there to learn everywhere. Do you have enough desire to do it?"

Marucci still believes philosophically in surrounding himself with good people.

The company's ascent, according to Marucci, is primarily a result of the day-to-day work of Ainsworth, Lawrence, Kyle Ourso and former LSU and MLB pitcher Brett Laxton. Marucci remains active, though, and is a regular presence during spring training, where MLB teams regularly bring him in to speak to their respective clubs, more for his analytical feedback than his bat-making prowess.

"The Yankees were first team to invite me to spring training," Marucci said. "I told the clubhouse guys, 'Give me your best character guys. That's who I want to make bats for. I don't care if they're your best player. And they still remind me of that today. They loved it.
"A couple of years ago I was a guest speaker with the (Los Angeles) Rams. They wanted to know what was the difference in these kids (today). What's changed? The kids have not changed. It's the parenting. These parents feel these kids are always the best at what they do. They want to run and make up an excuse or cover up something. Let them fail. That's the best way we learn.
"In making bats, I wanted negative feedback because that's how you're going to learn. I listened to the players and asked what they wanted. I listened so I could draw it up on a pad, change a millimeter here or there."

MAKING A DIFFERENCE

LSU's football team experienced well-chronicled difficulties with its running game through the first half of the 2021 season before reaching a breakthrough moment Oct. 16th of that year in a home game with Florida.

Junior running back Ty Davis-Price, who received some early season criticism for the team's lack of productivity on the ground, exploded for a school-record 287 yards and three touchdowns on 36 carries in a 49-42 victory.

After rushing for more than 100 yards for the first time the prior week in a 42-21 loss at Kentucky, Davis-Price was the focal point of an offensive attack that generated 321 yards on the ground on 42 attempts. When asked for a reason in the team's resurgent running game, he offered an unlikely candidate.

"Mr. Jack Marucci had a lot to do with that also," Davis-Price said during a postgame interview. "He works with a lot of (sports) science stuff for us. "He went to the coaches and showed them some formations, telling them what runs would be best for certain people, creating better blocking schemes for the o-line. And, as you can see, it worked. It was a team effort."

Not only did he eclipse the school's single-season rushing record, but Davis-Price also broke a 41-year-old record that belonged to former Georgia great Herschel Walker, whose 238 yards was the previous highwater mark against a Florida defense.

Marucci, who credited assistant Mario Macaluso for helping with the gains made, took part in LSU's self-scouting, a weekly evaluation to improve from one week to the next. Marucci's conversations with Davis-Price were part of the information-gathering process necessary to help devise a new blocking scheme that paid handsome dividends against the Gators.

"We did change the way we blocked. The schemes were different," Marucci said. "The offensive line was more comfortable. We were 5.6 yards a carry in a particular formation and concept. We had everything detailed on every running back.

"It showed that we could run the football and he (Davis-Price) is built better as a one cutter or an alley runner. Sort of like Leonard (Fournette) was."
Marucci's long had an eye for detail.

With Beau Lowery taking over as the school's athletic trainer on July 6, 2021, Marucci has poured every ounce of himself into his new role with the idea of giving LSU the best advantage possible.

The need for creating an edge is immeasurable. Marucci remains motivated to find them. His player reports are in-depth, detailing everything from which routes are better for certain receivers to which side of the formation is better for Jay Ward to block a field goal.

During spring drills earlier this year, Marucci and Macaluso watched film each day as guests of quarterbacks coach Joe Sloan to offer analytical feedback that was woven into practice plans.
First-year head coach Brian Kelly has been a big fan of Marucci, one of the few holdovers retained from Orgeron's staff.

"Coach Kelly's data driven," Marucci said. "This coaching staff seems very data driven. Off the data how these players learn, Coach Sloan wanted to know the best way for him to present the information.
"It keeps our creativity alive and allows us to keep coming up with these different ideas. … It's endless, the reports we've done."

Marucci's reports, while rooted in tangible improvement for LSU's players, also detect flaws in the next opponent. From openings in the opponents' offensive line to the secondary, he carefully notes potential deficiencies the Tigers can exploit.

The character studies, though, remain a hallmark and this season will be no different. Each year Marucci is challenged, through a battery of tests, to compile the requisite information needed that will not only assess a team's character, but more importantly identify the origin of its leadership.

That was commonplace on LSU's previous three football national championship teams, with Marucci specifically pinpointing Matt Mauck and Lionel Turner in 2003; Matt Flynn, Craig Steltz and Darry Beckwith in '07; and Burrow, Lloyd Cushenberry, Patrick Queen and Grant Delpit in '19.

"That's the neat thing of this," Marucci said. "It's a combination of having the great coaches that want to adapt to it. It's the player. Mario has helped. You can't accomplish anything by yourself. We have a good team atmosphere. I've been fortunate to have been around four championship teams under four different coaches. Look at the makeup of the team and why? It's a staple with these championship teams.

"You need the talent, but I've been around a lot of talented teams that didn't win. I don't think anyone's gone to the level we've done. It's more comprehensive. We're looking at performance. We're testing them. I know nobody's doing all that. A lot of it is also common sense."