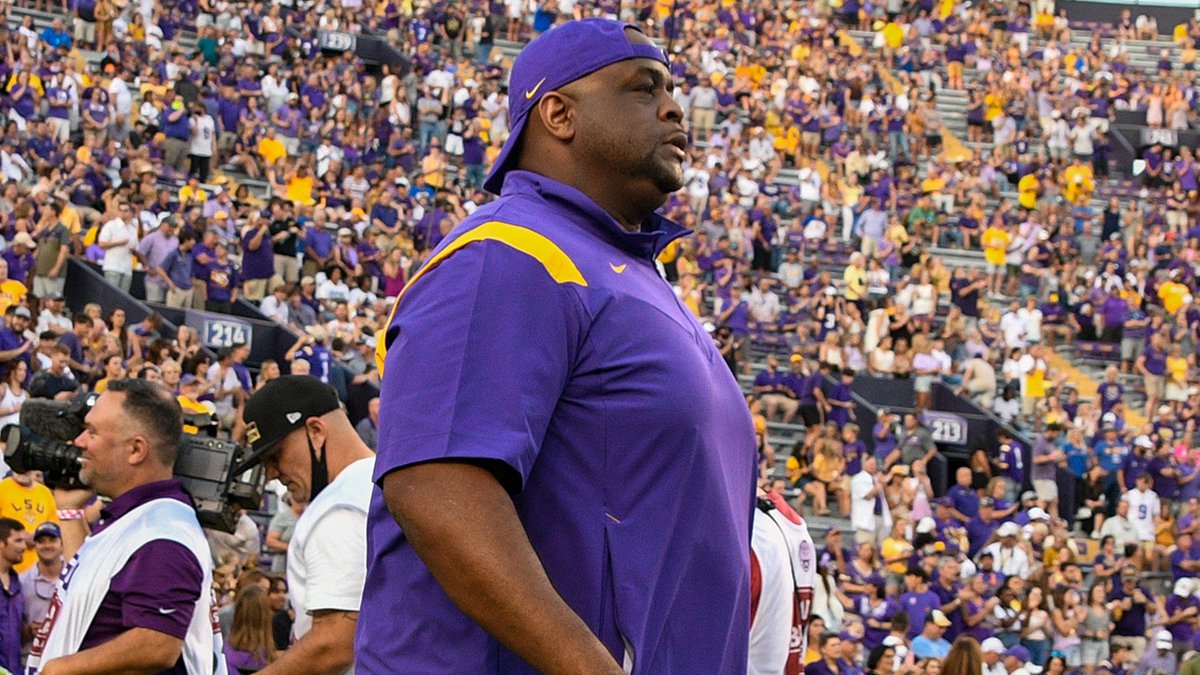 Brad Davis clearly understands his charge as LSU's interim football coach for the Tigers' Jan. 4 TaxAct Texas Bowl matchup with Kansas State in Houston's NRG Stadium.
"We're gonna coach this team, we're gonna put a good product on the field, we're gonna plan to win and send our seniors out a winning note," said Davis, who was hired away from the University of Arkansas to replace LSU offensive line coach James Cregg who was fired in June after admitting he committed two minor NCAA rules violations.
But Davis, 41, a Baton Rouge native and a Belaire High graduate who went on to play for Oklahoma as part of the Sooners' 2000 national championship team, is also well-aware he's making history.
He's the first African American ever to serve as LSU's head football coach, even if it's just as an interim. Earlier this year, William F. Tate IV was the second African American to be named LSU's president.
"When you talk about President Tate and you think about me in this role," Davis said, "it speaks to LSU being extremely progressive, and that's something that I'm awfully proud of.
 "I want to be proud of what I did in this role to not only help the young men in our program but help aspiring coaches and kids in North Baton Rouge who ride a transfer bus and you know, may not see a way out. I was one of those kids and I'm here right now. Utilizing the resources around you and you have a praying momma, you can be up here too."
Prior to this season, Davis had been a full-time assistant on college coaching staffs the last 12 seasons. He has been an offensive line coach at five FBS (Division 1) schools including East Carolina (2015), North Texas (2016), Florida (2017), Missouri (2018-19), Arkansas (2020) and LSU this past season.
"I'm excited to be the guy that I've been preparing for this my whole life," Davis said. "I'm from North Baton Rouge. I grew up on Winbourne Avenue. People who are from the city, you tell from a young age about toughness, about making do making something out of nothing and so I'm so proud to represent the people that I grew up with that a huge part in my upbringing to get to this point.
"I'm awfully proud to coach at LSU you know, it's been a lifelong dream for me and I've enjoyed every day that I've had a chance to wear this shirt. I'm gonna do everything I can in this role to advance LSU."
Davis said with him shifting to interim coach and with receivers coach Mickey Joseph accepting a job on the staff of his alma mater at Nebraska, he's made some staff moves for the bowl.
Joe Henry, who had been an offensive analyst, will take over as offensive line coach. Passing game coordinator DJ Mangus will also coach the receivers along with help from offensive analyst Carter Sheridan.
Davis couldn't release names but said the late game date of Jan. 4 should allow some previously injured players to return.
"Guys that have had soft tissue injuries, bumps, bruises. . .things pretty typical for this point in the season," Davis said.
Davis also said he will utilize the expertise of newly hired LSU coach Brian Kelly.
"He's obviously coached in tons of big football games," Davis said of Kelly. "I want to be in compliance with what he wants in regard to the organization of it. These 15 (bowl) practices are valuable, and so we don't want to waste one of them developing this team for 2022. Obviously, the bowl game is the matter at hand. But, we definitely want to springboard into 2022."