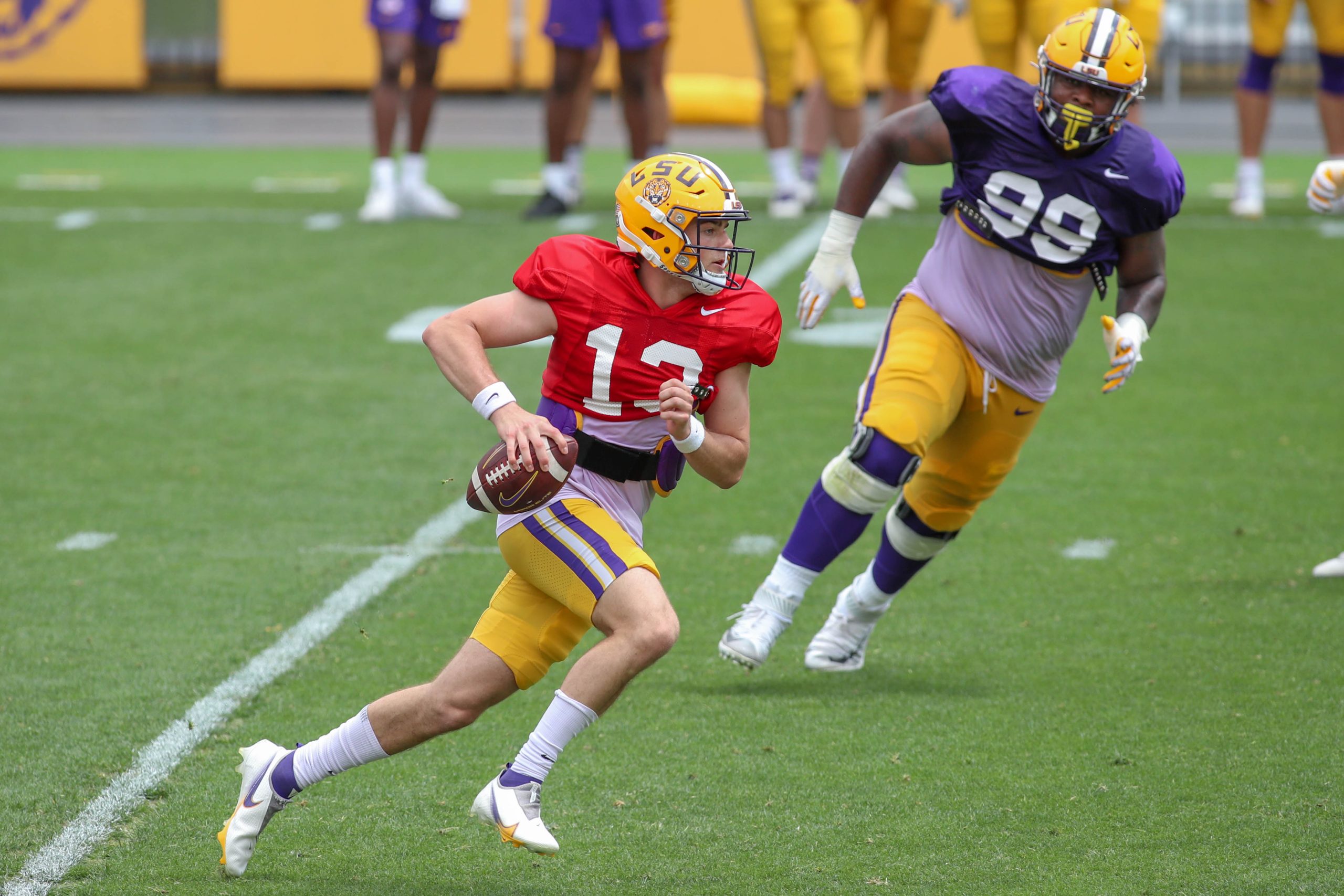 Much more often than not in recent weeks, Myles Brennan has shown an accurate arm quite capable of connecting on the deep ball.
Some days, strong-running Jayden Daniels looks rather impressive with his RPO decision-making.
Garrett Nussmeier has had his moments, and freshman Walker Howard has shown flashes while making the jump from St. Thomas More High in Lafayette to the SEC.
So, it goes for LSU's quarterbacks, who have just another week to impress before spring practice ends with Saturday's offense vs. defense spring game at Tiger Stadium at 1 p.m.
"I've been pleased with all the quarterbacks, quite frankly," offensive coordinator Mike Denbrock said last week. "In our system, the way we run it, we put a lot on the quarterback now. So, his ability to learn and pick up things is very, very critical to us advancing this offense.
"They are kind of drinking through a firehose right now. I mean, we've thrown a ton of installation at 'em. Demanded that they get things right. And I know that they're swimming a little bit. Not just them, but the entire offense," Denbrock added. "But … they've been competitive in the meeting room as well as on the practice field. And that's gonna produce the results that we're all looking for."
During a practice Saturday open to media members from beginning to end, Brennan looked especially sharp and hit with Jaray Jenkins on a long ball, Nussmeier and Howard both connected on impressive catches made by Malik Nabers and Daniels closed things by finding Kyren Lacy on a nifty crossing route.
Typically, all the talk is about Brennan, who was injured and out all of last season, and transfer Daniels, a three-year starter at Arizona State.
But on this day, it was Nussmeier, who played four games as a freshman last season but did not burn his redshirt, who had head coach Brian Kelly gushing when asked about him.
"He's gonna fit it into the phone booth throws as well as anybody I've been around," Kelly said Saturday.
It's not time to call the QB battle over by any means, however.
Brennan and Daniels remain the apparent front-runners, with Nussmeier not to be forgotten and the youngster Howard playing a bit of catch-up in a position group that has been far from perfect so far this spring.
When he spoke last Tuesday, with two-thirds of LSU's spring practices complete, Denbrock said the Tigers had only "maybe 30%" of their offense installed at that time.
"I put a moratorium on installation, which I have since broken, two or three times, just because of situation football that we're running," he said.
In an April 5 practice, for instance, Denbrock said "we made way too many mistakes as an offensive unit, so I put the brakes on installing new things and just have really talked to the players about how hard they're playing, how hard they're competing, how hard they're giving that they've got to give to the offensive unit and to their teammates in particular.
"So that's been a lot more of the rally crying," Denbrock said, "than throwing in a few more plays or some more fancy scheme stuff. It's been more about teaching them how to play hard and what the expectations (are) and what it's supposed to look like when we flip the film on as an offensive unit and kind of start to look at who are and what we are."
It's a new offensive system, in other words, whose installation is far from complete even with the spring game fast approaching.
"We're still, as a staff, getting a real clear picture of who we are, what we have, what tools we have in our disposal," Denbrock said. "What's that gonna look like in the fall, I don't think we really know yet. We've got some clues. We've got some glimpses into some guys (that) we know 'these guys have to touch the football.' But … you've seen throughout the spring us juggle the offensive line around a lot. I think you've seen us move receivers in and out a lot.
"That's really in an effort to evaluate these guys as thoroughly as we possibly can," Denbrock added, "and then we've got the summer to kind of drill that down and piece that down and kind of really make it look like what it's gonna look in the fall."
Ultimately, though, it all comes down whichever QB is chosen to start can and cannot do.
The rest can domino from there.
"Now," Kelly said after LSU's April 9 practice, "our focus will be … who's maybe a little bit stronger at an RPO gameplan, who might be a little better at a traditional across-the-field read offensive structure, and then tailor it to the quarterbacks."
It really is all about finding the right fit to run Kelly's offense, which would seem to favor Daniels' candidacy.
Then again, if Brennan continues to throw as accurately as he has been there may be some tinkering in the playbook to do.
"One thing that has always been important to Coach Kelly and (me) is the versatility of what we have an as offensive structure, so that it could be kind of plug-and-play depending on who the quarterback happened to be or what our best personnel group happened to be," said Denbrock, who was an assistant coach under Kelly – including coordinator stints – at both Grand Valley State in the 1990s and at Notre Dame from 2010-16.
"Is it gonna be four wide receivers? Is it gonna be three tight ends? What is it exactly gonna look like? And I think all of those evaluations are happening now.
"That also includes the quarterback position," Denbrock added. "So, what fits the quarterback that ends up winning the job the best? What's his skill set? Where is he most comfortable? … Then, tailoring things to make sure that it's kind of in concert with one another – at that position in particular but based on all of our offense and personnel too."
So many decisions to make.
So little time to do it, truth be told, before LSU's Sept. 4 opener against Florida State in New Orleans.
So much confidence, though, from Denbrock that the right guy is there – even if it may take a few more install moratoriums before everyone is certain which one it is.
"There's a roomful of really talented football players there, so I don't think that I'm really surprised by anybody," Denbrock said. "I think I'm pleased in the fact that we've got some very, very healthy competition going on in that room that we hope to build over time in all the position rooms."