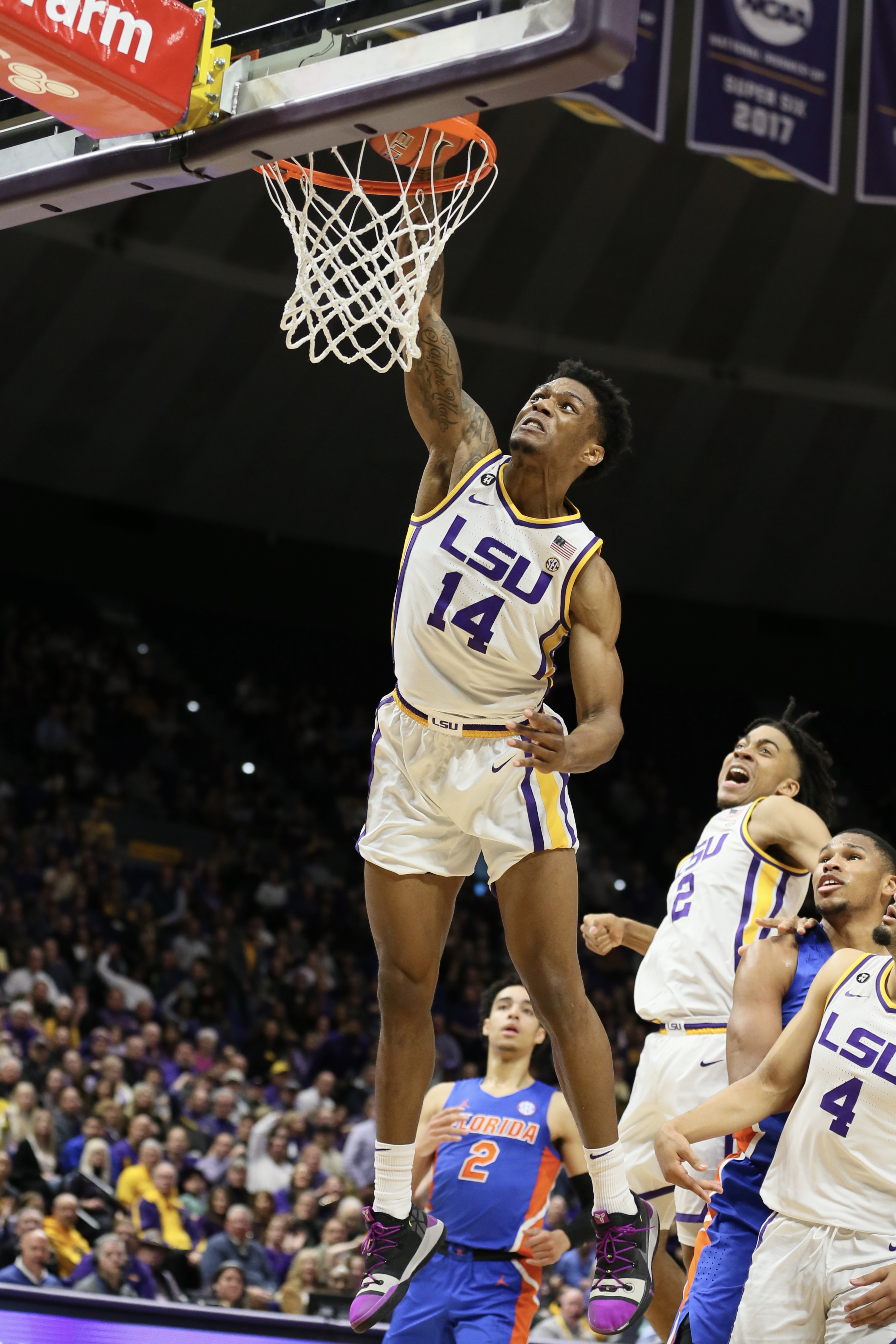 Memo to the fans who left Tuesday's night game in the Pete Maravich Assembly Center with LSU leading Florida by 10 points with 1:20 left to the play.
What were you thinking?
It's the Tigers and Gators, who have demonstrated a recent penchant for drama after last season's three match-ups were decided on a pair of overtime contests and a game-winning 3-pointer.
This time, Florida hit three 3-pointers in the final 52 seconds and had a game-tying layup by Keyontae Johnson waved off by officials coming after the final buzzer as SEC-leading LSU escaped an 84-82 winner.

The Tigers, 14-4 and 6-0 in the SEC, are using up their nine lives in a hurry. LSU has won its last five conference games by a combined 13 points.
"We have to keep it close," joked LSU guard Skylar Mays, who finished with 18 points as one of six Tigers' scoring in double figures. "It's worked for us, so why not stick with it?"
LSU has made a habit of winning close games by either coming from behind or successfully nursing a single-digit lead in the final minute.
But the game situation the Tigers haven't been in or even broached in practice was being up by 10 at 79-69 over the Gators with 80 seconds to play when LSU scored for the third time in its last four possessions against the Florida press.
After Florida guard Andrew Nembhard drove through LSU's defense for a layup with 1:11 left to cut the lead to 79-71, the Gators' Noah Locke and Johnson hit consecutive threes with 52 seconds left and 36 seconds left after LSU's next two possessions ended in a Trendon Watford turnover and two missed shots.
Suddenly, the Tigers found themselves in a one-possession game at 79-77 which became an 81-77 advantage after two Emmitt Williams free throws with 36 seconds left. But five seconds later, Johnson nailed another 3-pointer and the LSU lead shrunk to 81-80.
From there, Mays hit 3-of-4 free throws in two trips to the line with 27 seconds left and eight seconds left, separated by Florida guard Scottie Lewis stepping out-of-bounds with 16 seconds left when he drove to the baseline.
An 84-80 LSU lead with eight seconds left seemed insurmountable, didn't it? Well. . .
Florida's Kerry Blackshear scored on a follow basket with three seconds left before LSU's Watford tried to quickly inbound the ball to Mays. But harassed by Lewis, Mays fumbled the ball out-of-bounds with 0.1 seconds left.
LSU was immediately awarded the ball, but a monitor review by the officiating crew and SEC centralized officials in the league's Birmingham office the reversed call and added time back on the clock to 0.5 seconds left.
On Florida's inbound play, Tigers' defenders were supposed to switch who they were guarding when screened. But Johnson came free under the basket when he got LSU's Williams tangled in a screen and LSU guard Javonte Smart didn't switch off the screener Locke to guard Johnson.
He caught a bounce pass from inbound passer Nembhard and banked in a layup that the replay officials ruled was still in Johnson's hand when the game ended.
"I told them (the LSU players) that we've been good coming from behind in these situations," LSU coach Will Wade said. "Now, we have to learn to make better decisions playing from ahead. That's my fault. I did a bad job, it's not the players fault. Quite frankly, it's something we haven't worked on in practice."
If you imagine LSU's last-minute collapse as just a bad dream, then the Tigers graded highly in a performance against a taller Florida (12-6, 4-2) team which just blasted then-No. 4 nationally ranked Auburn last Saturday.
LSU won the way it has to win, attacking the basket whether on rebounds or creating contact on drives to get to the free throw line.
The Tigers outrebounded the Gators' front line featuring two 6-10 starters by a 38-28 margin, including a 15-8 advantage in offensive rebounds. LSU held a huge free throw margin, hitting 24-of-31 to Florida's 9-of-11.
Florida coach Mike White, understanding almost half of his team's 61 field goals attempts were from behind the 3-point line where the Gators made 11-of-30, didn't complain about the free throw discrepancy.
Instead, he praised his sophomore and freshman-dominated team for its spirited comeback and had words of admiration for LSU's rebounding.
"They just go and go and go," White said of LSU's quick-twitch, high-flying golden shot retrievers. "Some of it is God-given strength and athleticism and length. But the accountability and the discipline they have every time with the intensity they attack the glass is really impressive."
LSU's starting front line of Watford (14 points, 6 rebounds), Williams (19 points, 4 rebounds) and Darius Days (10 points, 8 rebounds) combined for 43 points and 18 rebounds.
While it was a slightly better than Florida's starting front line teaming for 38 points and 18 rebounds, the Gators had no one on their bench like LSU's Marlon Taylor.
The 6-5 senior guard with the 40-inch plus vertical had the game's only double-double, 10 points and 11 rebounds including six offensive boards. It's clear that Taylor, a starter on LSU's Sweet 16 SEC championship team last season, is finally returning to form after undergoing foot surgery in the fall and then having complications in November.
Taylor gave the Tigers a first-half spark after they went scoreless for more than eight minutes. LSU missed 10 straight shots and committed five turnovers as Florida pushed its lead 25-17 with 6:41 left.
LSU finally hit some shots, jumpstarting itself by mixing 2-2-1 and 1-3-1 defensive presses. It forced the Gators into four turnovers in the next two minutes in an 11-3 run that gave the Tigers a 26-25 lead on a Taylor steal and dunk 4:39 before halftime.
Florida responded by taking a four-point lead. But a 5-0 LSU answer keyed by a Watford three-point play nosed the the Tigers ahead 33-32 with 1:38 left, yet the Gators managed to lead 36-34 at halftime.
Except for Florida taking a five-point lead for a 65-second span in the first two minutes of the second half, the teams settled into a one-possession game for the opening 8½ minutes.
A 12-2 LSU burst with the Tigers making four straight shots gave the home team a 61-52 lead with 9:53 left. The good fortune didn't last.
Watford picked up his fourth foul with 9:06 left and then Williams got his fourth with 7:01 remaining.
Even with the Tigers leading 63-59 at that point, Wade had to figure out how to get his team across the finish line with his two best inside players in foul trouble.