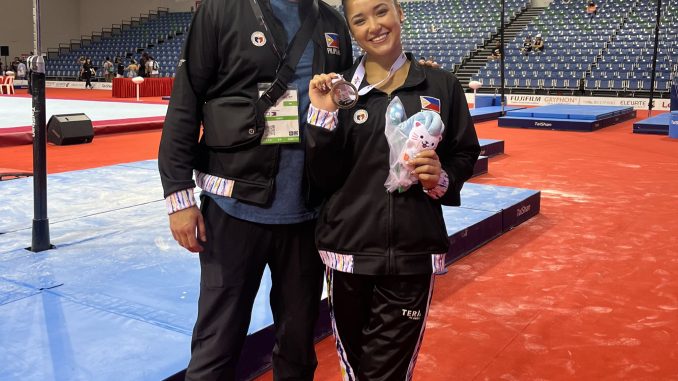 SINGAPORE – Sophomore Aleah Finnegan qualified as one of the top eight all-arounders in the Asian Championships to continue her journey with the Philippines at the 2023 World Artistic Gymnastics Championships.
Finnegan scored a 50.399 in the all-around competition and finished seventh on the day and secured her spot to worlds as an individual qualifier. She posted scores of 12.833 on beam, 12.933 on floor, 13.800 on vault and 10.833 on bars after suffering a fall during her routine.
The Team Philippines member was recognized for the highest execution score on an apparatus at the championship. Her scores on vault and floor were higher than any gymnast in the competition.
After placing second on vault, fifth on beam and seventh on beam on Friday, Finnegan earned her spot in three event finals in Singapore on June 17.
Finnegan notched two bronze medals, one on vault and one on beam, to become the first Filipino woman to earn multiple medals at the Asian Championships.