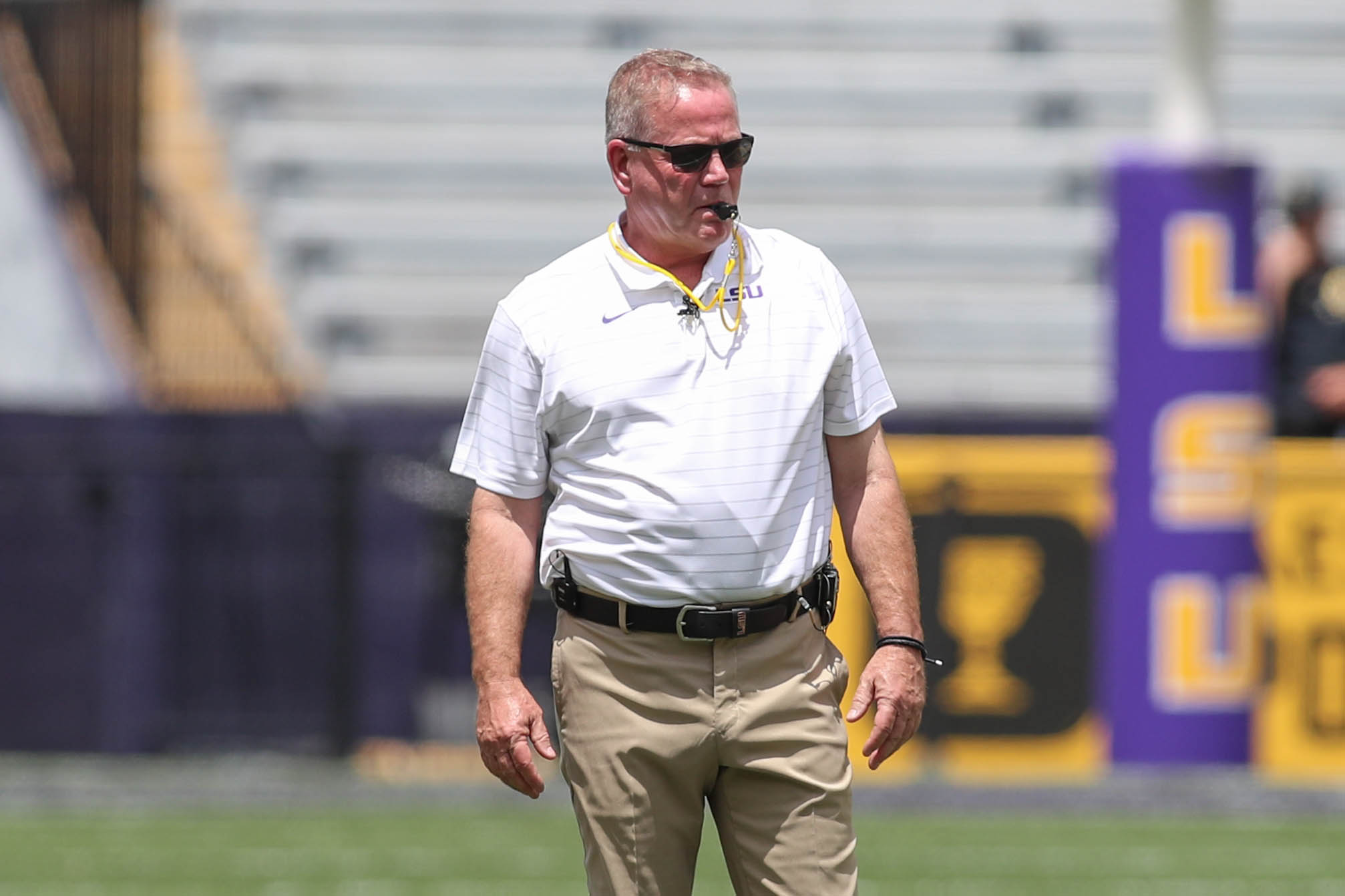 Cringing at all that could go wrong, Brian Kelly bowed his head when asked last month about the possibility of utilizing a two-quarterback system during his first season as LSU football coach.
It's a much-less-than-ideal scenario, he suggested then.
"Uggh," Kelly, who replaced Ed Orgeron in December, said at the time. "Nightmares."
But now – after having a week-and-a-half to further evaluate the job starting-job contenders Myles Brennan, Jayden Daniels, Garrett Nussmeier and Walker Howard did during LSU's 15 spring practices including its April 23 spring game at Tiger Stadium – Kelly is giving a heads-up that he's open to the notion of using both a regular starter and a change-of-pace QB as the 2022 season unfolds beginning Sept. 4 against Florida State in New Orleans.
Would he consider a look, Kelly was directly asked, like when the New Orleans Saints used to use Taysom Hill to complement Drew Brees back in the day?
"Of course. Of course. Of course," Kelly told Tiger Rag in an exclusive interview when LSU brought its offseason "Coaches Caravan" to meet with Tigers supporters Wednesday night at Walk-On's in Lafayette. "I mean, look, we're gonna put the best players on the field, and if there's more than one …
"I've had to do it more times than I'd would have liked to do it. But, let's just throw this out there: I mean, let's say Nussmeier is the starting quarterback. I mean, you can see how Daniels would complement him extremely well, right?
"I mean, you know as well as anybody watching the game – those two can be really dynamic together. The devil's in the details, right?
   "So, how that happens – let's see if one guy can take it over," Kelly added. "But … we're gonna do what makes this offense work. And if you've got to defend two guys, and that ends up being that way, we can make it work."
Whether Kelly was tipping his hand to future plans or not remains to be seen.
But this much seems certain: No final decision has been made yet.
Nussmeier, who preserved his redshirt after appearing in four games as a freshman by opting not play in LSU's Texas Bowl loss to Kansas State, came out of the spring squarely in the battle to be Kelly's No. 1.
He had the strongest spring game of the group statistically after going 9-of-16 for 136 yards and one touchdown.
But sixth-year senior Brennan, a former starter who finished 11-of-17 for 99 yards and one TD in the spring game after missing all last season with a broken arm sustained in a preseason fishing injury, is still a contender for the top job.
So is transfer Daniels, a three-year starter at Arizona State who was 3-of-9 for 68 yards and one touchdown while also rushing seven times for 21 net yards and another TD in the spring ending-scrimmage.
Daniels joined LSU just a few days before spring practice, giving him a little bit of a late start on learning Kelly's new playbook compared to the other three.
How much of a beneficiary can Daniels be after a summer spent trying to perfect timing and the like with teammates?
Kelly was asked that too.
"It's gonna help," he said.
But, the new Tigers coach hastened to add, much work remains for all of his quarterbacks before LSU heads to the Superdome to face the Seminoles.
It's unlikely a decision will be made later this month, in June or even in July.
That's partly because – out of necessity – play-calling during the spring was rather vanilla, and not tailored at all to the individual QBs.
That won't happen until early during preseason camp in August.
"Look, we laid down the playbook – but we didn't move it toward anybody's skill set," Kelly said. "When you get into (preseason) camp, then you go, 'Alright, this is what he can do.'
"So, to separate those guys we'll start running Daniels plays, Nussmeier plays, Brennan plays.
"You know, Brennan throws the ball well, on the numbers," Kelly added. "So, the separation will take place in camp. But I couldn't do that (in the spring), because I had to install first."