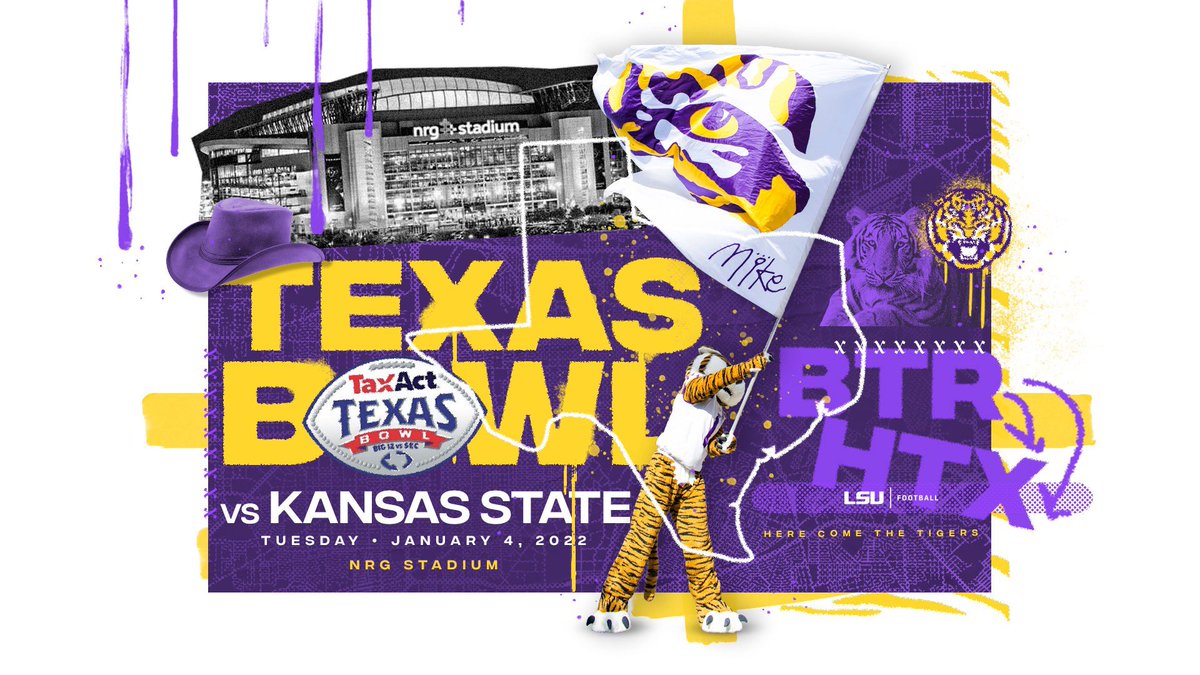 LSU returns to TaxAct Texas Bowl for the second time in history with the 6-6 Tigers set to play 7-5 Kansas State of the Big 12 on Jan. 4 at 8 p.m. in NRG Stadium, the home of the NFL's Houston Texans.
The game will be televised by ESPN.
"Our football team fought hard down the stretch of the regular season to qualify for bowl competition, and we are proud they will be able to extend their season at the Texas Bowl," LSU Director of Athletics Scott Woodward said. "We know our fans will be excited to see the Tigers back in NRG Stadium, and our players will be eager to take the field for a primetime matchup on national television."
LSU will appear in the Texas Bowl for the second time as the Tigers beat Texas Tech, 56-27, in its other appearance in 2015.
In that game, LSU running back Leonard Fournette scored five touchdowns and ran for 212 yards as the Tigers. (No. 20 CFP, No. 22 AP) used a big third quarter to pull away for a 56-27 win over Texas Tech on Tuesday night. Fournette's five touchdowns (four rushing, one receiving) tied the school record for most total touchdowns in a bowl game, matching seven previous performances.
Also, Texas Tech quarterback Patrick Mahomes threw for 370 yards and four touchdowns but was sacked six times and scrambled away from probably 10 more.
Overall, LSU has played in 52 bowl games, which includes a pair of games in the College Football Playoffs in 2019, and has an overall mark of 28-23-1 in postseason games.
LSU won its final two games to get bowl eligible – a 27-14 win against ULM and a 27-24 upset victory over 14th-ranked Texas A&M.
Kansas State will enter the Texas Bowl on a two-game slide, dropped the final two regular-season games by two or less scores. The Wildcats held a potent Baylor offense – which led the Bears to a Big 12 Championship and a berth into the Sugar Bowl – to just 20 points after averaging 35.4 points per game entering the contest, as K-State fell, 20-10. The Cats then lost at Texas, 22-17, on a short turnaround as they played the day after Thanksgiving.

The Kansas State matchup will be just the second meeting between the teams with LSU leading the series 1-0. LSU beat the Wildcats, 21-0, in the second game of the 1980 season in Tiger Stadium. Kansas State, a member of the Big 12, is 7-5 overall.
It will be the third time in school history the Wildcats will play in the Texas Bowl. K-State played in the inaugural game against Rutgers in 2006, while it topped Texas A&M, 33-28, in 2016. This year will mark the eighth time in 23 bowl appearances that the Wildcats will play a bowl game in the state of Texas, which is home to many K-State alumni. It will be the eighth time in school history that K-State will play in the month of January and the first since the end of the 2015 season.

"We are pleased to accept an invitation to play in the Texas Bowl," said K-State head coach Chris Klieman, the first head coach in school history to lead his team to two bowl games in his first three seasons. "I am really proud of our team, especially our seniors, and our staff for their dedication throughout the season and display of our four core values – Discipline, Commitment, Toughness and Be Selfless. The story of the 2021 Wildcats still has one chapter to write, and we look forward to kick off the new year in Houston and preparing for a great LSU team in what will be an exciting Texas Bowl."

The Wildcats are among the nation's leader in bowl appearances since 1993 as they are tied for 18th nationally and rank fourth in the Big 12 with 22. K-State will also be one of just 25 Power 5 teams to play in a bowl game at least 10 times in the last 12 years. The Wildcats are back on the bowl scene after a one-year hiatus in 2020 in which they were bowl eligible but unable to field enough players due to COVID. K-State has won two of its last three bowls and will be looking for three bowl wins in a four-year stretch since 1999-2002.