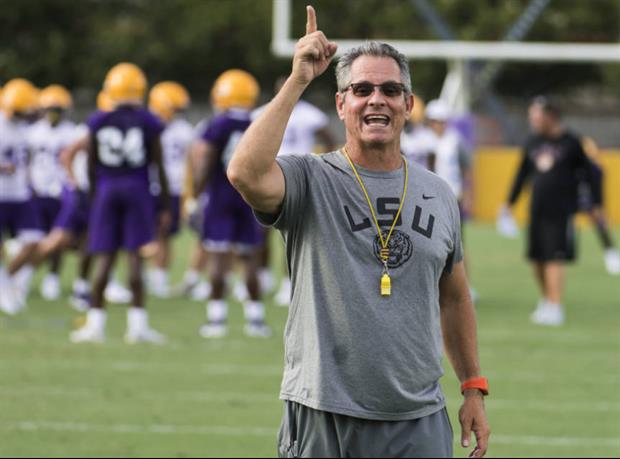 Sources told Brody Miller and Bruce Feldman of the Athletic on Friday night that new LSU head football coach Brian Kelly has fired football strength and conditioning coach Tommy Moffitt.
Moffitt was appointed LSU's strength and conditioning coordinator on Jan. 10, 2000.
It was Moffitt's off-season program that helped pave the way to national titles in 2003 and 2007 for the Tigers, LSU's undefeated regular season in 2011 and the Tigers' 2019 national championship. Following the historic 2011 season, Moffitt was awarded the College Coach's Choice Award by Strength Performance.
Moffitt served as the head strength and conditioning coach at Miami for two years, helping head coach Butch Davis rebuild the Hurricane program. While at Miami, Moffitt was named the 1998 Big East Strength Coach of the Year. Moffitt went to Miami after four seasons, 1994-97, as associate head strength and conditioning coach at Tennessee.
In the past 26 seasons, all 26 of Moffitt's teams between LSU, Tennessee and Miami have made it to a bowl game. He has been part of national championship football teams at LSU (three times), Miami and Tennessee.
A 1986 graduate of Tennessee Tech, Moffitt started his career as an assistant football coach at John Curtis High School in River Ridge, Louisiana, from 1987-94, earning the 1992 National High School Strength Coach of the Year award given by the Professional Football Strength and Conditioning Coaches Society.
Reaction over Moffitt's firing came via social media who expressed their gratitude for training under Moffitt.
"I hated to hear the news that Coach Moffitt wasn't being retained at #LSU," tweeted former LSU running back Jacob Hester, co-host of the "Off The Bench" morning sports talk show on 104.5 ESPN in Baton Rouge. I knew this day would come eventually, and I knew it would feel like this. Tommy Moffitt was the person that molded me to be the player I was from Day 1 on campus. #YeahYeahYeah
Hebert tweeted "@Tommy Moffitt is my favorite coach I ever had in my entire life ,Pushed me to levels I didn't know I could achieve. Showed me the importance of physical AND mental strength. Prepared me for life. And taught me how to crank dat mothafuggin diesel. I love this man."
Former defensive lineman Breiden Fehoko now with the Los Angeles Chargers tweeted, "Huge Mistake. . .3 different championship teams in Baton Rouge with 1 common denominator. @Tommy Moffitt is the best in the nation.