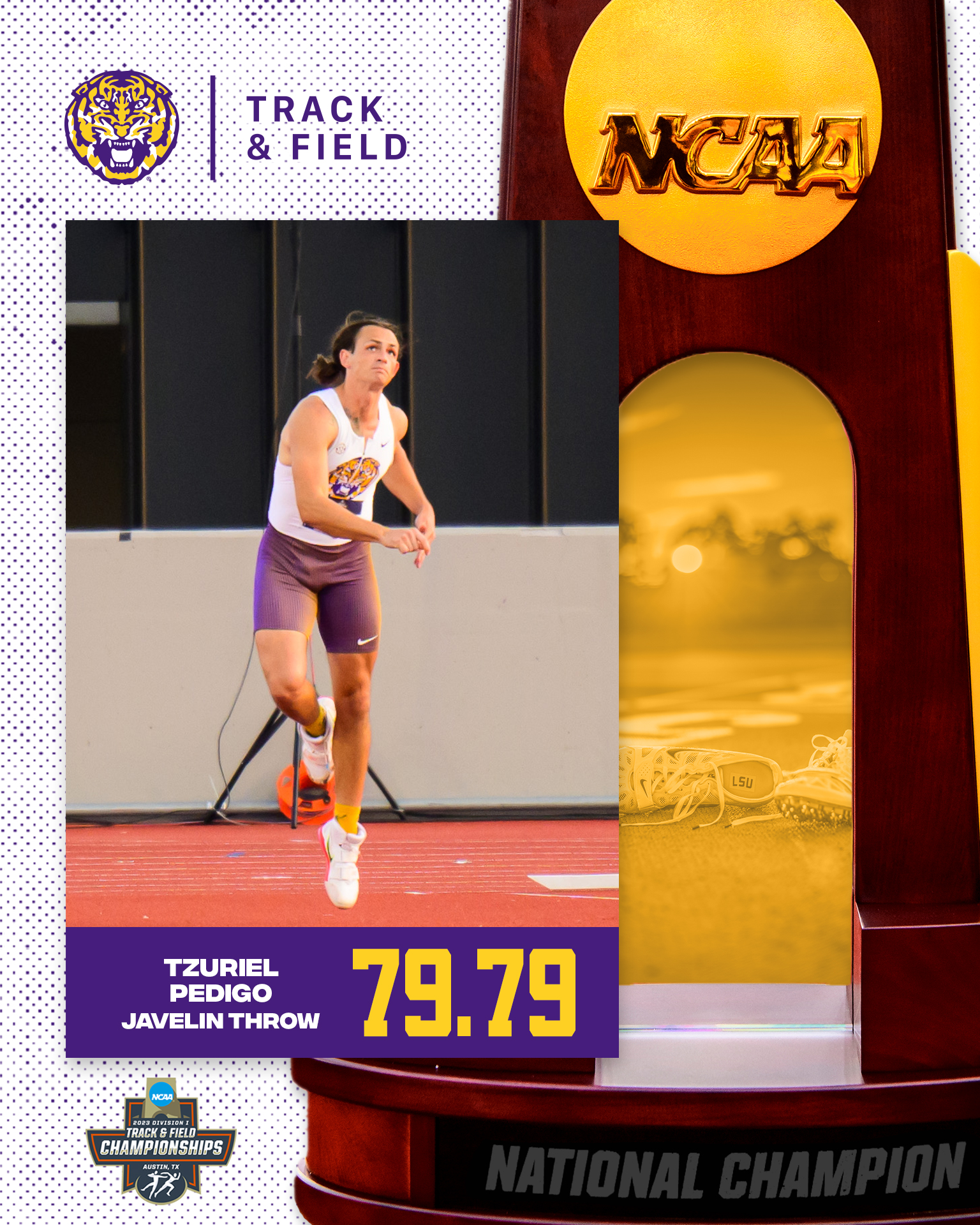 For the second time in his collegiate career LSU's Tzuriel Pedigo is a national champion.
The graduate of Baton Rouge's Parkview Baptist High school won the men's javelin Wednesday, breaking his own school record with a throw of 261 feet, 9 inches at the University of Texas' Michael E. Myers Stadium.
Pedigo's 10 points gave the Tigers a lift on the first day of the four-day event to finish with 15 on the day for fourth in the team competition. Arkansas leads with 21 points followed by Stanford (18) and Arizona (16).
Pedigo won his first NCAA crown as a freshman in Eugene, Oregon and surpassed his existing school record of 258-10 on Wednesday on his final throw in the trials.
Also scoring for the Tigers were John Meyer with a fifth in the shot put (67- 3/4) and Brandon Hicklin, eighth in the long jump (25-9 ½).
LSU also excelled on the track in semifinal action, qualifying its nation's No. 1 4×100 relay team and pair of 100-meter runners for Friday's final.
Hicklin was part of the fastest time in the semifinals, joining forces with Dorian Camel, Da'Marcus Fleming and Godson Oghenebrume to turn in a 38.06 time – a time that ranks fourth in collegiate history.
Oghenebrume and Fleming also qualified in the 100 meters, with two of the five fastest times in the semifinals, to advance to Friday's final.
Oghenebrume had the second-fastest time of 9.93 seconds – second fastest in school history – and Fleming was fifth with a time of 10.01 – the fifth fastest in school history.
The news wasn't all positive for LSU when two-time NCAA champion Sean "Squirrel" Burrell, who battled injuries during the spring, was unable to advance to the final. He wound up fourth in his heat and 11th overall (49.84). The Tigers' 4×400 relay team also didn't advance to the final round.