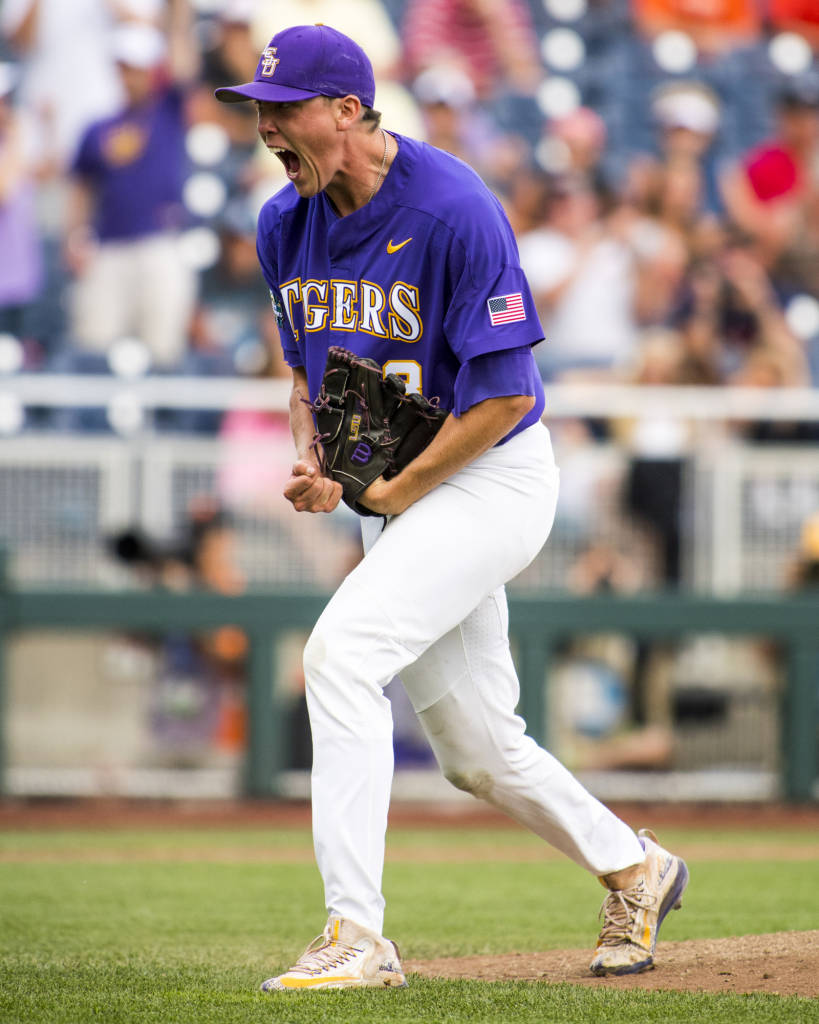 By Tiger Rag News Service
LEXINGTON, Ky. – Antoine Duplantis' RBI single in the eighth inning completed LSU's comeback from a 3-0 deficit and lifted the eighth-ranked Fighting Tigers to a 4-3 victory over No. 10 Kentucky and earn a split of a Southeastern Conference baseball doubleheader Friday night.
Kentucky (27-13 overall, 11-6 SEC) defeated LSU (27-13, 10-7) 12-5 in the opener.
Following an off day Saturday due to the forecast of inclement weather, the series concludes with the rubber game Sunday at noon CT/ 1 p.m. ET.
"We had a rough outing in the first game today and not much went in our favor, but I'm very proud of the way our kids stuck together and earned a tremendous victory in Game 2," said LSU coach Paul Mainieri. "It wasn't always pretty, but we had some clutch at-bats, outstanding defense and gritty efforts on the mound by both Alex Lange and Zack Hess. Kentucky is extremely hard to beat in this ball park; they had only lost two games here prior to tonight, but we found a way to win, and it give us a chance to play for a series win on Sunday."
Josh Smith singled with one out in the eight, and Michael Papierski followed by beating out a slow roller on which Kentucky shortstop Connor Heady could not make a play.
Duplantis followed with a solid single to right. LSU third base coach Nolan Cain did not hesitate in sending Smith home, and he easily scored when the throw from Wildcat right fielder Tristan Pompey was up the line.
Pompey led off the Kentucky eighth with a double, but he was stranded at third when Tiger reliever Zack Hess retired the next three batters.
Hess pitched 3 1/3 innings of scoreless relief to earn the win and improve to 4-0.
LSU trailed 3-0 through four innings, but starter Alex Lange limited the damage, as Kentucky left the bases loaded in the second, third and fourth innings.
Kole Cottam opened the scoring with a one-out solo home run. Two singles and a walk loaded the bases, and with two out, Evan White walked with the bases loaded to force in another run.
With one out in the third, Lange worked his way out of the jam, inducing a popup from Marcus Carson and freezing Heady on a called third strike.
In the fourth, Pompey walked and White singled to start the inning, and Zach Reks followed with a double which fell down the left field line between three fielders: Duplantis, Kramer Robertson and Josh Smith.
With one out, Lange intentionally walked Riley Mahan, who went 5-for-5 in the first game of the doubleheader, loading the bases. The move worked. Lange struck out Cottam and Tyler Marshall to end the threat.
Singles by Papierski and Robertson, plus a walk to Duplantis, loaded the bases for LSU in the fifth.
Cole Freeman was hit by a pitch to force in the Tigers' first run. Reliever Logan Salow struck out Greg Deichmann for the second out, but yielded a two-run single to Nick Coomes.
Lange gave up seven hits over 5 2/3 innings. He walked eight and struck out seven.
Salow (1-3) was charged with the loss as he allowed one run on eight hits in 4.2 innings with no walks and six strikeouts.
Scheduled pitchers for Sunday' s game are LSU freshman right-hander Eric Walker (5-0, 2.48 ERA) and Kentucky sophomore right-hander Justin Lewis (5-2, 3.14).