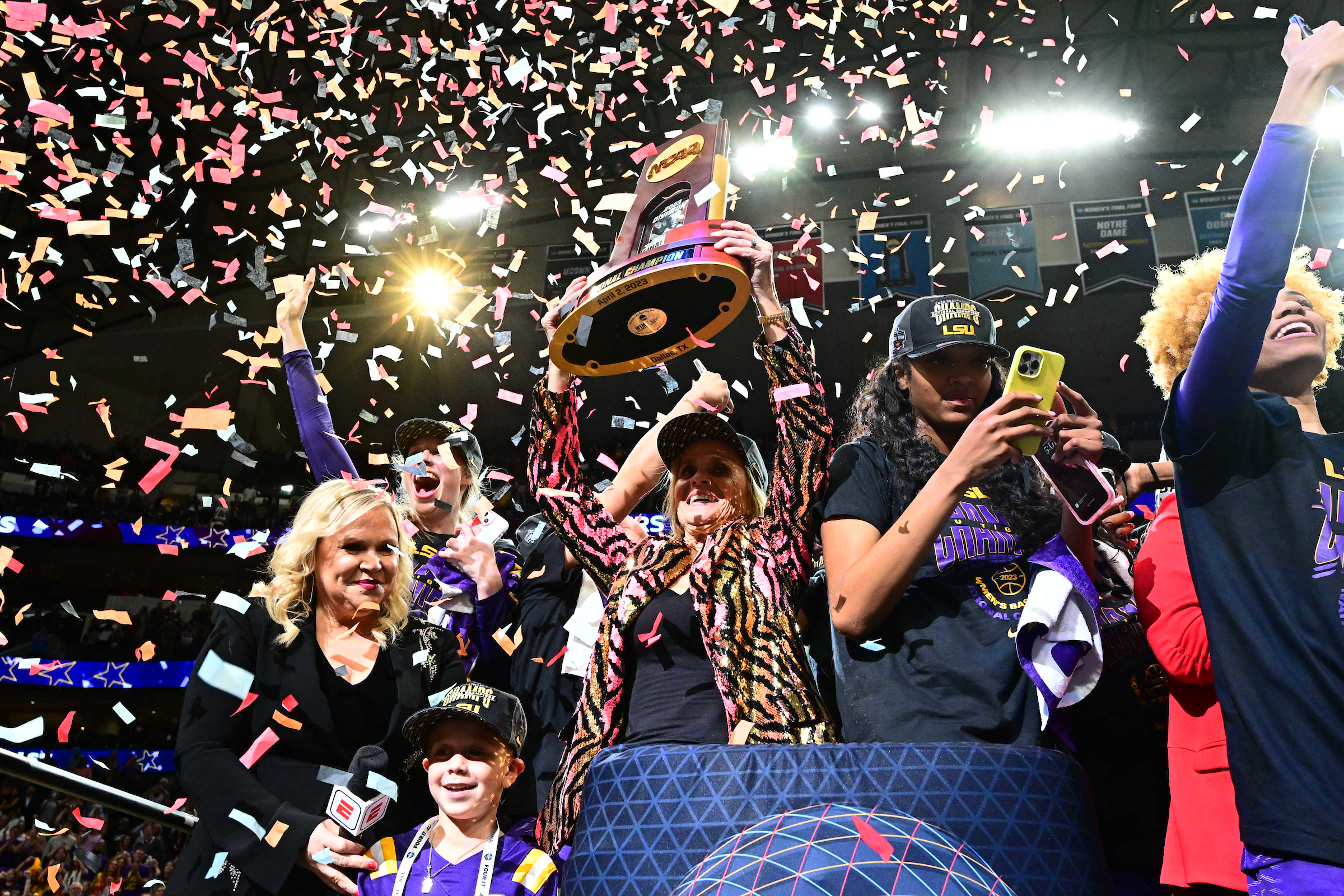 To the victor goes the spoils.
Five months after leading the LSU women's basketball program to its first national championship, third-year coach Kim Mulkey could become the nation's highest-paid coach.
The 61-year-old Mulkey and LSU have agreed on a 10-year, $32 million extension that the LSU Board of Supervisors will consider for approval at its regular meeting Friday, The Advocate reported.
The board will also vote on extensions for two of Mulkey's assistants – Bob Starkey and Gary Redus II. Starkey, considered one of the nation's top defensive minds, is seeking a one-year extension at $355,000 annually and Redus, one the nation's top recruiters, is seeking a two-year extension at $275,000 annually, The Advocate also reported.
The Tigers went 34-2 and captured the national championship with a 102-85 victory over Iowa in April. She received the Winged Foot Award from the New York Athletic Club, symbolic of winning the national championship.
Mulkey has guided LSU to a 60-8 record in two seasons with two appearances in the NCAA Tournament. The Tigers reached the second round of the tournament in 2022-23.
Pending the Board's approval, Mulkey's salary would jump to $2.75 million and increase to $3.65 million in its final year.
UConn's Geno Auriemma is currently the nation's top paid coach at $2.9 million annually with an increase to $3.2 million in 2024-25. South Carolina's Dawn Staley has an annual contract worth $2.7 million that will increase to $3.5 million.
LSU athletic director Scott Woodward hired Mulkey, a native of Tickfaw, away from Baylor following a successful 20-year run at the Waco, Texas school where she won three national championships. She's scheduled to make $2.5 million until 2029.
More than the product on the floor Mulkey has sparked a growth in LSU women's basketball in the stands where the Tigers averaged 8,733 fans last season and in the Baton Rouge community.
Mulkey has three returning starters from the Final Four team, led by All-American Angel Reese and SEC Freshman of the Year Flau'jae Johnson. She also has the nation's No. 1 recruiting class as a part of this year's club along with the nation's top two signees from the NCAA transfer portal – Hailey Van Lith of Louisville and Aneesah Morrow of DePaul.