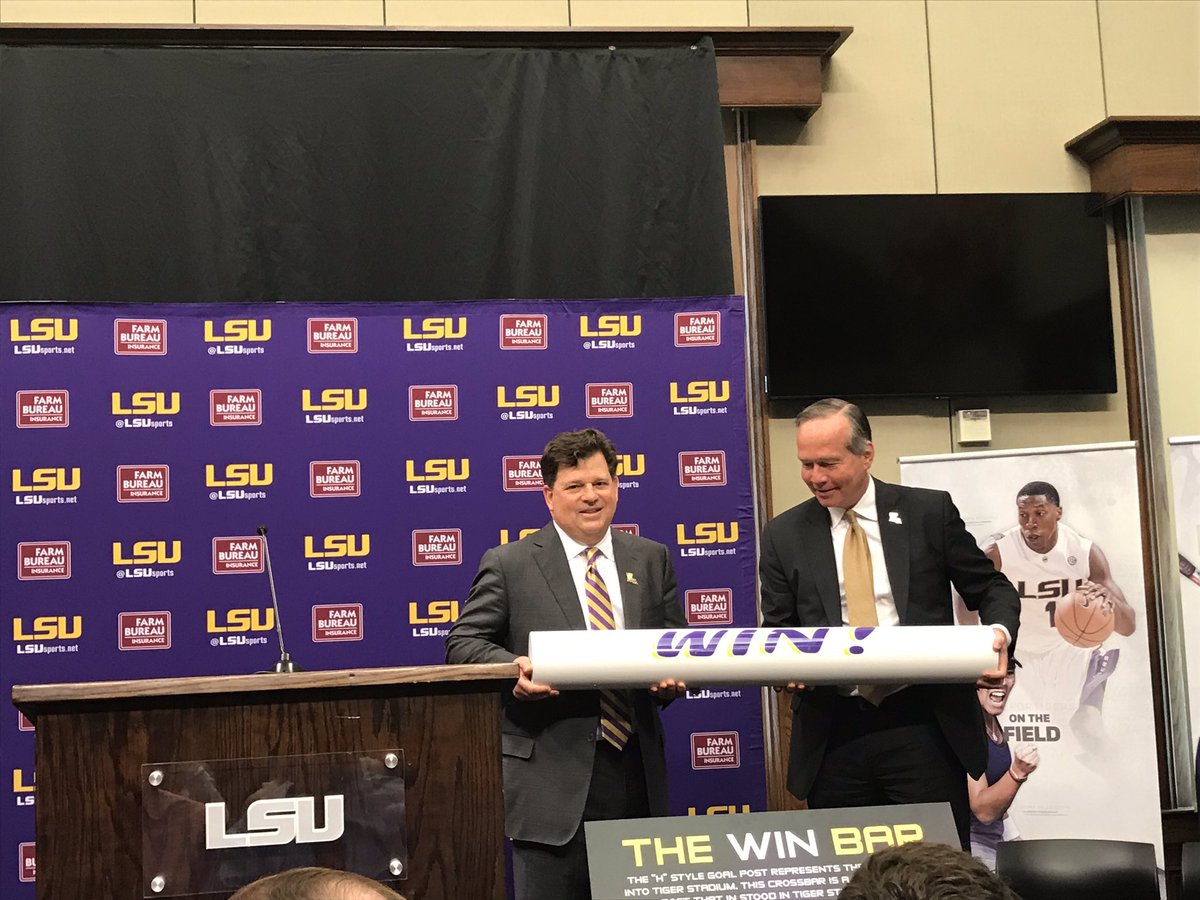 It was probably a good sign for the chances of Scott Woodward's new six-year contract being approved when several Board of Supervisors members attended his introductory press conference earlier in the week.
The deal has now been ratified by the Board's Athletics Committee without dissent and will be officially rubber stamped by the full Board this afternoon.
According to the agreement, Woodward will earn $525,000 in base salary annually. He'll also be paid an additional $575,000 to be paid by an affiliated entity. The additional portion of his salary will increase over the life of the contract at the following rate:
2019-20: $575,000
2020-21: $575,000
2021-22: $850,000
2022-23: $850,000
2023-24: $975,000
2024-25: $975,000
That means Woodward will earn $1.1 million during his first two years on the job. That sum will increase to $1.375 million in years three and four with Woodward set to earn $1.5 million over the final two years of the deal.
The agreement includes several incentives in addition to the total certain compensation. Woodward is entitled to a signing bonus of $250,000, which is to be paid within 60 days of May 6, 2019. He'll earn a retention bonus of $250,000 on April 30, 2024 and an additional $500,000 if he completes the full six years.
According to the contract, LSU will pay Texas A&M $50,000 to cover Woodward's buyout.
There's also an interesting clause in the contract regarding the possibility that LSU incurs NCAA violations that predate Woodward's tenure as athletics director.
If the NCAA Committee on Infractions, or any other body, imposes sanctions on LSU as a result of something that occurred before Woodward's employment, he will automatically be extended for two additional years through 2027. His additional salary would stay at $975,000 in that event.
Speaking of potential infractions, the Athletics Committee also approved proposed amendments to the contract of LSU basketball coach Will Wade.
According to the amended contract, LSU may now fire Wade with cause if the university finds he has committed Level I or Level II NCAA violations or if the NCAA infractions committee issues a formal notice to LSU that he committed a Level I or Level II violation.
A Level I infraction is defined by the NCAA as a "severe breach of conduct," and a "significant breach of conduct" constitutes a Level II violation.
According to the amendment, Wade also agreed to waive the performance bonuses he technically earned for winning the Southeastern Conference and reaching the Sweet 16 according to his original contract. Those bonuses added up to $250,000 the university now doesn't have to pay out.