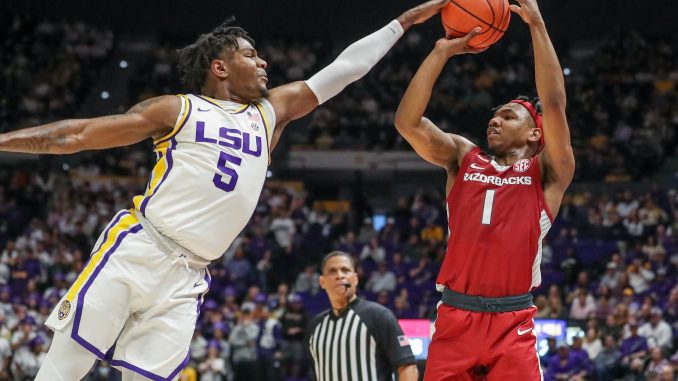 The formula for this LSU basketball team was simple but effective.
Until Saturday.
If opponents can't score 70 points on LSU, then they can't win. The variable the Tigers weren't counting on was losing starting point guard Xavier Pinson.
In their second game without Pinson, 12th-ranked LSU (15-2, 3-2 SEC) fell apart offensively in a 65-58 loss to Arkansas (12-5, 2-3) at the Pete Maravich Assembly Center.
Gaines, making his second start for Pinson, finished with 14 points, six rebounds and four assists. The rest of LSU's starting lineup scored a combined 14 points.
"They came out and were ready to play," Gaines said. "We just have to take another step. We cannot go back but we just need to take another step onto the next game."
With 6:55 remaining, Arkansas closed the game on a 17-2 run. LSU went over five minutes without scoring until Alex Fudge's dunk with 2:16 to play.
Jaylin Williams buried a 3 in the final 72 seconds that gave the Razorbacks the lead for good. Williams drew a charge of Brandon Murray on the next LSU possession. 
"Well, we missed a switch and left Jaylin Williams wide open for three," LSU coach Will Wade said. "He has four threes made all year, I think he was three-of-19 or three-of-16 coming in from three, so we missed a switch on that and left him open which can't happen.
"Look, we made aggressive plays at the end of the game trying to go to the basket, and it just didn't go our way. We've got to be cleaner and we've got to be better, we weren't at our best today."
LSU went into the locker room leading 33-31 at halftime.
Arkansas coach Eric Musselman did not travel to Baton Rouge with the team because of shoulder surgery. Assistant coach Keith Smart, a native of Baton Rouge, led the Razorbacks as interim coach. 
Buckets from the bench
Bench points propped up LSU's stagnant offense. Fudge and Tari Eason each scored 13 points. Darius Days was held to three points and did not score until the 15:22 mark of the second half.
LSU's bench scored 30 points to 13 for Arkansas. 
"I probably should have used some of my timeouts to get Days back in when they cut the lead to one, I should have used a timeout there, I'll go back and look at all that," Wade said. "I should have helped our guys out a little bit more, but we just didn't make plays we needed to down the stretch."
After only attempting nine 3-pointers in Wednesday's win at Florida, LSU made only 5-of-19 attempts (.263 percent). The Tigers shot 21-of-55 (.382) overall. 
Arkansas finished 23-of-55 (.418) from the field and 5-of-17 (.294) from 3.
"I take the blame on that," Gaines said. "As a point guard I have to get my team set up and bring the ball up the court faster. I feel like I did not do that."
The whistles catch up
LSU was called for 21 fouls compared to 18 fouls for Arkansas. Over the previous two games, the Tigers were called for 47 fouls while Tennessee and Florida had 28. 
Arkansas, who leads the SEC in free-throw attempts, finished 14-of-18 (.778) from the line. LSU was 11-of-17 (.647).
Efton Reid, who had seven points and two rebounds, spent most of the first half on the bench after drawing two fouls. Days and Murray both fouled out.
Gaines steadies LSU before halftime
LSU played through foul trouble down the stretch in the first half. Arkansas missed seven of its last eight shots from the field over the last five minutes. The difference was the free-throw line, where the Razorbacks were 9-10 compared to 4-of-6 for the Tigers.
Stanley Umude went 1-of-2 from the line to put Arkansas ahead by one point with 2:08 until halftime.
Gaines scored three points on two of LSU's final three possessions to retake the lead. Fudge led the Tigers with nine points at halftime and was 3-for-3 from the 3-point line. Gaines and Eason each had seven points.
"We had some different lineups out there, and we got into some foul trouble," Wade said. "Look, we've got good players, we expect those guys to make plays, I thought Fudge made some great plays today for us, I thought Fudge played really well for us, and we've got to execute better.
"They did some things defensively that were very smart, they took some things away, they picked Gaines up full court which made it a lot tougher. We got into offense a lot later than we typically do, so you got to give Arkansas some credit, they did a nice job."
Arkansas plays without Eric Musselman
Musselman, a former LSU assistant, had surgery on Thursday to repair a shoulder injury. An MRI confirmed that Musselman had torn tendons after colliding with a player in practice.
The injury will keep Musselman sidelined for one more game.
Musselman was LSU's associate head coach under Johnny Jones during the 2014-15 season. The Tigers went 22-11 and made the NCAA Tournament, their best finish under Jones.
Up Next
LSU makes its longest road stretch of the season with trips to Alabama and Tennessee. The Crimson Tide swept the Tigers last season. LSU beat Tennessee 79-67 on Jan. 8 at the PMAC, improving Wade's record to 4-1 against the Volunteers.