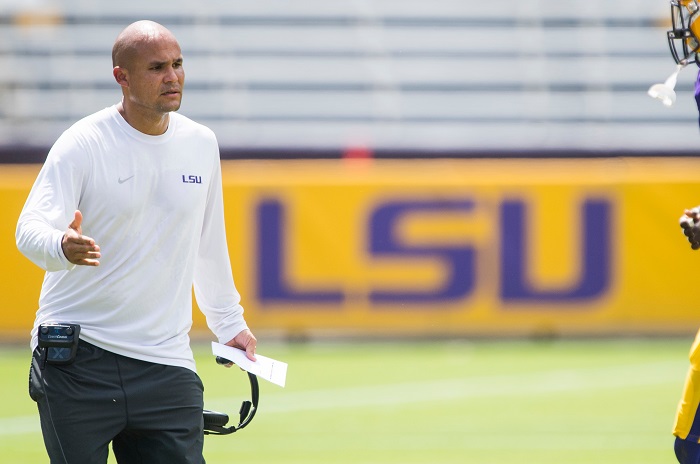 By JAMES MORAN | Tiger Rag Associate Editor
Here it is directly from The Professor's mouth: LSU's freshmen inside linebackers are going to play this season.
Defensive coordinator Dave Aranda addressed the media Monday afternoon for the first time this season, and LSU's resident mastermind offered the most detailed accounting yet of the Tiger linebacker corps.
Donnie Alexander and Devin White are the starters inside, as has been the case since the spring, but Aranda made it clear the plan is for LSU's trio of blue chip freshmen will rotate in, too.
"I think they're all going to have to play," Aranda said unequivocally. "It's still very much in play as far as how that works out, but I think as far as the depth and the limited number of people in our room, I think we're going to have to use all of them."
The coordinator and inside linebackers coach provided a more detailed explanation about what separates each of the three backers from one another.
Jacob Phillips, listed at 6 foot 3 and 237 pounds, is the resident thumper of the group. He came in the most "physically ready," Aranda said, and the most "eager for contact."
Tyler Taylor is more the thinking man's linebacker, according to his coach. Taylor "came in understanding football great," he said, and has natural instincts for the game.
Patrick Queen, though a bit smaller than his fellow freshmen at 6 foot 1 and 220 pounds, is the most athletic of the three, according to Aranda.
"They're learning how to swim by being thrown into the water," Aranda said of his young defenders.
Aranda also weighed in on another stud rookie linebacker, K'Lavon Chaisson, who continues to battle with Ray Thornton for time at the 'Buck' spot while Arden Key works his way back from shoulder surgery.
LSU coach Ed Orgeron said last week that Key isn't expected back for the season opener against BYU. Aranda hinted at a possible Chaisson/Thornton timeshare in the interim.
"They're battling right now," Aranda said. "They're battling. There's a lot of merit to Chaisson on the field when the call is a pass and there's a lot of merit to Ray being on the field when they run the ball. So they both have their respective issues, but they're both battling."
WITH OR WITHOUT YOU
Aranda has two defenses prepared heading into the season: the one that's built around his All-American edge rusher and the one that isn't.
Replacing a player of Key's caliber isn't as simple as popping Thornton or Chaisson into his place and continuing on as if nothing has changed.
According to Aranda, it requires a total reorienting of the defense and the way it attacks.
"If you have Arden, you feature him," the coach began. "You put him in a position to create mismatches. You find the weakest offender and you shift the numbers away from Arden so there's a choice that has to be made. You build around him."
Aranda continued: "If you don't have Arden, you lose that aspect so it's very much a team. There's more blitzes involved. You're going to show more inside pressure. You'll show overload pressure and field pressure and boundary pressure. It's less a feature of Arden and has more of a team aspect to it."
Key, who wasn't visible at the media viewing portion of Monday's practice, has only taken part in non-contact drills since undergoing offseason shoulder surgery. He's scheduled to see his own doctor sometime this week.
Still, having Key around helps, according to Aranda. He recalled a moment from prior to Saturday's preseason game during which Key threw his arm around a referee and told him "If it's not a sack, it's because they're holding us."
QUICK HITTERS
– Aranda singled out defensive end Rashard Lawrence as being one of the Tigers' best players up front. He recalled a play from a recent scrimmage in which Lawrence took on a double team and still managed to take down a ball carrier with one arm.
– Aranda doesn't expect any of LSU's freshmen defensive linemen besides Tyler Shelvin — ineligible to play because he was only partially cleared by the NCAA — to redshirt. "We're not at that point," he said. "I see guys playing."
– Despite Shelvin's ineligibility, Aranda expressed confidence in his two nose tackles: Greg Gilmore and Ed Alexander. He did however joke that he had the "two best ineligible nose tackles in the country" in Shelvin and Texas Tech transfer Breiden Fehoko.
– The coach compared Xavier Lewis to former LSU nickel back Dwayne Thomas: "Xavier has a knack for blitzing. He's got that feeling to time it out … We have to find a role for him."
– Aranda on freshman safety Grant Delpit: "I feel really good about what Grant has done. Really good scrimmage Saturday. Like his demeanor and way he attacks."