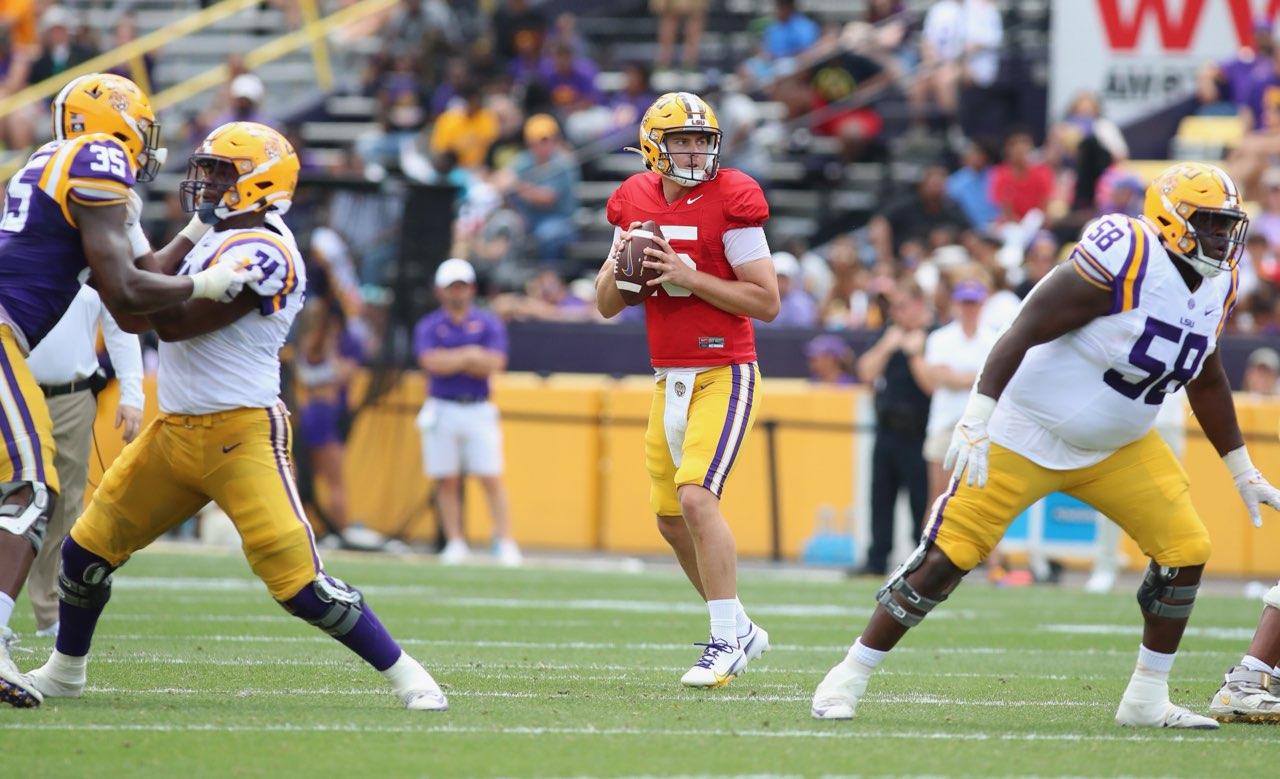 LSU does not have a quarterback controversy.
It may, however, have a bit of quarterback mess.
No one actually said that Saturday.
But even new LSU coach Brian Kelly had to admit the Tigers exited their spring game with no more clarity about their biggest focus of spring camp than they entered it.
And that, Kelly told media members afterward, is "the one thing that you all want to know about."
"You know, we didn't clear up anything with the quarterback today" he said. "We probably made it even more difficult."
Neither returnee Myles Brennan nor Arizona State transfer Jayden Daniels, the presumed top two candidates for the job, seemed particularly sharp to start.
In fact, Garrett Nussmeier – who played in four games as a freshman last season and skipped the Texas Bowl (even though he was needed) to preserve his redshirt – looked best early on.
By the end of an otherwise ideal afternoon at Tiger Stadium, Brennan was 11-of-17 for 99 yards and one touchdown in what amounted to an offense vs. defense scrimmage with very loose and discretionary use of the clock.
Daniels, plucked out of the NCAA transfer portal to run the RPO-based offensive system Kelly prefers, finished 3-of-9 for 68 yards and one touchdown while also rushing seven times for 21 net yards and another TD.
Nussmeier was 9-of-16 for 136 yards and one touchdown and freshman early enrollee Walker Howard went 3-of-7 for 59 yards and a TD.
But the stats don't tell the whole story.
Daniels was the first QB out and his opening drive ended quickly with a fast punt.
His second drive in the first half, when the clock was used like it would be in a normal game until the final two minutes and changed were lopped off, also finished with a fast punt.
The former three-year starter for Arizona State finally got going on his third drive, when he scored on a 1-yard run a couple plays after completing a 39-yard pass to Brian Thomas Jr.
Subsequent Daniels-led drives ended with an incomplete fourth-down pass and, with a running clocking being utilized in the second half, a 20-yard TD throw to Jack Bech.
He didn't exactly make a compelling case that the job inarguably should be his. Some of his throws seemed rushed, others simply off-target.
Brennan opened with a three-and-out, followed by a drive that ended with a punt, followed by another cut short by a bad snap and lost fumble. It wasn't until Josh Williams scored on a 7-yard that that Tigers put up points on a Brennan-led drive.
Brennan, a sixth-year senior who missed all of last season and most of 2020 with injuries sustained after he'd won the starting job, grew more comfortable and found Malik Nabers for an 11-yard touchdown during his lone drive of the second half.
But Nussmeier got it going early, with LSU producing a 48-yard field goal from Ezekeal Mata out of his first drive, a 10-yard Armoni Goodwin run out of his second, a 1-yard Williams score set up by a 27-yard completion to Williams out of his third and an 8-yard TD throw to Bech out of his fourth.
Bech was targeted six times and finished with a team-high six catches for 56 yards and the two TDs.
Howard, meanwhile, saw his lone first-half drive end in a punt. So did his first drive of the second half, but the son of former LSU quarterback Jamie Howard closed things with a 55-yard TD throw to walk-on running back Corren Norman.
Oddly, no LSU players were made available for comment after the Tigers QB Audition Show – a.k.a. the spring game, errr scrimmage. They had something else to go do, media members were told.
So there's no telling what their thoughts were.
But Kelly did share his.
"Brennan was good today, right?" he said. "I mean, he does really good things with the football. He knows the offense. He's smart. He takes care of it.
"We talked about Nussmeier's athletic ability, his arm strength. Daniels is really, really fast, and Walker (Howard) has got one of the strongest arms on the team.
"So I don't know," Kelly added again, "if we cleared up anything there."
Kelly didn't seem to put much stock into what LSU's offense did after halftime, which may speak volumes for what it did not do before the break.
"How many coverages did you see today? One. … We probably played two different fronts," Kelly said. "So … we lined up very basic today, and by the second half the fits were easier, the line was very comfortable, there was no movement up front.
"You kind of get my drift here."
We do.
Which begs several questions.
Is Howard still the fourth man in a four-man race, as some suspected before camp opened March 23?
Has Nussmeier, the son of former New Orleans Saints quarterback and current Dallas Cowboys coach Doug Nussmeier, turned a two-man quarterback conversation into a three-man discussion heading into the summer, or is he still too inexperienced to leapfrog either of the other two?
Would Kelly even dare to consider a two-man show in the fall, which starts for LSU with a Sept. 4 meeting with Florida State at the Superdome in New Orleans?
LSU offensive coordinator Mike Denbrock, who worked under Kelly at both Grand Valley State and more recently at Notre Dame, was asked that question earlier this spring.
"We've done it before," Denrock said. "I think, ideally, anybody would tell ya: If there's one clear winner, that's what you need to be doing.
"But we've had situations over the years when we've been together where we've had to play more than one guy in certain situations. So, I know what he's gonna do, and make the decision, that he (Kelly) feels like is best for the football team, whether that's one, two, four, six whatever. I'm sure we won't have that many.
"But I think it's important that those guys understand that this competition is probably gonna kind of spill over into the fall, as well kind of suspect it probably will," Denbrock added. "And they'll all be given an opportunity to win the job, and it's important for them to step up and seize that opportunity."
Kelly was asked the very same question late in his postgame presser Saturday.
When he was, he simply dropped his head.
"Uggh," Kelly said. "Nightmares.
"I've played two, yes. I think (against) LSU when I was at Notre Dame, in the Music City Bowl. … It's not easy. I mean, it has to be a situation where you have to do it. I'd much rather play one quarterback and try to fit the offense to their traits over 'somebody else.'
"The two-quarterback situation," Kelly added, "is so difficult to manage, honestly."
Which speaks volumes on a day the QBs, and all other Tigers players, were heard to say nothing afterward.